I'm so out of the mix with Mac automation that I didn't even realize there was a new version of Keyboard Maestro coming out. Version 10 has a lot of new shiny features. I can't wait to do some fun stuff with the new Menubar display but the new unlock and appearance change triggers will probably be saving me a lot of time with docking and undocking my MacBook Air.
I'm already loving that I can elevate a macro group to a prime position on my menu bar.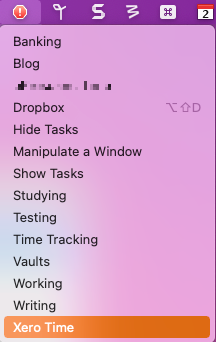 It's $36 for a new license and $18 for upgrades to recent purchases. I was given a free upgrade but I'd write about this awesome tool anyway. Also, don't miss the personal thank you from the developer when you enter your new license key. So nice.