What's in a home screen? From what I can tell, the first screen of an iPhone often represents the owner's priorities better than they can describe.
The first screen of my iPhone doesn't change very often. Occasionally I'll try out a new app or two but it's mostly static. But bigger screens mean more options. Here are some things I think I know about myself from my homescreen.
This is the first time in quite awhile that I can have a blue background on my iPhone. I'm pretty pleased by the reduced number of blue icons for apps on iOS 8. I'm also pleased I can have a great Lanham image for my background.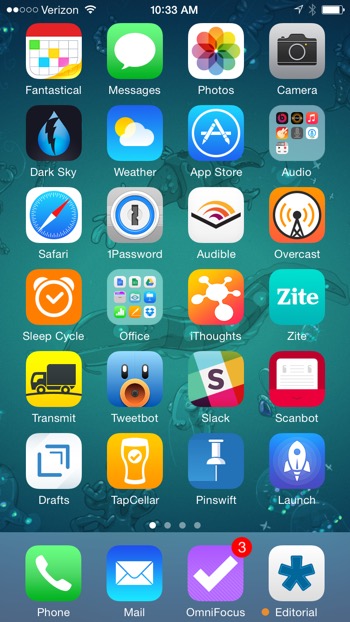 Here's the breakdown of my apparent priorities:
6 Social and Communication Apps
Mail
Phone
Messages
GV Connect (Office Folder)
I live in Mail. It's a reasonable reading experience and the VIP notifications are pretty hot. I use Mail mostly because I need to but I use Slack because I want to. I can't say enough good things about the Slack app. The image upload option, emoji shortcuts and nice gestures make the iOS app a joy. The new Slack extension is also great for sending images straight to a channel.
9 Audio Apps
Beats Music (Audio Folder)
Sonos (Audio Folder)
Music (Audio Folder)
GarageBand (Audio Folder)
Sonos Voice (Audio Folder)
Recordium (Audio Folder)
Dictate + Connect (Audio Folder)
I think I have a problem with audio. I'm kind of nuts for it. I listen to podcasts most of the day and then listen to audio books on my commute home. When I get home I listen to Beats Music and or use the Sonos app for almost all of my dinner entertainment.
Sonos Voice is a fun app to play games with little kids. It lets me use my Sonos as a PA system.
Recordium and Dictate are terrific voice recorders. There's more power in these two apps individually than all of the dedicated voice recorders I've owned put together. There are bookmarks and multiple methods to edit and share. Stuff like track splitting is just crazy.
3 Photo Apps
Photos
Camera
It seems weird that Scanbot is on my home screen. But I use it as a general purpose scanner and camera. The nice thing about Scanbot is that it has easy ways to upload the subsequent images. For example, every morning I sneak a drawing into my daughters lunch box. I take a photo and save it to Evernote before I close her lunch.
I've tried other camera apps but I mostly use the built in camera and I mostly use it from the lock screen. Mostly.
2 News Apps
Zite is still the best news app I've been able to find. It learns from my preferences and shows me things outside of the normal echo chamber.
Pinswift is my favorite Pinboard client and I spend a lot of time reading in it. I also use it to clean my Pinboard data and explore the Pinboard network.
4 Writing Apps
I seem to spend a lot of time in text editors. Editorial and Drafts are great for just get letters on a screen. iThoughts is where I plan most of my writing. For awhile MindNode held that spot because I really like the outline view. But iThoughts is comfortable and has some powerful features not available anywhere else.
5 Information Apps
Weather
Safari
Truth be told, 1Password is my primary browser. It's just so convenient to have access to my login credentials but it's also a pretty good bookmark manager with things like folders, favorites and search.
I mostly use Launch Center Pro for launching URLs. I perform web searches and open clipboard URLs into 1Password with it.
10 Data Apps
I use the heck out of the new Transmit app. Wow, is it good. I've written plenty about it. The Transmit extension is dynamite and I stash files in Transmit temporarily, only to move them somewhere else later.
HanDBase is a really great personal database app. It's highly customizable and very powerful. I squirrel away things like my registered domains into a database. Tap Forms is less powerful but easier to use out of the gate. They are both excellent solutions for storing stuff that I just don't want a dedicated app for.
4 Lifestyle Apps
Sleep Cycle has woken me up almost everyday for at least 2 years. I don't use it much for sleep analysis but it's my favorite alarm clock because it measures restlessness and wakes me when I'm near consciousness. I've even converted my wife which was a proud moment for me.
I keep a small set of near term tasks in OmniFocus. It's also pretty hard to beat the OmniFocus quick capture features that use Siri and immediate access to the inbox.
Fantastical is a wonderful calendar app. It's smart at handling reminders and the natural language input is intuitive and convenient. It's also super fast with an overflowing calendar.
TapCellar is where I track my beer. It's a good week when I spend more time in TapCellar than Fantastical.
Order of Top 12 App By Usage
Mail
Slack
TapCellar
Editorial
1Password
Tweetbot
Overcast
Drafts
Safari
Zite
Pinswift
Sleep Cycle
I don't have hard data on this order, but I know how I feel about these apps. I actually drink way less than the ranking of TapCellar would imply. I work on the app so I'm always testing it. Yeah, that's it. Testing.
Today
iOS 8's new Today screen has dramatically changed what apps I consider for my home screen. For example, I previously kept PCalc ready at hand. Now I use the Today widget which can also launch the app. Now, I'm considering moving Dark Sky off of my home screen since the widget acts as both a quick check and a launcher.
In general use, I think the Today widgets are even quicker for accessing apps than using the home button to return to the home screen. The widgets don't require a screen change and it's available while I'm in another app.
Today Widgets
Widgets throw off my app usage estimates. I use the Fantastical widget constantly. The PCalc and Clips widgets are also really handy. The Drafts widget is mostly a launcher for Drafts.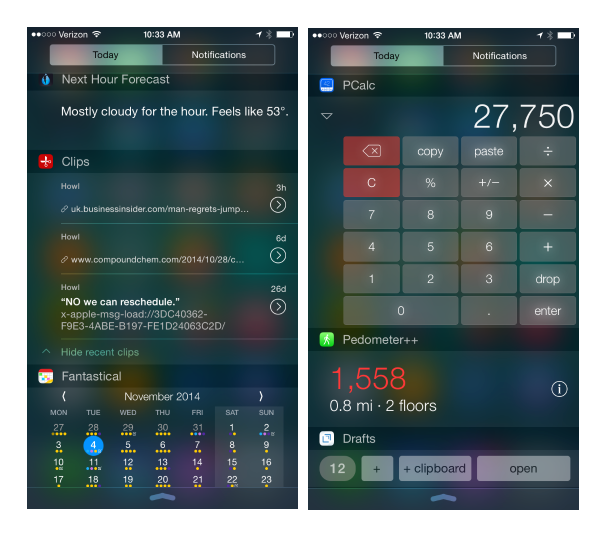 The Today Screen is made up of the following apps:
Folders
I still have no idea why I use folders. I use them for apps that I want quick-ish access to but aren't important enough for the home screen. In all honesty, I could abandon them and be just fine.
Spotlight and Siri
I'm a heavy user of Spotlight and Siri for opening apps. You did remember that Siri can open an app, right? If an app isn't on my home screen or doesn't have a widget, I probably opened it with Spotlight or Siri. I rarely browse beyond the home screen.
2014
In 2014, my phone is my home screen. I actually stopped organizing much beyond the first screen. With the addition of Spotlight, Extensions and the Today Widgets, I rarely need to browse my phone for an app.