I learned a lot from my push to explore Simplenote alternatives. In all fairness to the Simplenote team, they fixed the web interface within 48 hours and the iOS updates were pulled from the AppStore and then updated a week later.
After this week, I may not be going back to Simplenote for creating notes or writing in general.
A Lesson Learned
I've replaced Simplenote on my iOS docks. WriteRoom now lives there. I also moved Nebulous Notes onto the homescreen of my iPad. Simplenote is now relegated to a folder with my other text editors. I'm not being spiteful, I've just changed my values.
WriteRoom Dropbox sync is amazingly fast. It's faster than Simplenote with a large collection of notes. I use WriteRoom to quickly add a note. The launch and refresh time beat Simplenote by a large margin. The only thing I don't like is the enormous margin in landscape.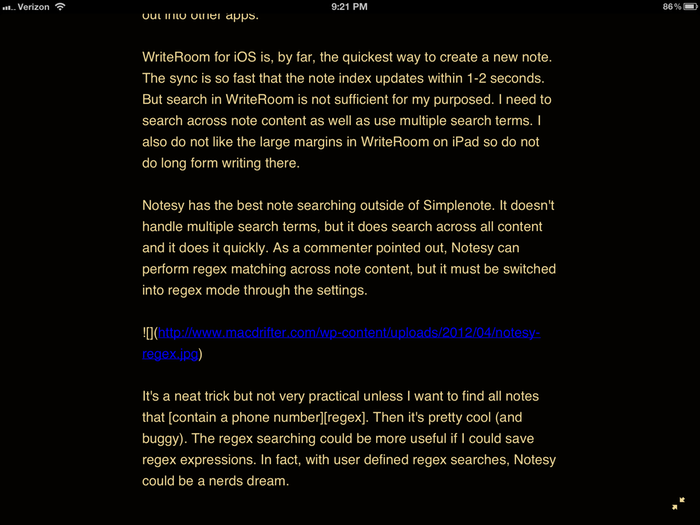 Nebulous Notes is where I write things of substance.1 I like the Nebulous Notes features. The customizable keyboard row is powerful.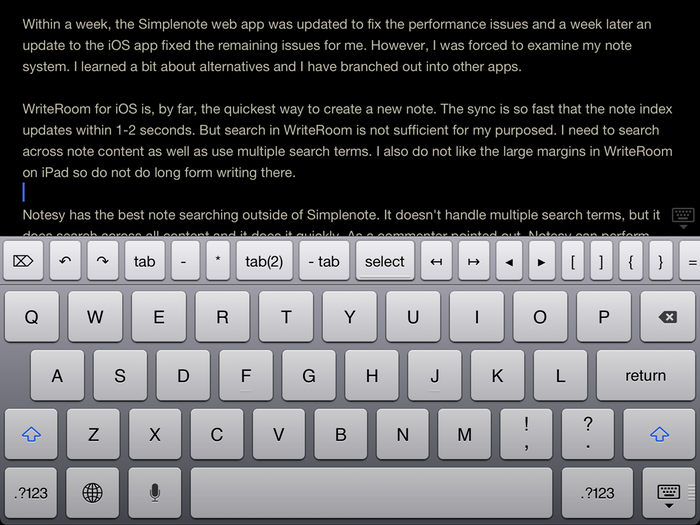 Simplenote is where I search for notes. The Simplenote search is still unparalleled.
Fast Search
Multi-term searching
Searching note content
Highlight hits
Support for tags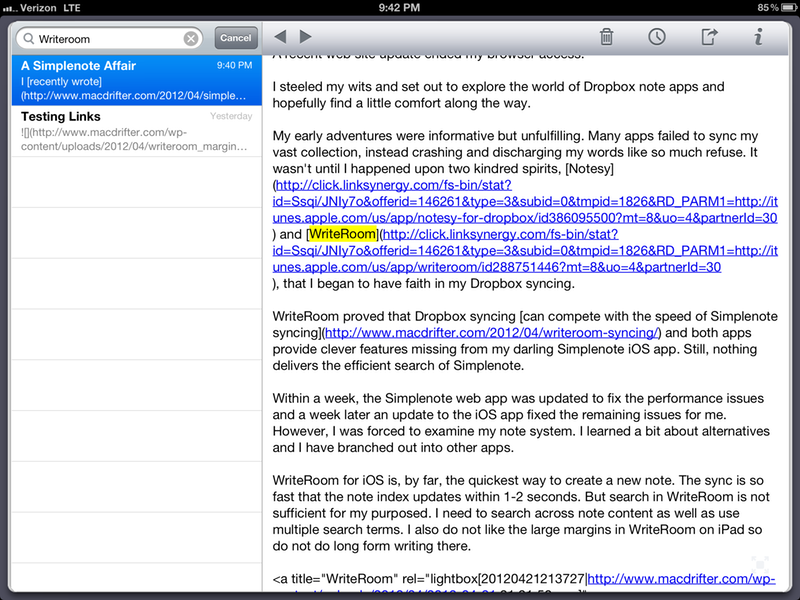 WriteRoom can search across all note content and the search is very fast. However, WriteRoom can only search multiple words as a phrase. There's also no indication of the hits in the documents.
Notesy also performs search across all note content but it lacks all of the other search options. It doesn't handle multiple search terms easily, but it does search across all content and it does it quickly. As a commenter pointed out to a previous post, Notesy can perform regex matching across note content, but it must be switched into regex mode through the settings.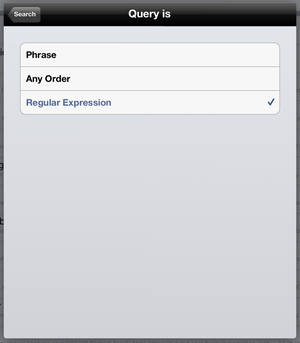 It's a neat trick but not very practical unless I want to find all notes that contain a phone number. Then it's pretty cool (and buggy). The regex searching could be more useful if I could save regex expressions. In fact, with user defined regex searches, Notesy could be a nerds dream.
In place of the Simplenote web app, I have switched to TextDrop. It is fast and works flawlessly. Unfortunately, it only provides search of note titles and not content. I can deal with it.

Fool Me Twice
Since the Simplenote disaster of 2012 (as I am now calling it with great hyperbole) I have experienced two more service outages. Both times, it was a weekday morning which is my prime time for creating notes.
I also had one incident of note content becoming scrambled since the patches. Note content was randomly deleted or duplicated. Today I had one note duplicated five times. That is unacceptable for something I depend on every hour of the work day.
This may be my last year with Simplenote. Simplenote is an app and service I have used daily for three years. It has been like a rock until this past month. Maybe I am being reactionary. I have another nine months before my account expires. I'll revisit the app ocassionally but it may be hard to justify the renewal if I don't use it for nine months.
New Digs
Although Simplenote is still on my devices it's been moved to the cheap seats way in the back. My workflow now looks like this:
Add a quick note: WriteRoom
Do a quick search: WriteRoom
Sit down and write more than 100 words: Nebulous Notes or Notesy
Search for a needle in a haystack: Simplenote
---
It's debateable if I write anything of "substance". ↩