A Few Nice iCab Tricks for 2016
Safari for iOS is one of my favorite browsers, simply because it's so fast. The content blockers in iOS 9 has only made me love it, and the web, more. Even with all of this Safari love, I'm still just as likely to send a page to iCab because it's my utility belt for the Internet. I've already started this new year by giving more attention to the apps that are truly exceptional instead of looking for new apps. Here's a few of my favorite iCab features.
Actions
iCab is all about doing stuff with the web. The action menu is completely customizable and makes it simply to do the things I need.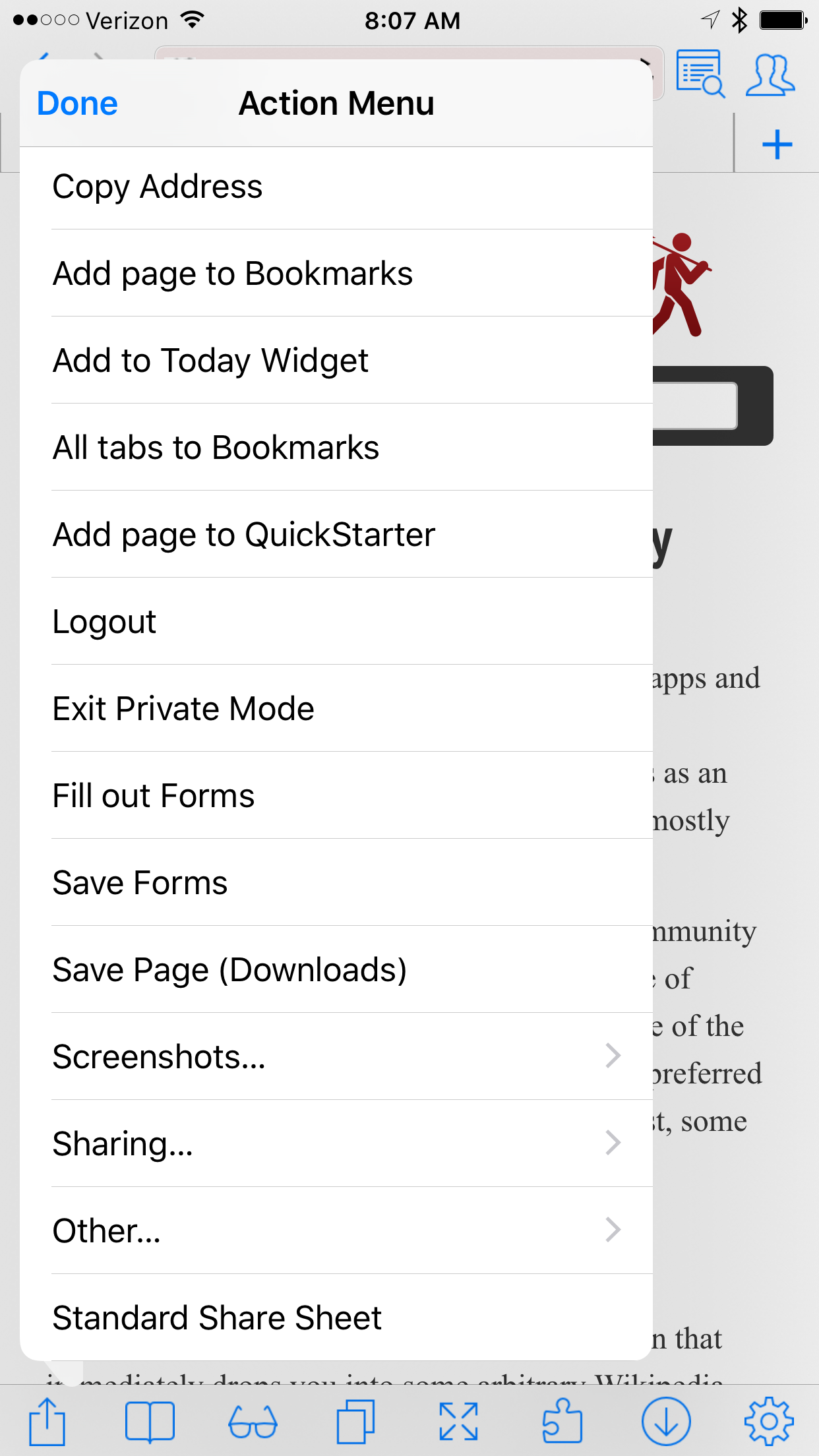 The "Draw Panel" is a super feature for a one-handed. I pop it open and draw shapes that cause the browser to do things like scroll up and down, go forward and back, or even send the current page to another app. This is completely customizable in the "User Interface>Draw Gestures" section. Just don't get too crazy with the shapes since it can get frustrating to get iCab to recognize complex drawings.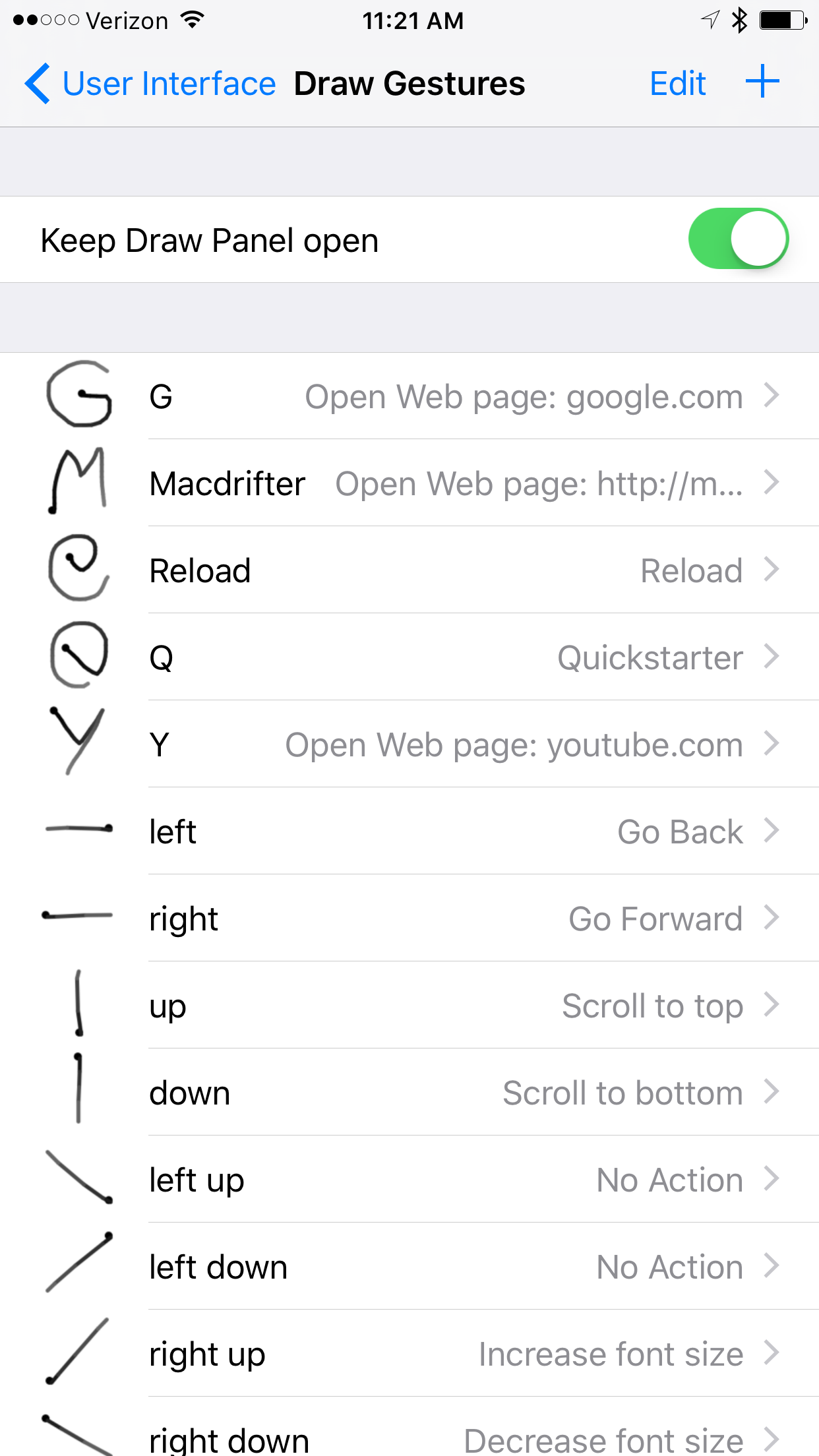 If navigation is more of your focus, then take a look at the Multitouch gesture support. It's ridiculously detailed. I think it's great on the iPad but don't have as much use for it on my iPhone.1
Downloads
The Download center in iCab is terrific little holding place for all sorts of data. I can cruise through a research session and download images, zip files, PDFs, or just about anything. Then I jump into the Download section of iCab to work with them.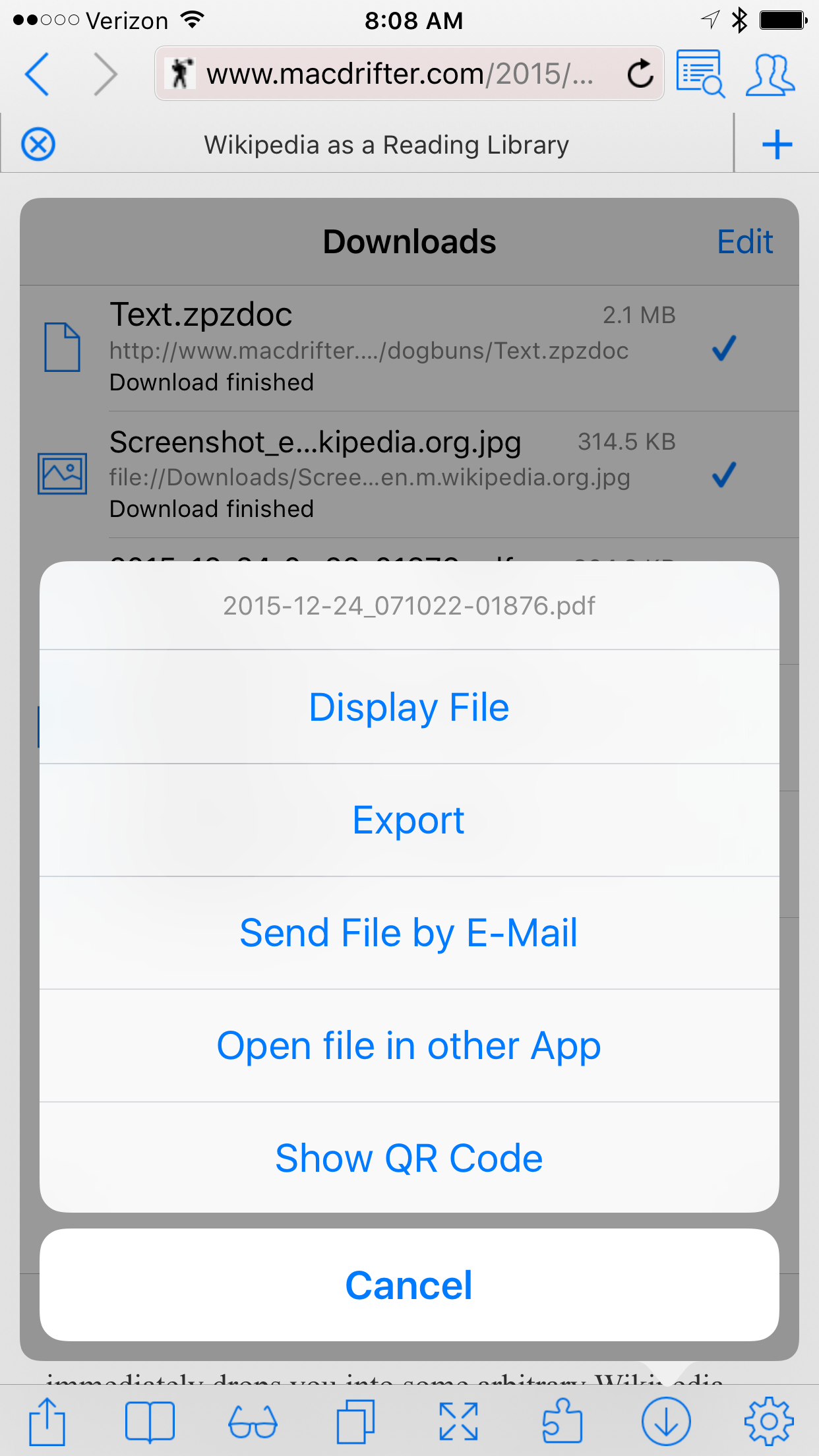 iCab can also be used as a hold place for other apps. From any apps share sheet, just push a file to iCab and you'll have access to it all in one place. I do this less now that I have Copied for iOS and Mac but it's still a really nice option. I can even organize my files into folders (but I don't).
Save a Page to PDF
Yep. It's not even that hard. iCab is overflowing with plugins but the built in tools are equally awesome.
From any page, I open the "Screenshots…" action menu. From there I can do a bunch of interesting things. Saving as a PDF doesn't provide active links, but the links are converted to show the URL, which is actually quite nice. I've used this for offline reading several times and it's a convenient solution on iOS.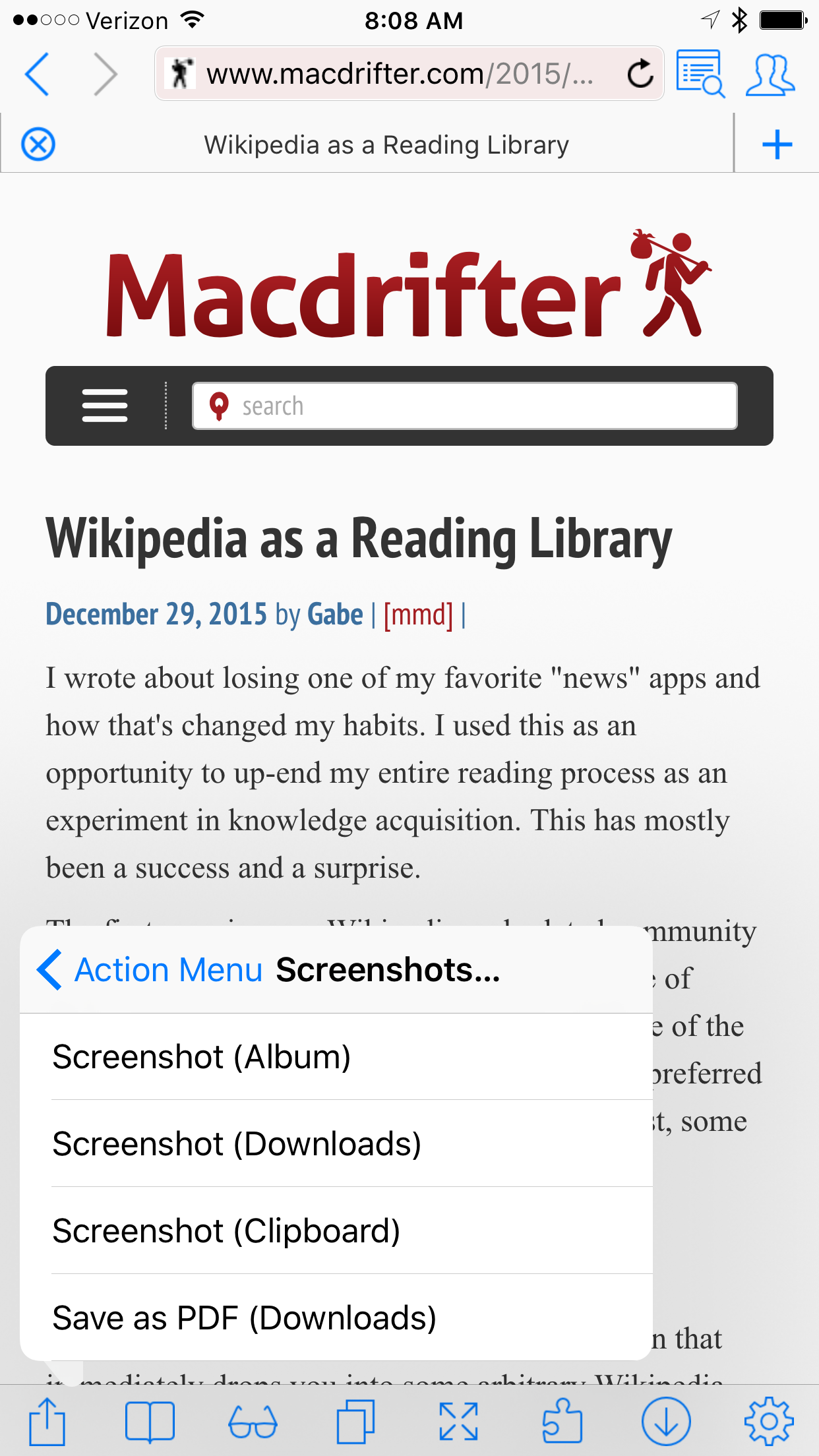 Even more amazing is iCab's option to save or generate an image of the current page. This is fantastic for sharing with other people that don't like the idea of opening a PDF just to see a web page. It's also great for quickly annotating a page.
PDF to Image
After purchasing a fine little app ($2 | Universal iOS) just for the purpose, I realized iCab is all I need to convert a PDF to an image.2 Just open the PDF in a new tab and then use the Screenshot action to generate an image file instead. It's more circuitous than a dedicated app like PDF to JPEG but it works well.
Guest Mode
iCab has a ton of privacy features, but even if you're not being creepy, they are valuable for the convenience. Each user account has its own settings which is awesome if you want to share your web browser with your kid. I don't particularly want mine to have access to all of my bookmarklets and login credentials. iCab makes this super easy and granular.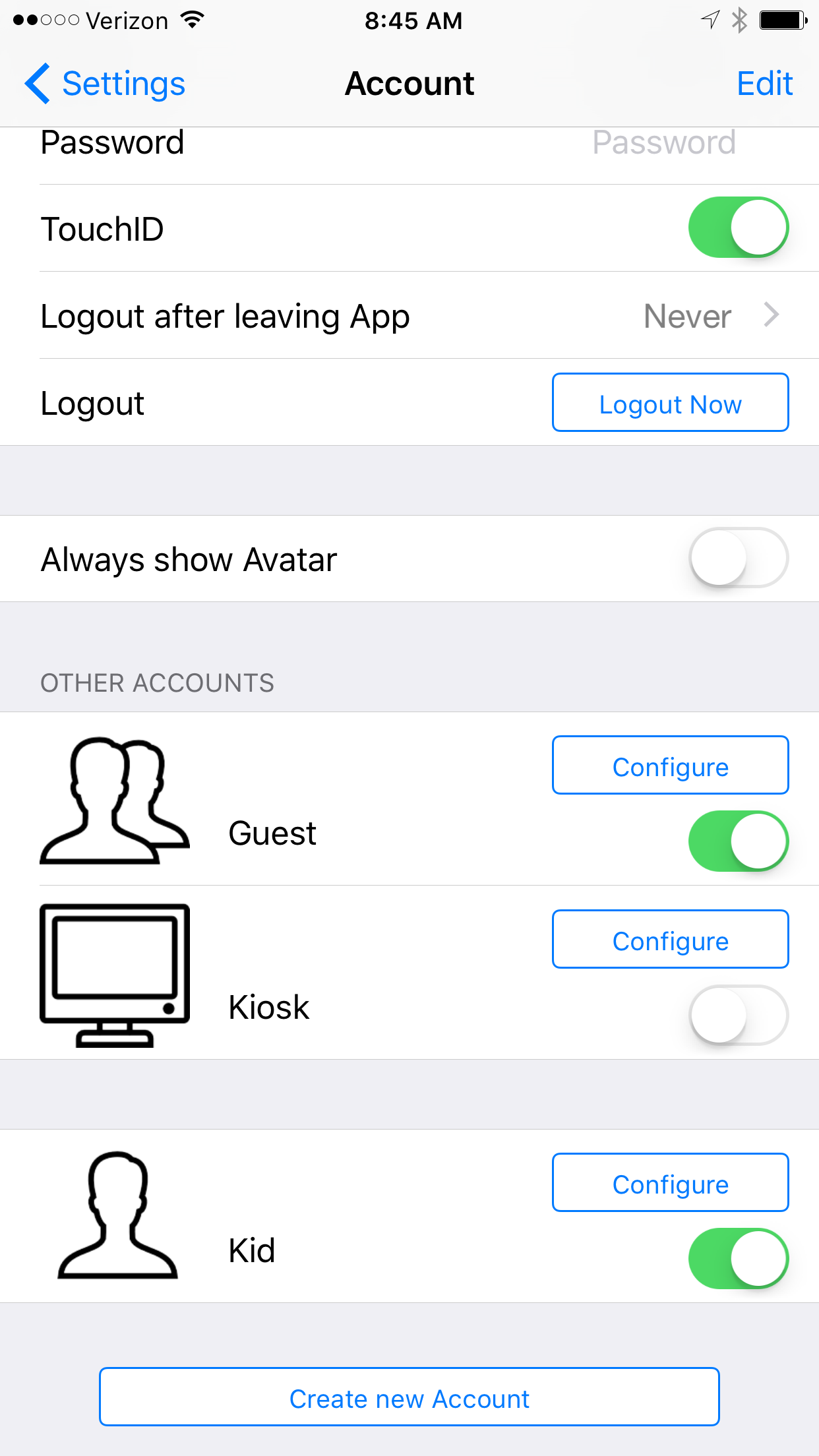 The admin account controls everything but I can use TouchID (or a password) to lock it while giving my kid access to YouTube, PBS and Disney. Each account has completely separate Bookmarks, filters, toolbars, and just about anything I care about.
Filters
Filters have been in iCab as long as I can remember. They are really just content blockers with a lot more fine tuning.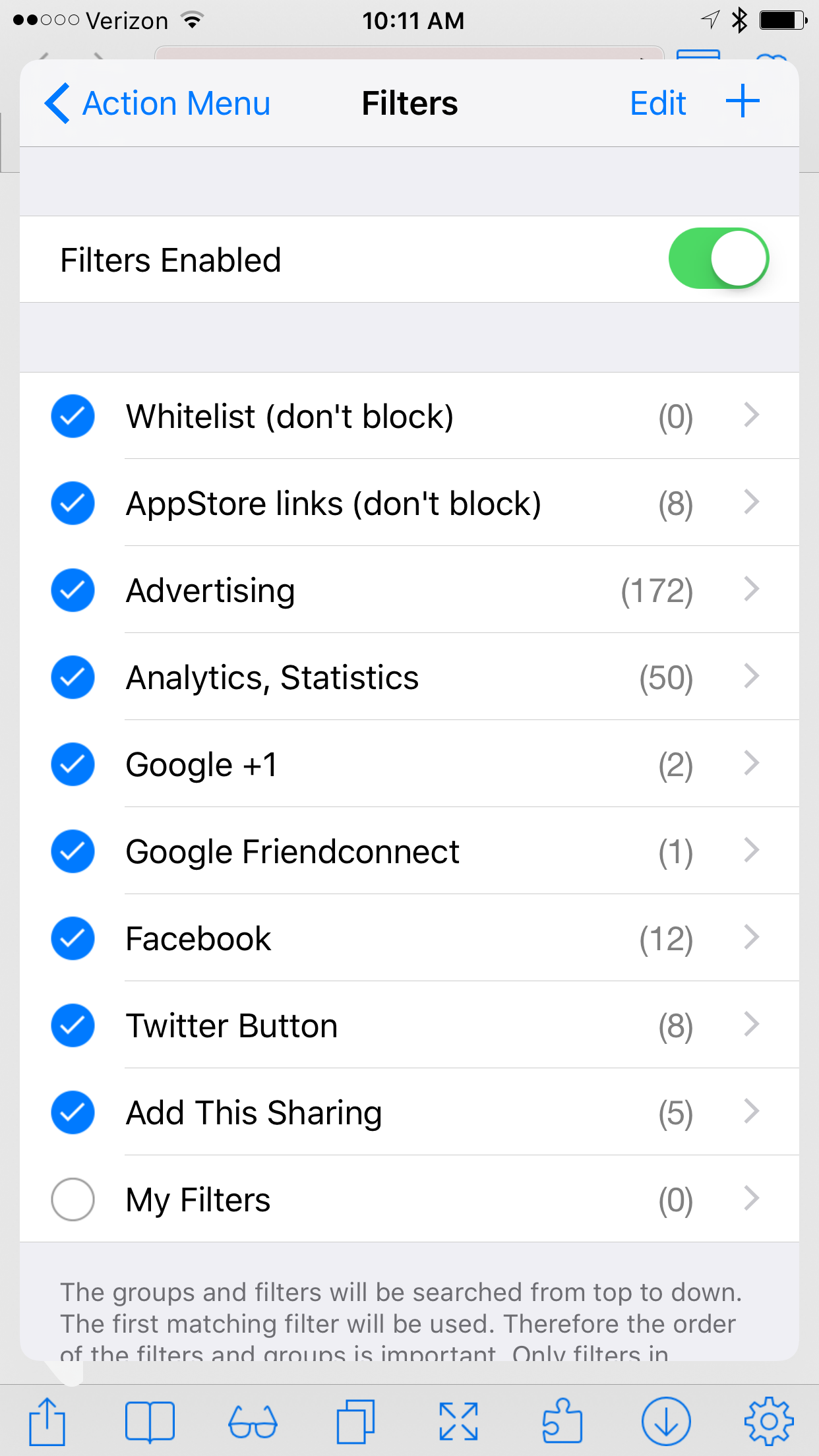 Services
iCloud is probably the obvious syncing solution and iCab supports it in spades. Every user configured aspect of iCab can syncing through iCloud between devices, including filters, settings, bookmarks and search engines. Turn on "privacy" mode and syncing temporarily stops.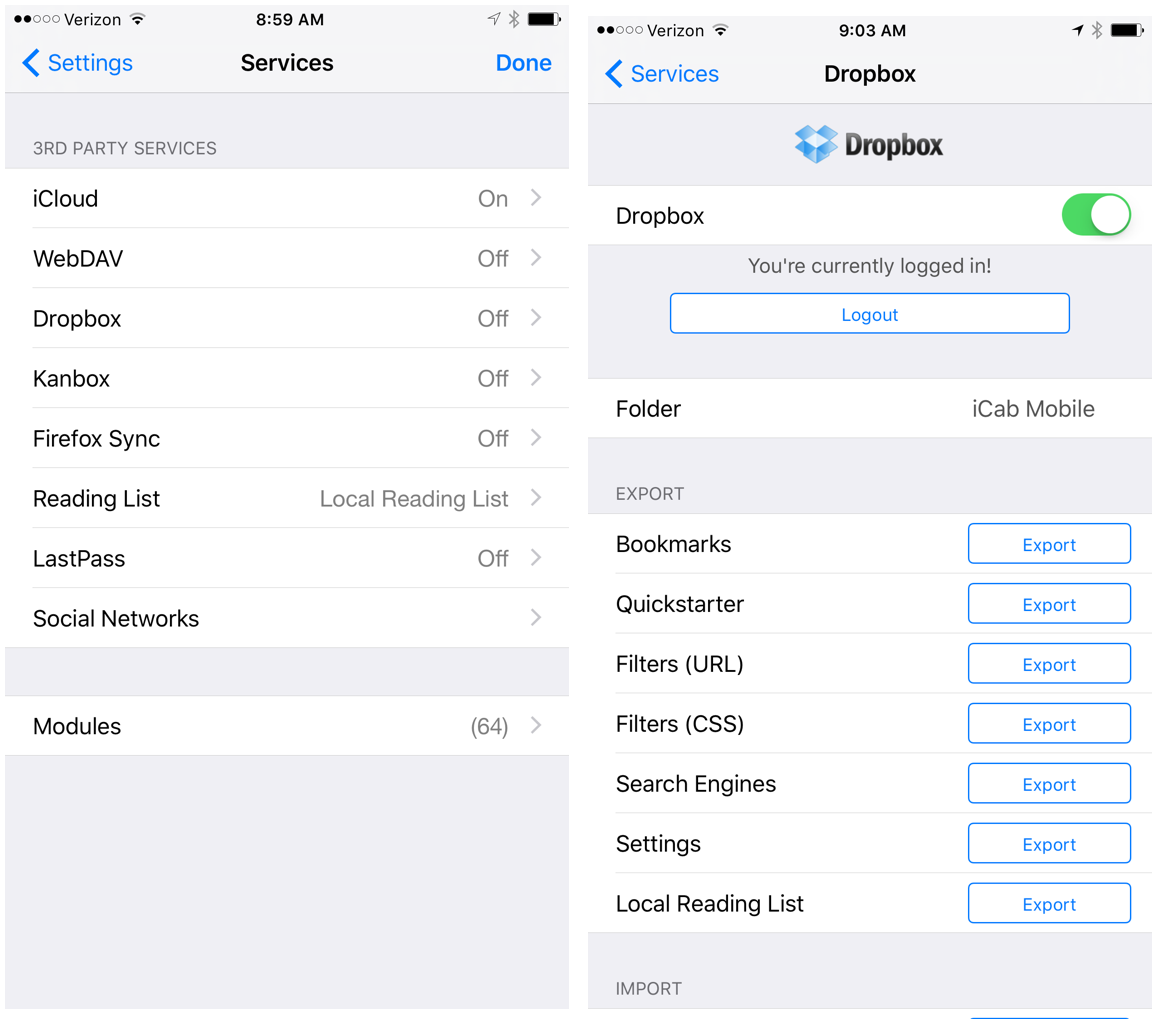 If you prefer manual control over your data, you may be excited to hear that iCab also supports Dropbox and WebDAV for manual import and export. It also gives quick export for items in the download center as well as additional options for the "Screenshot" function mentioned above.
Modules
This is all about personal preference but iCab has a ridiculous list of modules to install. Each module adds some sort of new functionality to the browser. From simple navigation like jumping down the page to advanced features like reading a web page aloud, the modules make iCab superior to any other browser.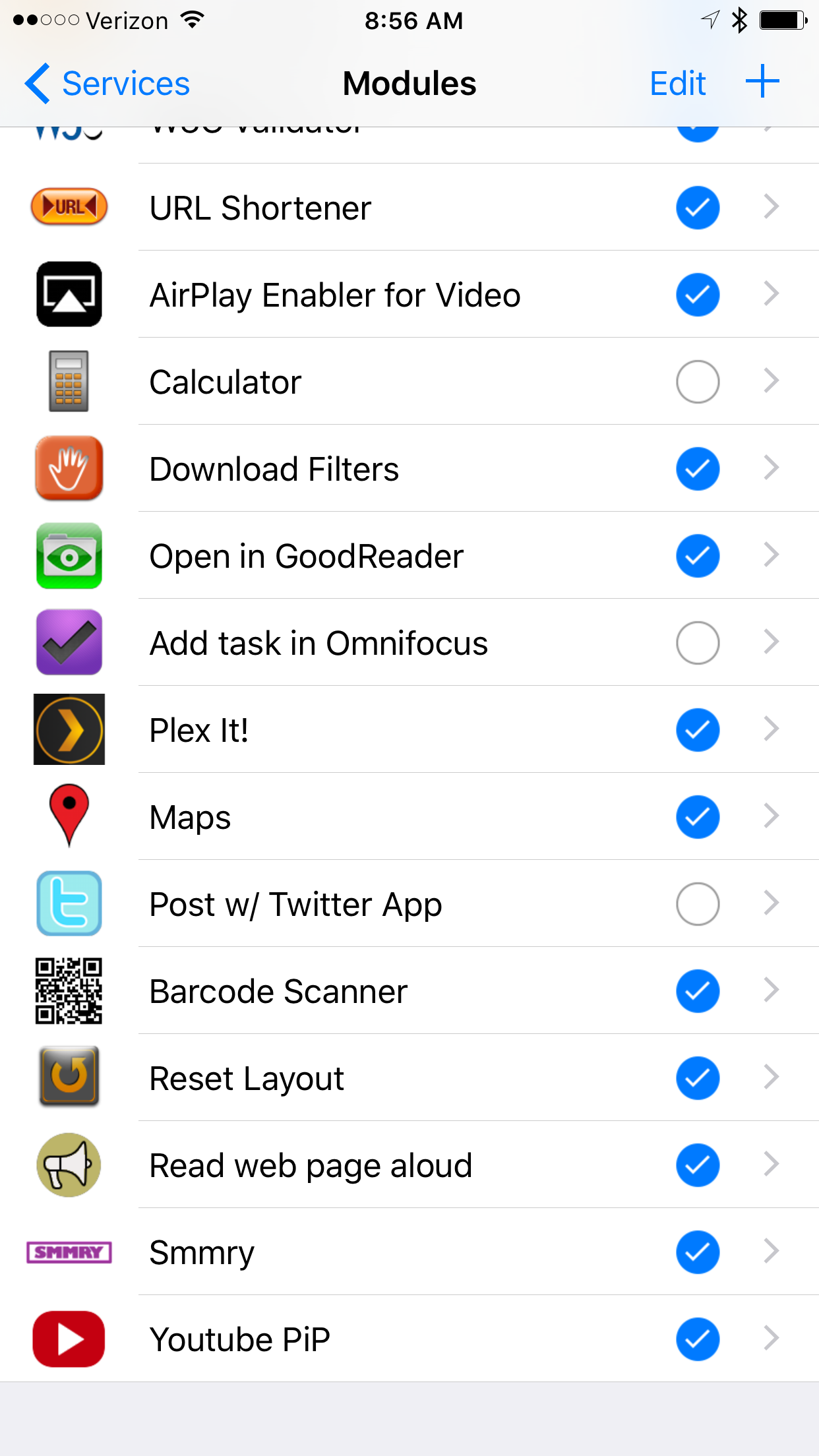 Modules like the once great (but still functional) Quix are huge on a mobile browser since it provides additional functionality without a lot of additional widgets or buttons.3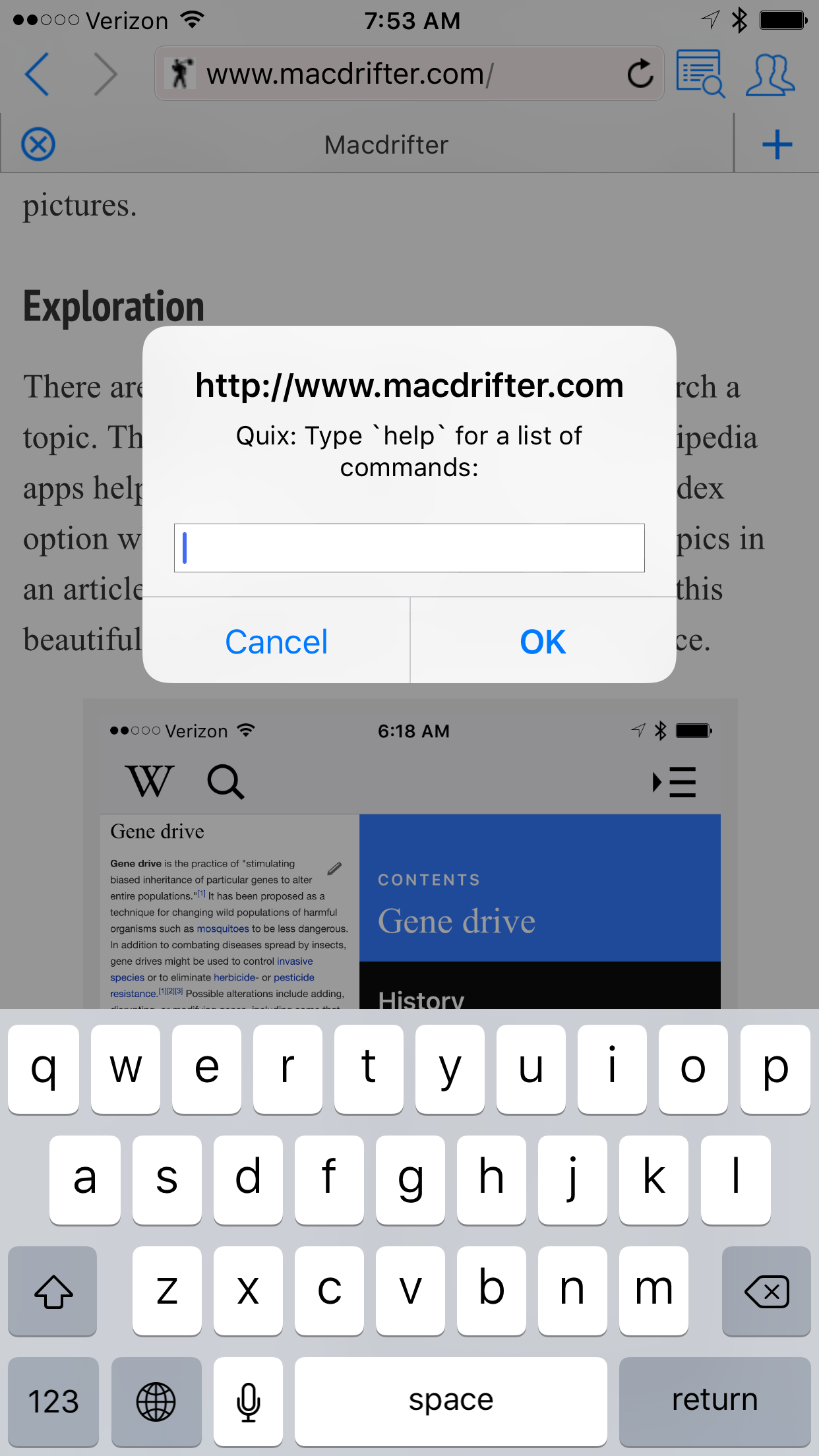 Share Sheet
This is far more useful than you might guess. From any app, trigger the iOS sharing sheet and then choose iCab. If it's a URL, you get a really nice option to send the URL into the bookmarks, add it as a new tab or append it to the reading list. It's great for doing research or if you really just want to capture that sweet, sweet GIF.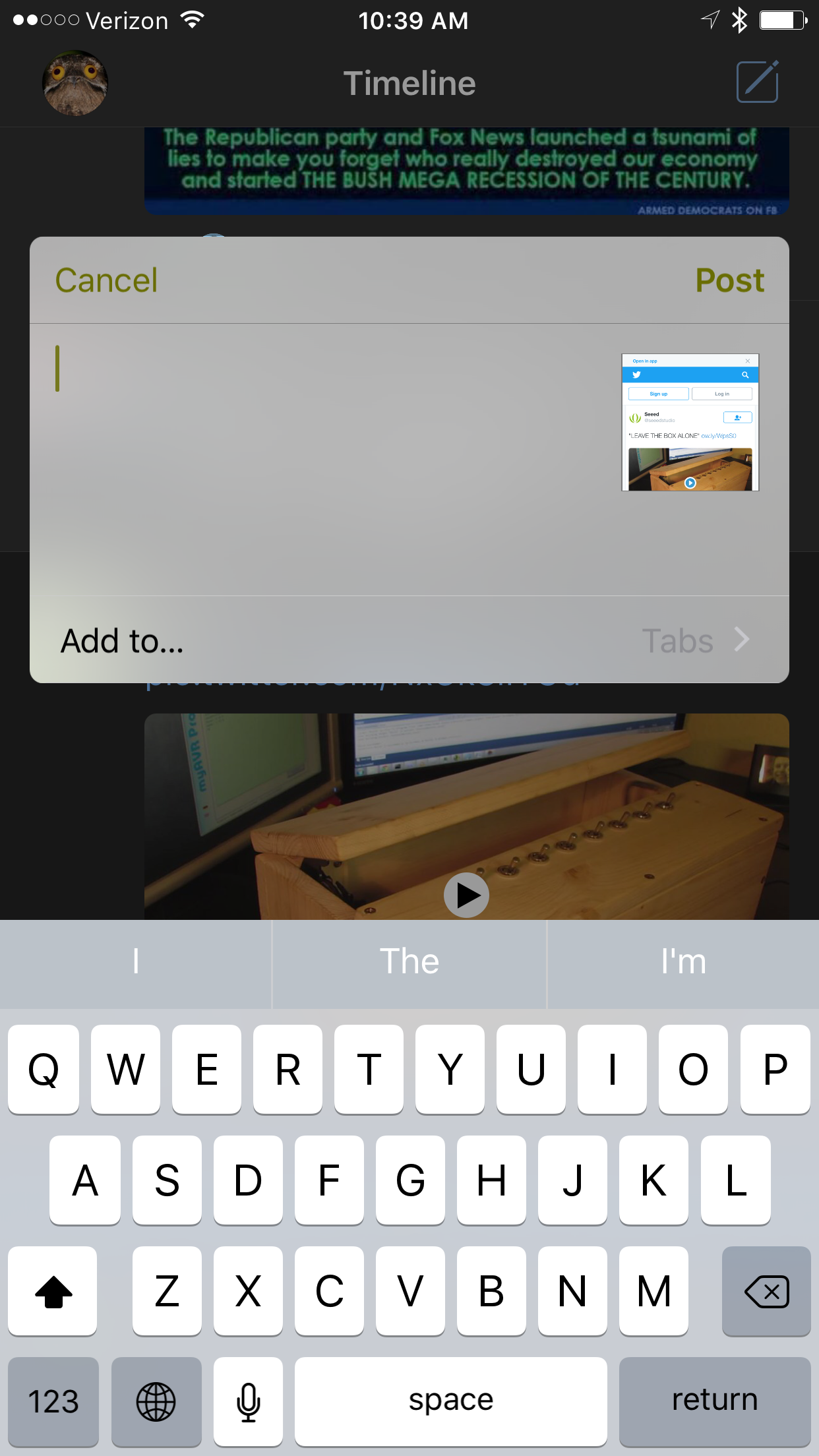 Twin Browser on iPad
You don't even need an iPad Pro for a dual browser with iCab. It's pretty nice but I see no reason my unwieldy clown-car of an iPhone can't have Twin Browser mode.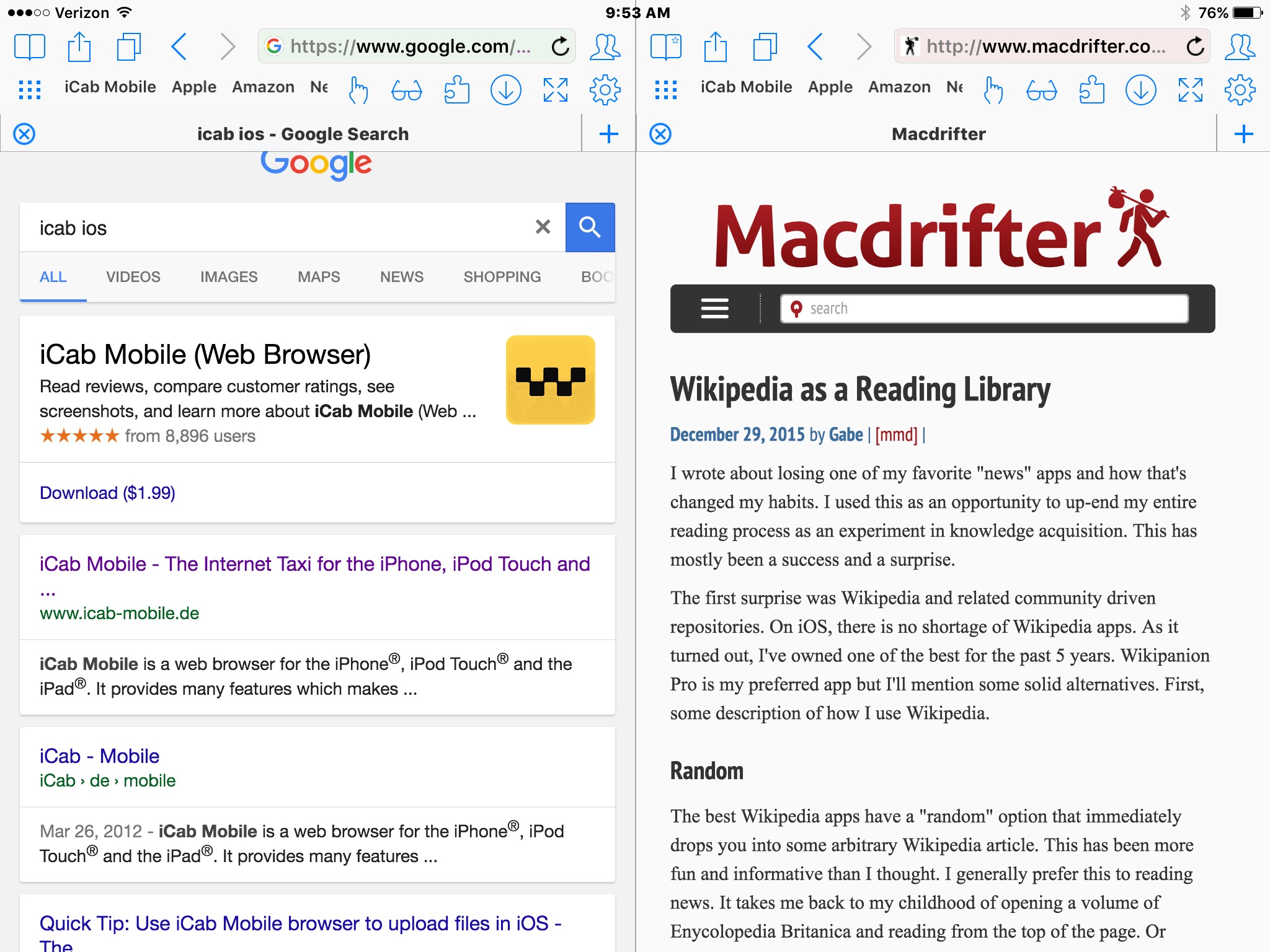 iCab for iOS | Universal | $2
---
Be sure to try out the scroll pad in iCab too. It makes scrolling with one hand much easier on long pages. ↩︎

People really don't want a PDF of a single page. While I really like Scanbot for generating PDFs, images work better almost everywhere ↩︎

Man, Quix was so great. It was the command line for the Internet. While the plugin still works, the Web site is looking abandoned. The Help section is now blank (look at the raw HTML to see a giant gap). I suppose something like Shortwave is a replacement but I bet it's as well supported as Fever and Mint. ↩︎