A Few Launchers for iOS 9
The today screen in iOS is one of those dividing features that you either love it or you forgot about it. I love it.
My most used features of the Today and Notification screens are the widgets provided by apps like Fantastical and Drafts. By far my most used widget is from an app named Launcher (see this previous overview).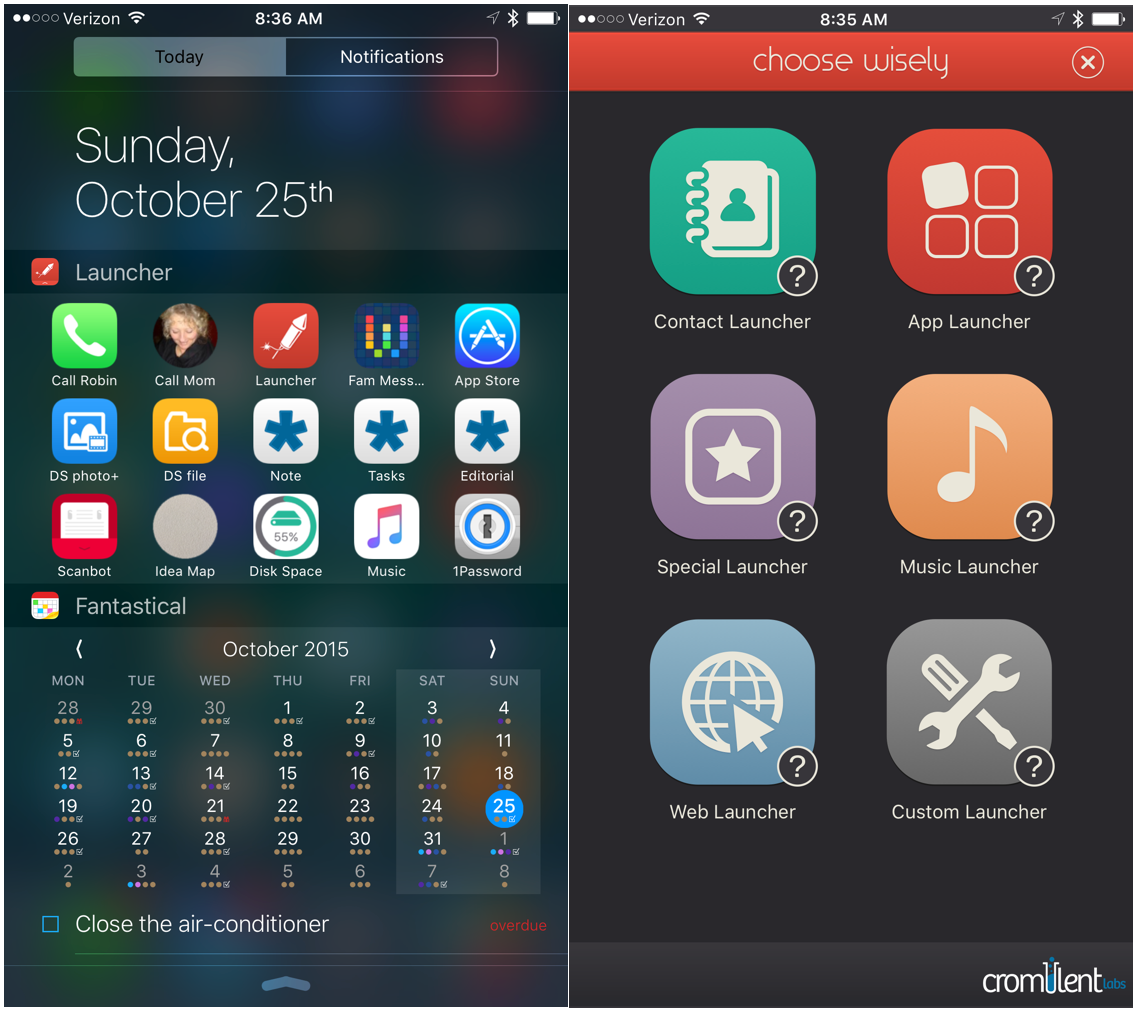 The latest version of Launcher extended the relatively simple app launch actions of version 1.0 to include new status widgets like available storage of my phone. There are also new options that provide more granular function access with other apps like Maps and Messages.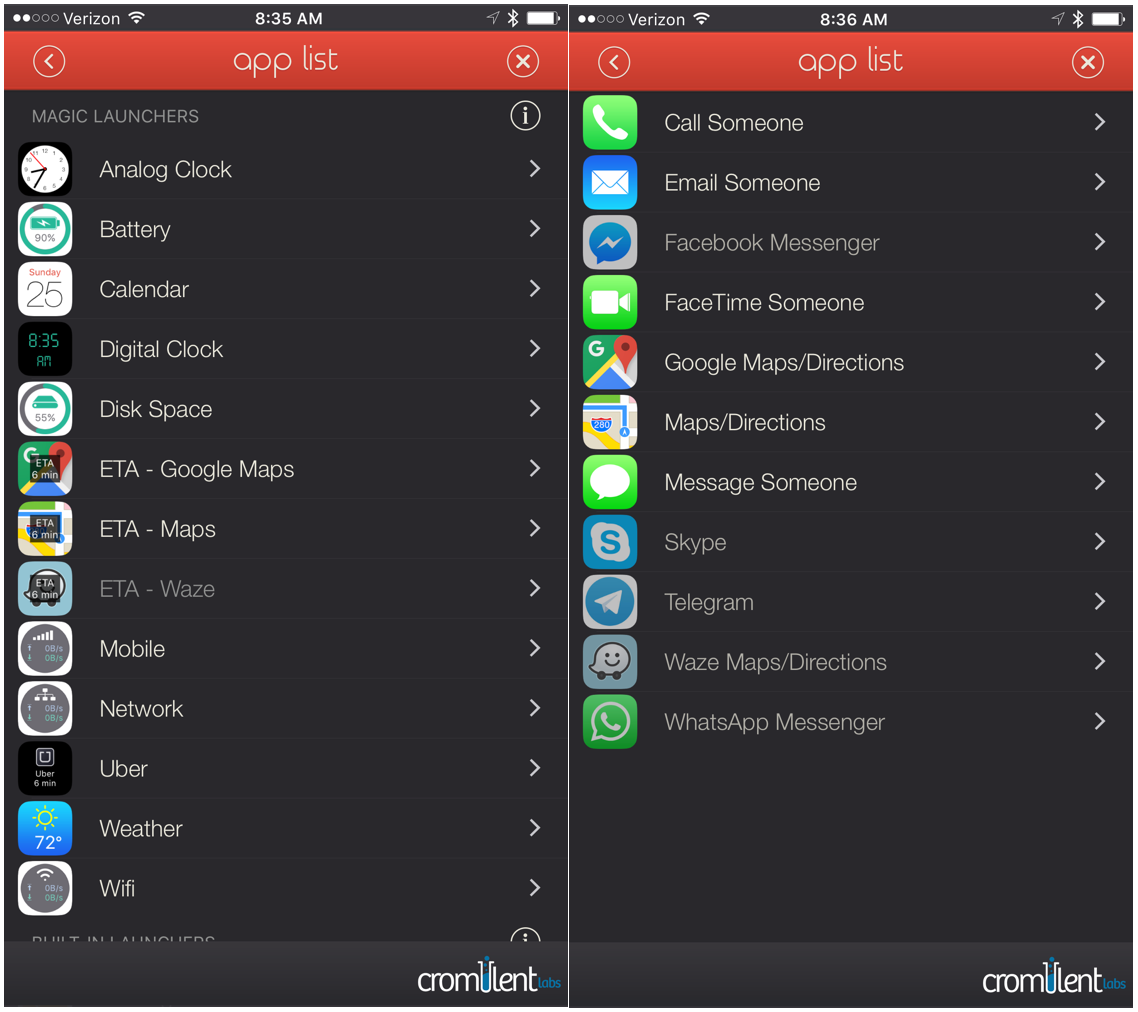 Launcher 1.3 adds the ability to configure 3D Touch actions but I find these less useful than the Today widget. 3D Touch is limited to 4 items by Apple and the Today widget is accessible from within any app and from any home screen.
The obvious player in this field is Launch Center Pro ("LCP" in the common tongue), one of the original app launchers for iOS. Any LCP action can be assigned as either a Today widget icon and/or a 3D Touch action, which is great. Adding applications is far easier in LCP than in Launcher owing to the deep URL scheme library built into LCP. If you have an app to access, there's a better than 75% chance that LCP already knows how to launch it (and probably execute internal app actions too).
I happen to prefer the Today widget in Launcher simply because it displays more actions in the same space. Both widgets are responsive and are loading instantly when the Today screen is displayed. For common actions like phone calls and text messaging, both apps are equally approachable. LCP Today widget actions are first redirected to the LCP app before launching the shortcut. The Launcher actions are a bit more elegant and launch directly to the shortcut app.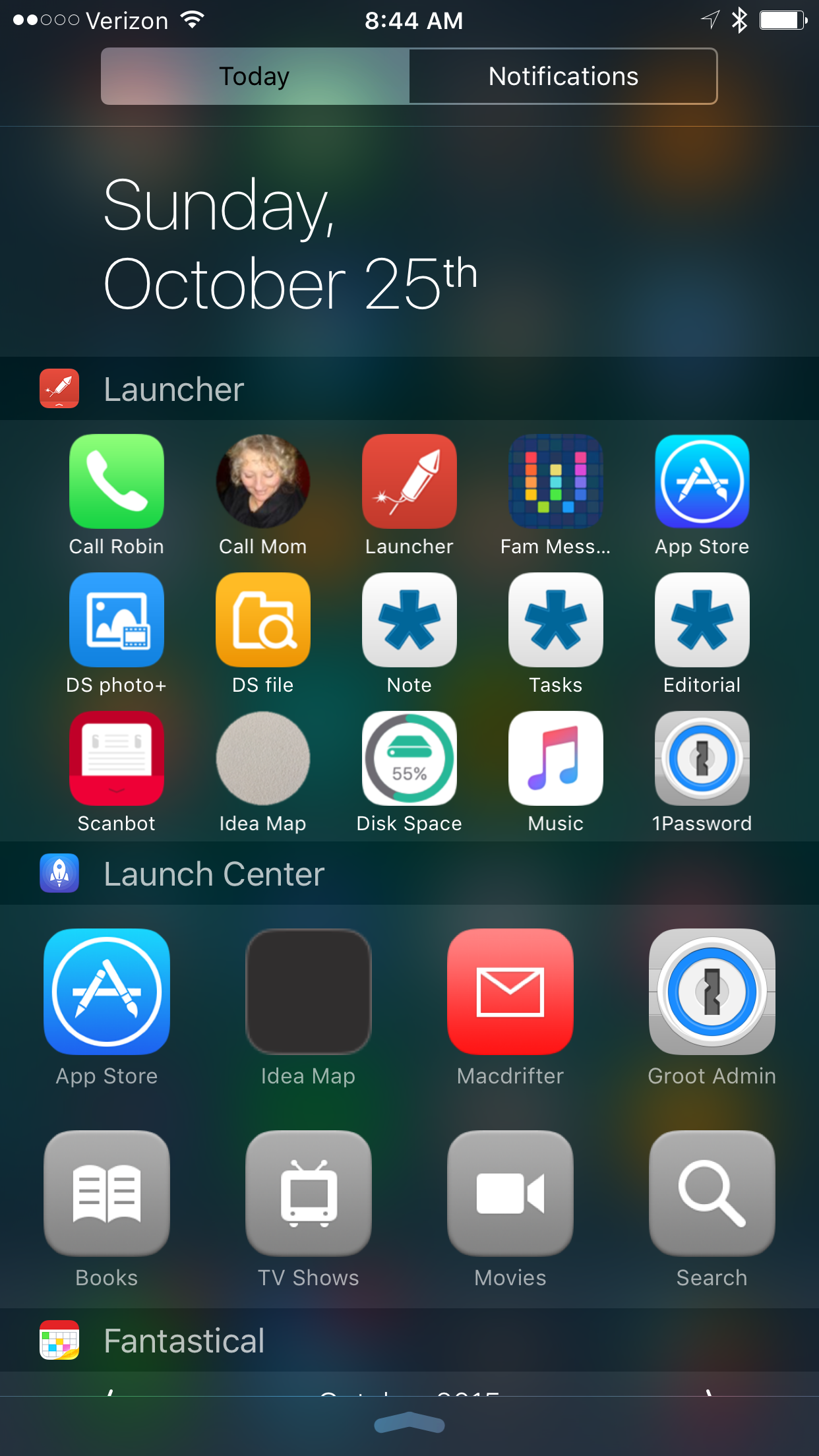 The new contender (and power user app) in this work stream is Workflow app. Workflow continues to be a powerhouse of functionality and fiddling. There's a tremendous amount of customization with Workflow.app if you have the motivation to stick with it. It's not difficult but once you understand how data flows and changes you can do much more than the first day you open the app. Commit about an hour and you're golden.
Unfortunately, the Today widget for Workflow.app is my least favorite of the three. It simply wastes too much precious space. Sure, the actions are amazing but come on, that's a full screen to scroll past. Like Launch Center Pro, the Workflow Today widget shortcuts launch their own app to run. It's not terrible but it's not as fast as Launcher if you just want to open another app. Workflow.app also provides 3D Touch shortcuts, but like every iOS 9 app, those are limited to 4 options.
I really like my Launcher setup. I get 15 actions onscreen and can still view my Fantastical monthly calendar. The actions work for what I need. Launcher can also trigger Workflow.app actions so it's the best of both worlds right now.
Launcher | Universal | Free with IAP
Launch Center Pro for iPhone | iPhone | $3
Launch Center Pro for iPad | iPad | $5
Workflow | Universal | $4