The Best Office I Never Knew I Wanted
Here's a twofer. Not only does this article describe a bunch of cool office tools I like but it's a good affiliate-linked holiday shopping list for you. Hey, I'm like the Wirecutter but without a paywall and I actually use the stuff.
The Desk
I got an Uplift desk. Well, I got two. I got a convertible standing desk with the "Commercial frame" for my Mac and various peripherals. I also purchased a fixed height desk to hold all of the Windows computers I have to use throughout the day.1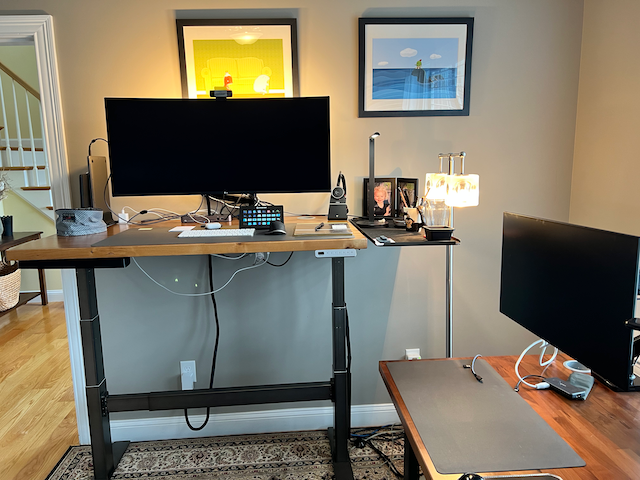 The Uplift standing desk is very sturdy, which was a key requirement for me. I hate the feel of standing desks that wobble because it makes the monitor wobble which in-turn makes conference cameras go crazy. I went with the Uplift Commercial Frame and it's well made. The Commercial Frame has an additional cross bar that stabilizes the desk, provides a spot to put my feet up, and shifts the center of gravity a little lower to create some additional stability. It's nice.
The wooden top, on the other hand, was disappointing. The first one I received had a crack running the length of the desk and had obviously been damaged before it was packed.
The replacement top was mostly fine but for a premium wooden top it had a lot of minor defects like nicks and smeared wood stain. I don't recommend buying their high end wooden tops but I do recommend their customer service. I had little issue getting replacements.
I threw in some extras like their power grommet, which gives me some convenient electrical outlets at the back of the desk. Honestly, it's nice but not necessary since there are good alternatives for less. I also added the CPU holder to use as an extension for a lamp and my stationary supplies.
In addition to the desk, I picked up the $300 Uplift filling cabinet. It's well made and extremely solid feeling. It too had small nicks on the paint but not enough for me to deal with the return process again. I like the cabinet and the finish matches the desk so I'm happy overall.
The Computer Setup
My main goal was to have a single cable from my MacBook Air to connect to everything on my desk. I started with the dock. The OWC Thunderbolt 3 dock has 85W charging through Thunderbolt 3 along with pretty much every port I need. The best part is that one Thunderbolt cable connects my MacBook Air to all of my peripherals, including a monster of a monitor. Take a look at the specs over at OWC. I highly recommend this dock for a Mac even though it's $400.

I use my MacBook Air in clamshell mode so I grabbed this Aluminum vertical laptop stand for $24. It holds my laptop and my iPad and looks pretty good on the desk.
I paired the dock with some of these "USB4" Thunderbolt 4 cables. They are pricey at almost $40 each but they feel solid and I like the braided texture.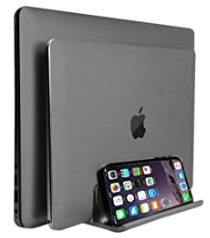 One of the major downsides of using a MacBook in "clamshell" is there's no TouchID. I love TouchID on the Mac so I paired mine with Apple's new Bluetooth Magic Keyboard. It has been mostly great although if my MacBook is temporarily out of range then I have to turn the keyboard off and on to re-enable TouchID. See, turning it on and off does fix some things.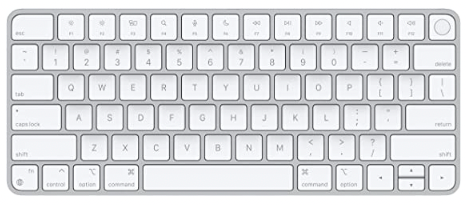 That brings me to my precious. A 38 inch Ultra Wide monitor from LG. I purchased the LG 38WN95C-W which took some mental gymnastics to justify. I paid $1500 for the monitor back before supply chain issues caused the price to go through the roof. I drive the monitor with a Thunderbolt cable from the OWC dock, which is great. Because I use Thunderbolt I get the added benefit of extra USB ports on the display without a lot of additional cables.
I picked up the Anker PowerConf S500 a few weeks ago to solve one semi-dumb problem. I need a microphone and speaker because my MacBook Air is closed when I use the external monitor. As it turns out the PowerConf is a great little conference call speaker too. Not only can I connect it through a USB-C cable but it can also be a wireless Bluetooth conference speaker when traveling. I wouldn't want to use it as speaker for music, but that's why I have a HomePod in my office. At $220 I can't recommend this unless it solves a very specific problem for you.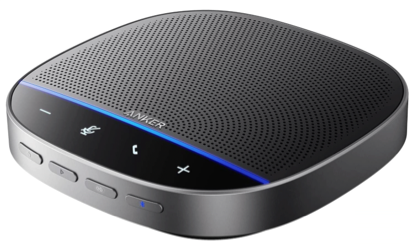 Of course I needed a video camera if my MacBook Air is in clam shell mode. The Logitech C920x HD Pro webcam gets the job done for $60. After seeing some example 4K video conference streams I decided that I probably look better in lower resolution. I wish this model had a lens cover but I'm also fine using a Post-it tab that only cost a dime extra.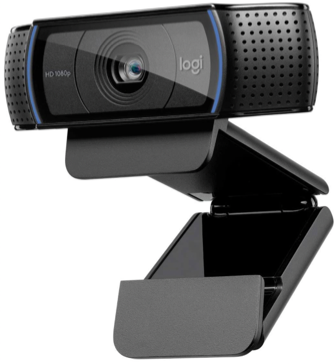 Organization and Supplies
I really like these new Anker USB C Charger, PowerPort III plugs. They provide a ton of power and they are pretty small. I plugged one into the outlet on the Uplift desk and now I have plenty of peripheral charging and it can even charge the MacBook Air with 65W when I travel.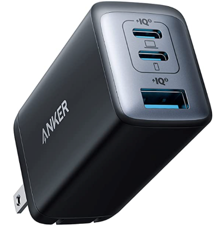 Do yourself a favor and grab 50 adhesive cable ties for $10. They work well as reusable cable ties even if you don't need the adhesive. These are so much better than zip ties.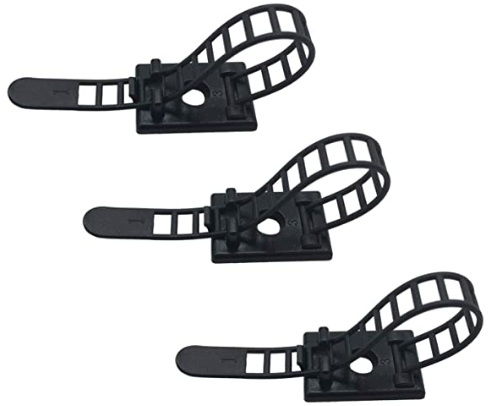 I've mentioned the Anker magnetic cable holder but I recently discovered the Velcro version think it's great too. The Velcro wraps are a lot more "universal" than the magnet versions which have a maximum size cable they can hold.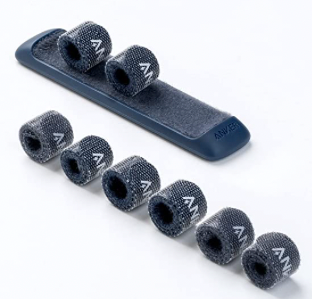 To keep all of my desk accessories organized and not rolling around a $300 filing cabinet, I bought a 6 pack of poly storage bins for $15. They're not top-quality but they don't need to be for this job.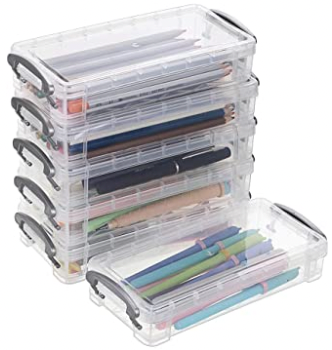 I love the Sharpie S-Gel pens. They ink dries quickly and makes a smooth line. The medium is the best size for my work and they are inexpensive at about a $1 a piece. I deploy these everywhere.
I really like the Kensington Duo gel mouse pad but it's a bit too bulky for my main desk where I usually write and draw. I don't use one on my standing desk and prefer to go commando with a leather desk pad for $16. These desk pads are a nice way to save the surface of a desk from wear and tear but also provide some friction for a mouse and keyboard. I still use the mouse pad on my "Windows" desk where I prefer to spend as little time as possible.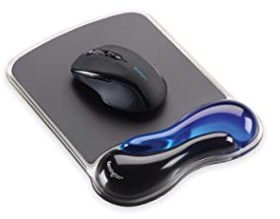 The Jabra Evolve 75 headset has noise cancellation and the battery lasts an incredibly long time. I also love that I can mute myself just by swiveling the mic up. It's a clever little device that I use every day. They also sound pretty good too. These have been recommended to me several times by people that work remotely so I had to try them. I'm glad I did because they are perfect for teleconferencing.2 At nearly $300 these are premium additions but I wear them for multiple hours each day and they do a good job. They are also extremely portable and I've used them in hotel lobbies perfectly well. They are light and small and come with a nice carrying case.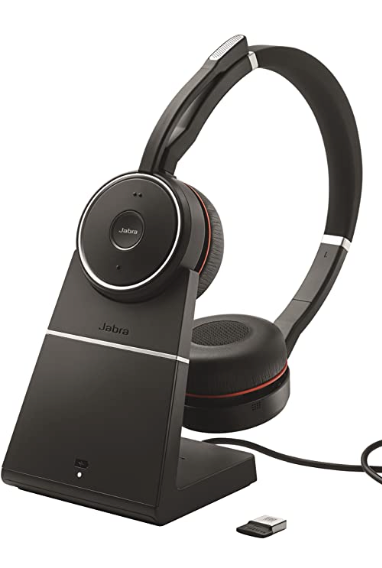 I fully expected to return the Elgato XL Stream Deck because it seemed like a silly thing for YouTube streamers and it cost $250. But, it turns out that it's perfect for an old man like me that has a hard time remembering the 300 keyboard shortcuts I configured on my Mac.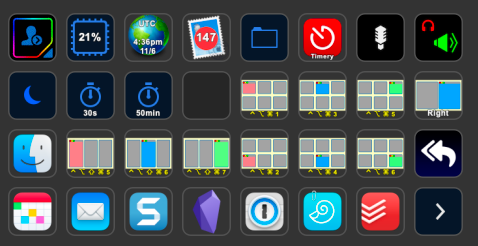 My default Stream Deck screen is mostly an app launcher and window manager. I keep it right in front of my mouse so it's usually just a couple of inches away to quickly move a window or start a timer. I've found a lot of uses for this little keyboard and I'm impressed that Elgato hasn't abandoned such an odd device.
Conclusion
I'm fortunate that I get to work remotely from home. I've done this off and on for years but always just tolerated inconveniences and discomforts because it would be short-lived. But it wasn't short-lived and after many years I'm giddy with the environment I have now. It's a lot easier to hit that flow state.
Everything linked here is just "stuff" and I could certainly work without it. Just like I could go for a hike without shoes. But I don't want to hike without shoes and I don't want to use a 13" display with spaces for 10 hours a day.
Every time something annoys me or interrupts me during my work hours I make a note and then I try to fix that thing. Each tiny improvement isn't much on its own but taken together they make may computer feel powerful and vital. It seems like a lot of money to spend on an office, and it is. But I spend 10-12 hours each day in my office which is more than I spend anywhere else. It might as well not waste my time.