Learning to Work with Fewer Pixels
Well that was a weird year. While 99.9% of the past year was terrible the one thing I did enjoy was working from home in my own office with a desk, chair, and monitor that I like. I made some tweaks to my office setup after the pandemic lockdown and I couldn't be happier with the arrangement.
One of the uncomfortable changes I'm preparing for is the need to travel and work. While I'm excited to be done with the past few years, I don't enjoy working from a small screen while away from my office. I usually have a 27 inch monitor connected to my Mac at my desk and I feel restrained when working without it. "Restrained" in an annoying way, not the fantasy way that supposedly makes me more focused.
I've been trying to replace some of the efficiency boost I get with a large monitor by using software. It's kind of working.
I've used Alfred since version one. I'm mostly using it for application switching, some light clipboard history and the Finder actions. I wish Alfred had more useful features for window and tab management. It does come in handy to browse Finder locations without having to open a Finder window and mess with my window arrangements. I'm still building this skill though.
Witch
I've owned Witch for many years and used it less than 100 times. That's likely because I loved the idea of an advanced window and tab switcher but with giant monitors it wasn't something I needed often. Now that I spend a lot more time away away from my desk the utility of Witch is becoming obvious.
My favorite feature of Witch is the ability to switch to any window or tab by name search. That means I can pop open Witch with option-tab start typing the name of a Safari tab, and instantly jump there.
Here's my setup. I've been using this every day.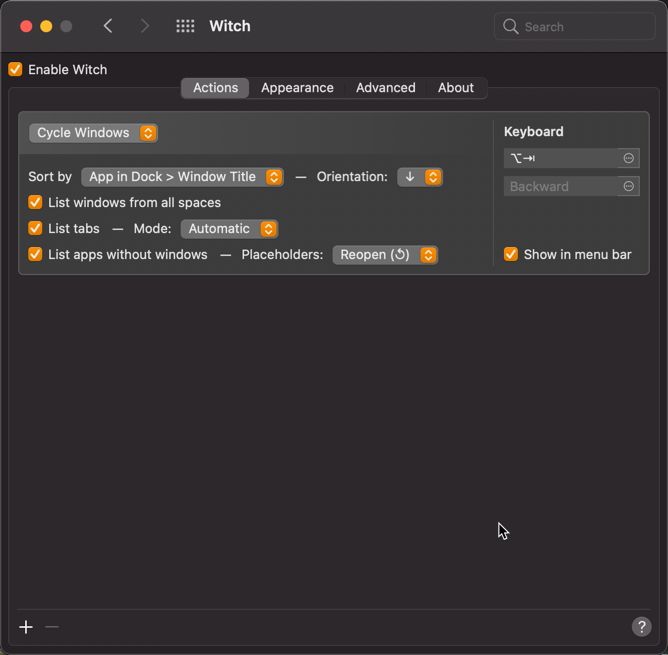 Moom
I've also used Moom for years. It's the best window manager and resizer out there. You can configure hotkeys to reopen multiple windows arranged exactly how you want. Moom is helping me jump between different workflows with a single monitor. Money well spent.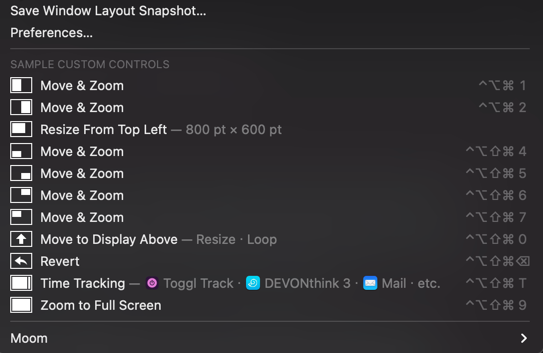 Spaces
Ugh. I don't really dig Apple's Spaces. It's bare bones and only helps with a few use cases like split-screen apps. But, when I'm on a single screen it helps to keep some apps like Fantastical or Todoist in full screen. It keeps their windows out of my way and I don't usually need to use them in parallel with other apps.