Mac Keepers and Sleepers
I've discovered a new universal truth of computer purchases. The moment I get a new Mac setup is the moment that I no longer have enough time to use the Mac. That's more or less the story of my iMac Pro. After several years of neglect I've returned to using my Mac on a daily basis and I've enjoyed re-discovering what I love about macOS.
Here's a brief list of Mac apps that I truly enjoy. I've reviewed many of them in the past and will probably review many of them in the future. This essay is not a review.
Keepers
These are the apps that I love the most. They are full featured, stable, and make my life slightly better.
Todoist is still my daily driver for tasks. When my calendar starts to look like an overstuffed sausage, Todoist is how I get things done. It's ubiquitous, intuitive, and that natural language input is like magic. Seriously, I've tried to switch and I just can't give up their natural language input. Not many task managers can understand "take out the trash every third tuesday of the month".

I've used Paprika as my recipe app on iOS for many years. The web capture is dynamite and the Paprika sync works well. I've set it up so that my spouse syncs with the same account. I find it much easier to triage recipes on the Mac because drag and drop to categories is easier than the hunt-and-peck of the iOS version.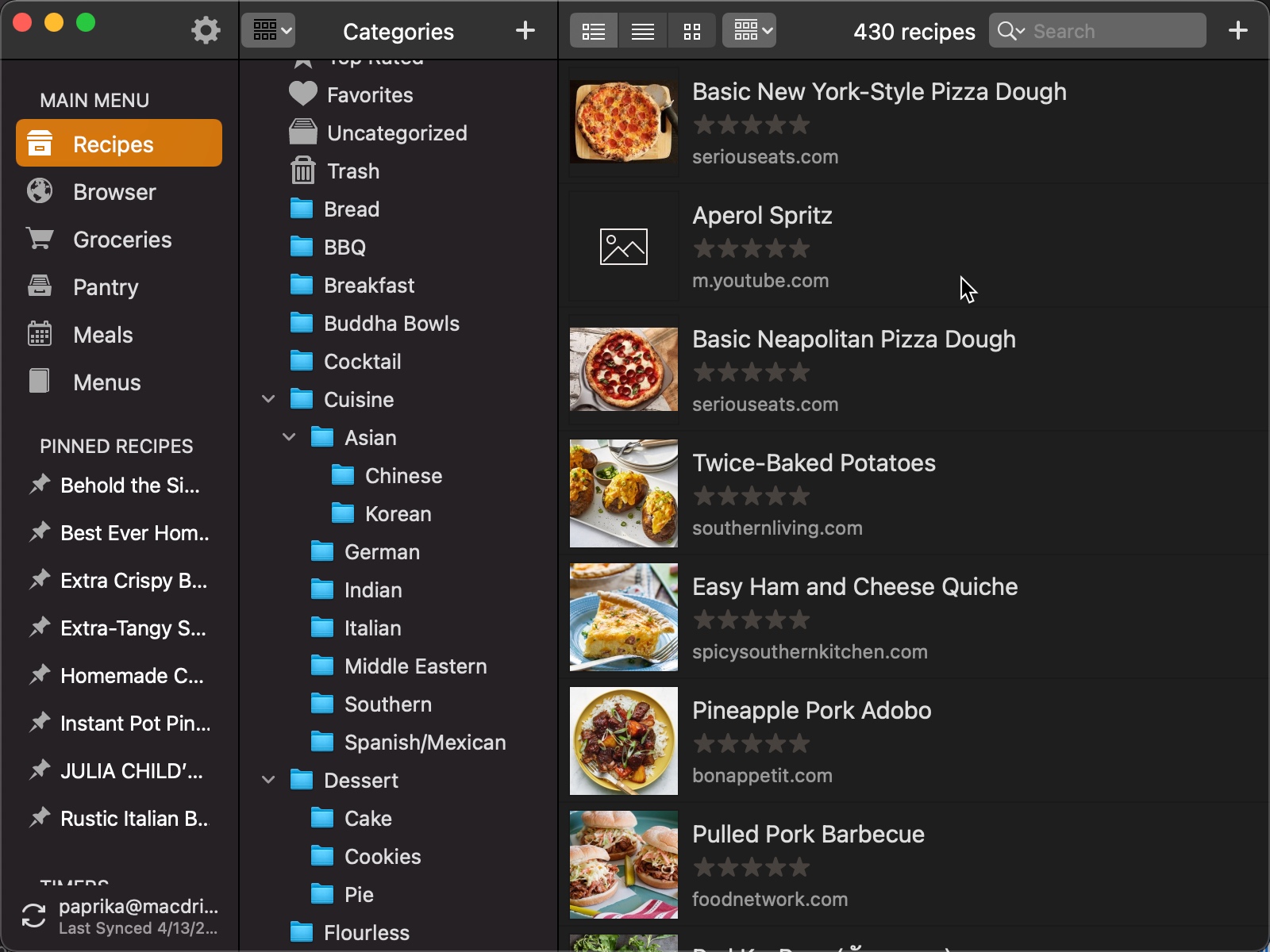 I started using VSCode at work because I.T. blocked the Sublime Text package repositories and update sites. I was very skeptical of another bloated and irregular Microsoft application but it is a fantastic editor. The variety and quality of the plugins are very good, and the editor is stable and feature rich. I mostly use VSCode for Python and there are a number of plugins that put it right up there with PyCharm.
What can I say, there are few things that make me chuckle as much as Carrot Weather. The Mac version isn't great but it is funny, and sometimes that's exactly what I want. I'll be honest, I don't need Carrot Weather. Every app now includes weather forecasts. But I keep Carrot installed for the joy of the forecast jokes.
I've waffled between GoodNotes and Notability for iOS. I finally switched to GoodNotes when Notability opened their stationary store and proved that I was not their target customer. GoodNotes is good enough for handwritten notes even if Notability has a better ink system. I hate both apps for text notes and I still can't believe the GoodNotes doesn't support proper URL linkings. But when I need to take notes on my iPad I like that they sync to my Mac where I can still search, extract, and export in GoodNotes.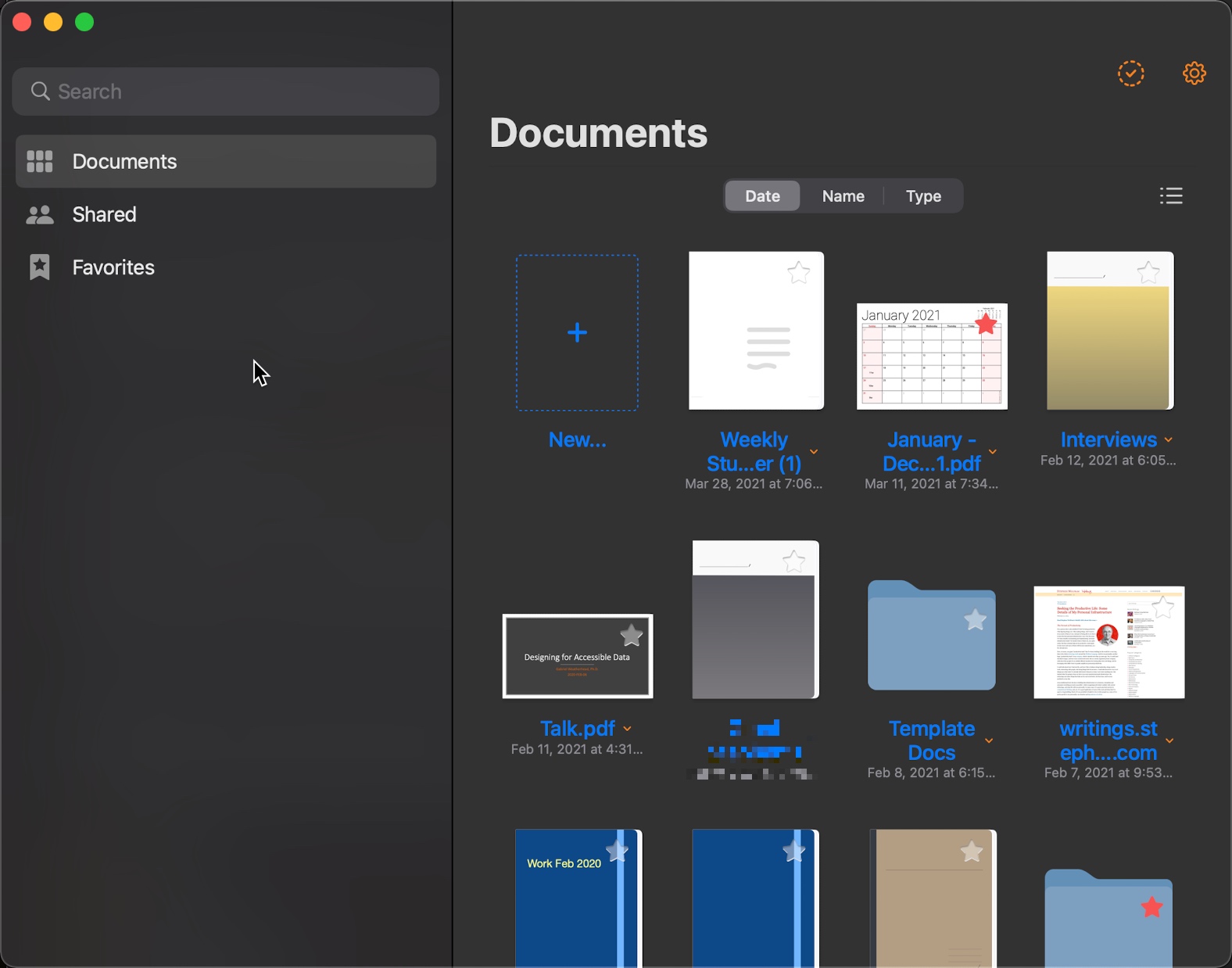 DEVONthink is still a marvel on the Mac, even if I find myself using it less on iOS these days. There are some superb search and capture options with DEVONthink for Mac. It's a better Finder in almost every way.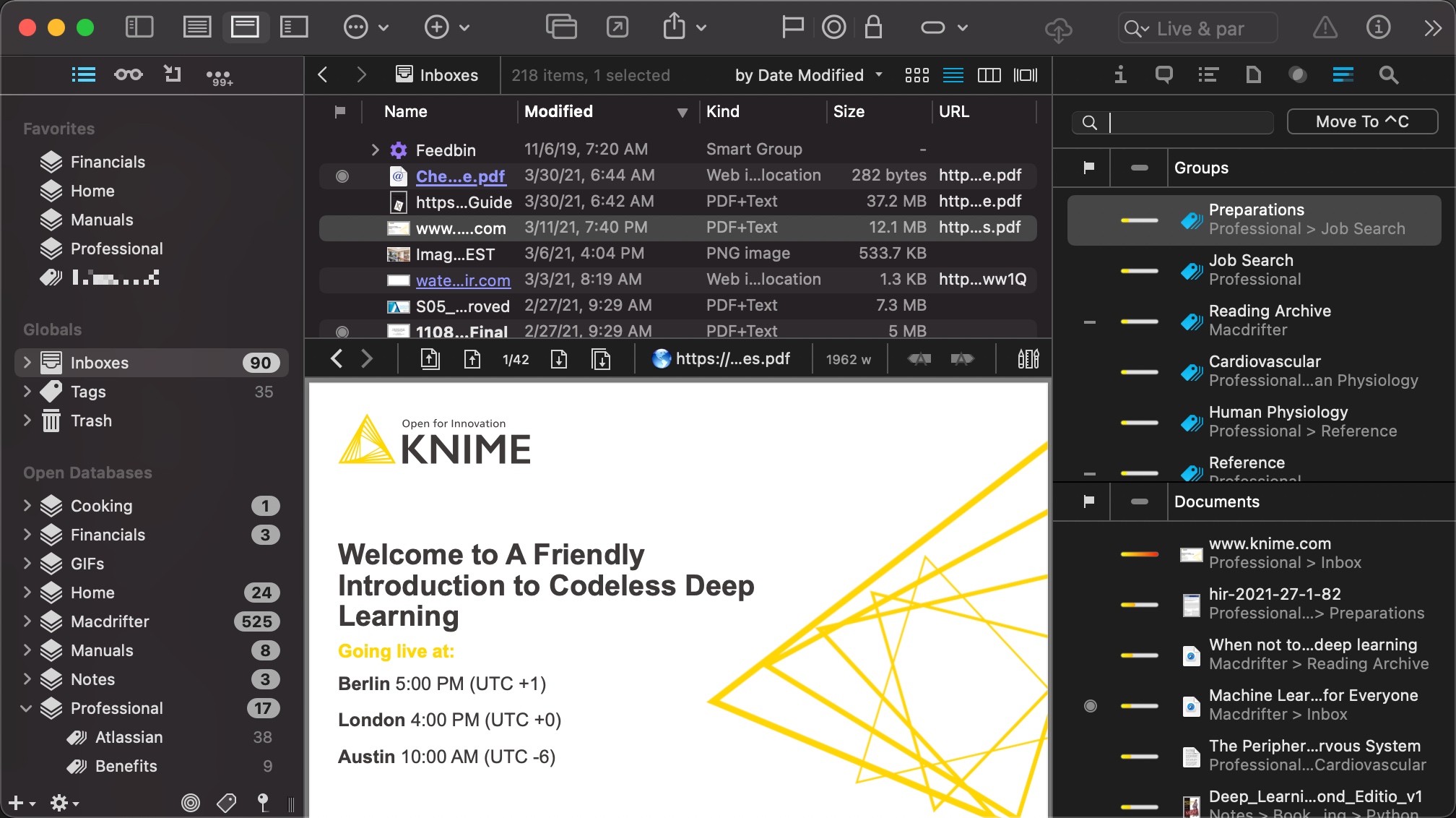 Sleepers
These are apps that I like but I'm still not sold on their longterm value.
While I was looking for a replacement DEVONthink on iOS, a friend recommended Craft.do for notes. I installed and deleted it several times until it started to click. Then I tried it on macOS and it works great. Personal Knowledge Bases are a pretty hot topic these days. I love it when kids rediscover the 90s. Craft is an excellent writing application that focuses on Markdown but extends it in ways that make sense to me. It's also absolutely beautiful and makes me want to use it because it doesn't lock my data up. If they ever add End to End encryption for their sync service, I'd go all in with the app for all of my notes.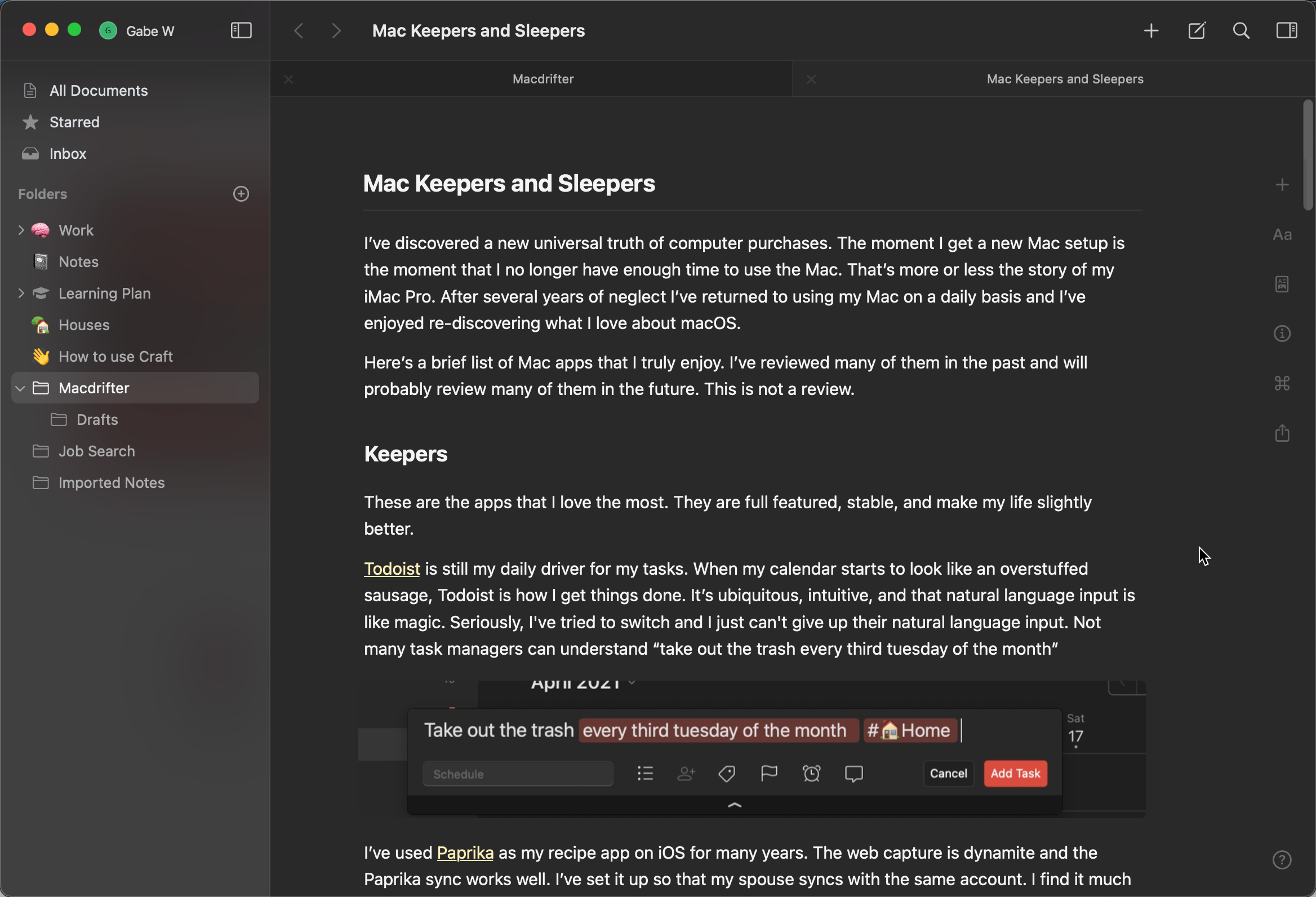 I've written a lot of words about Pinboard for bookmarks. I've enjoyed it but the apps were not feeling very polished or well supported. Then Raindrop.io came along and captured my heart. It's not trying to be Pinboard. Instead Raindrop provides a full compliment of apps and web browser plugins that make it a pleasure to use. In addition, the sync service works great and it brings some new features like sharing of collections and permanent downloadable copies of bookmarked pages.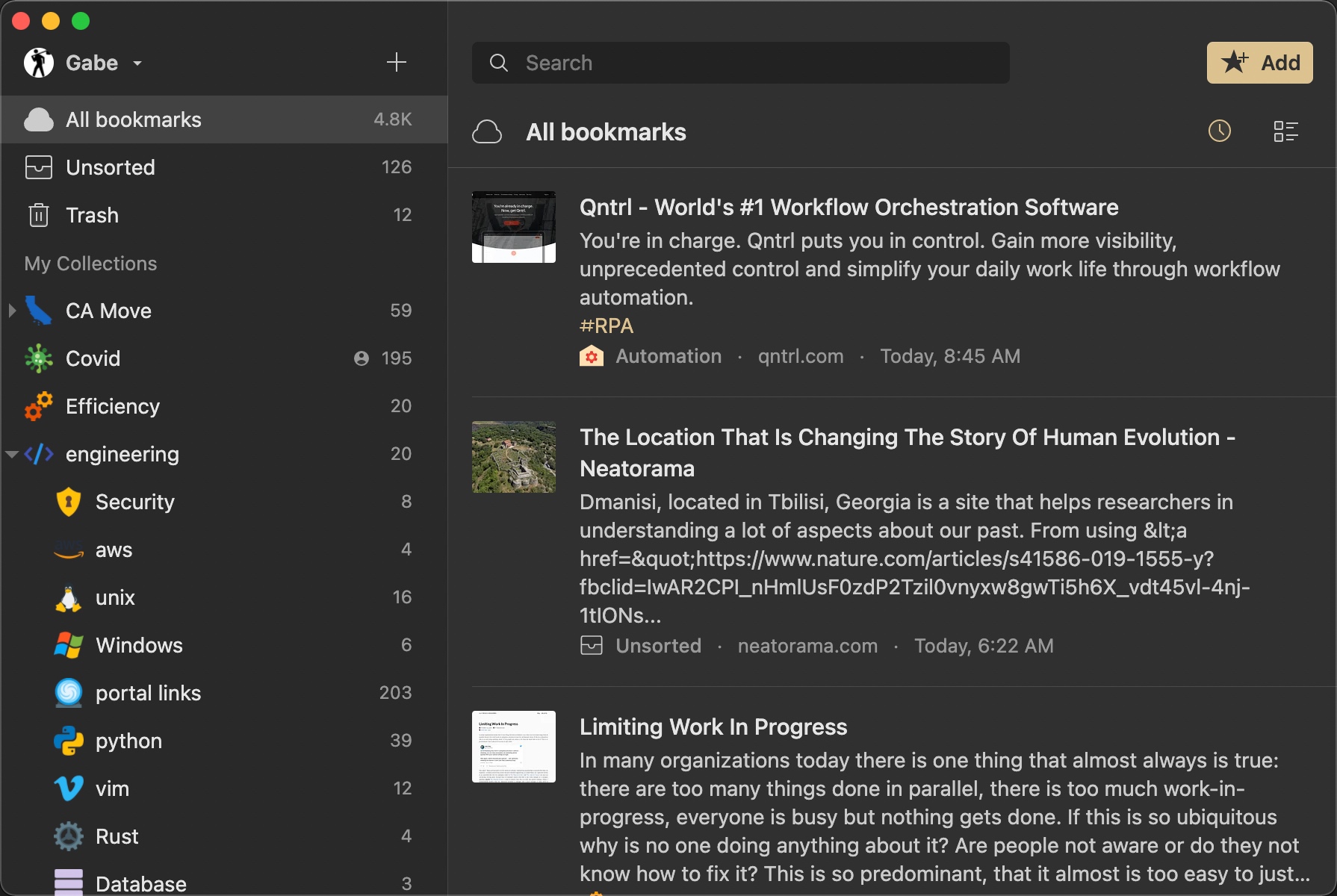 I read a lot of PDFs for work. Sometimes they are technical books I purchase from Manning and sometimes they are web articles I save as PDFs so I can highlight and annotate. I've been a huge fan of LiquidText on Mac but the missing iPhone and iPad apps became too difficult to workaround. After a couple of years with LiquidText I switched to Highlights, which is a very good annotation app on Mac and iOS and still enjoyed by my spouse. Eventually I wanted a little more research functionality and switched to MarginNote 3 which adds a bunch of context mapping and web research tools. It's a great app even if it's a bit buggy.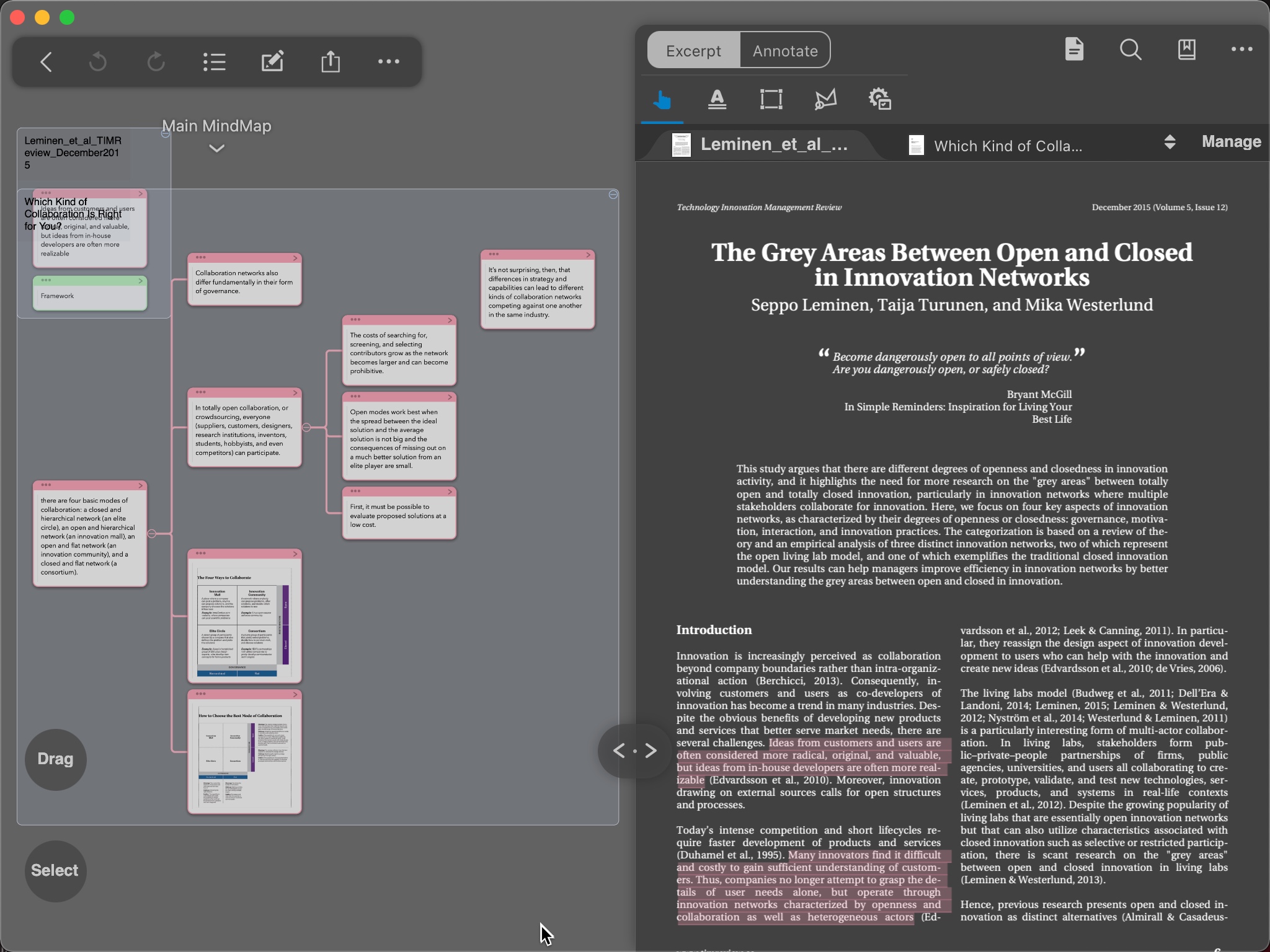 I'll wrap with a Mac app that I never expected to like: Snagit. For many years, I've rolled my own screenshot tools using Keyboard Maestro. It worked admirably. But recently I was helping someone that just wanted an easy way to take and annotate screenshots. After some testing, I was sold on Snagit as the easiest tool a non-nerd could use. As it turns out what's good for a non-nerd can also be good for a nerd. So here I am running Snagit on my Macs. What weird year 2021 is turning out to be.