I used a large shoulder bag for many years. You can find my first review of this bag way back in 2013. That bag is still in terrific condition1, but my daily activities changed. 18 months ago I bought a Tom Bihn Brain Bag and have thoroughly enjoyed it.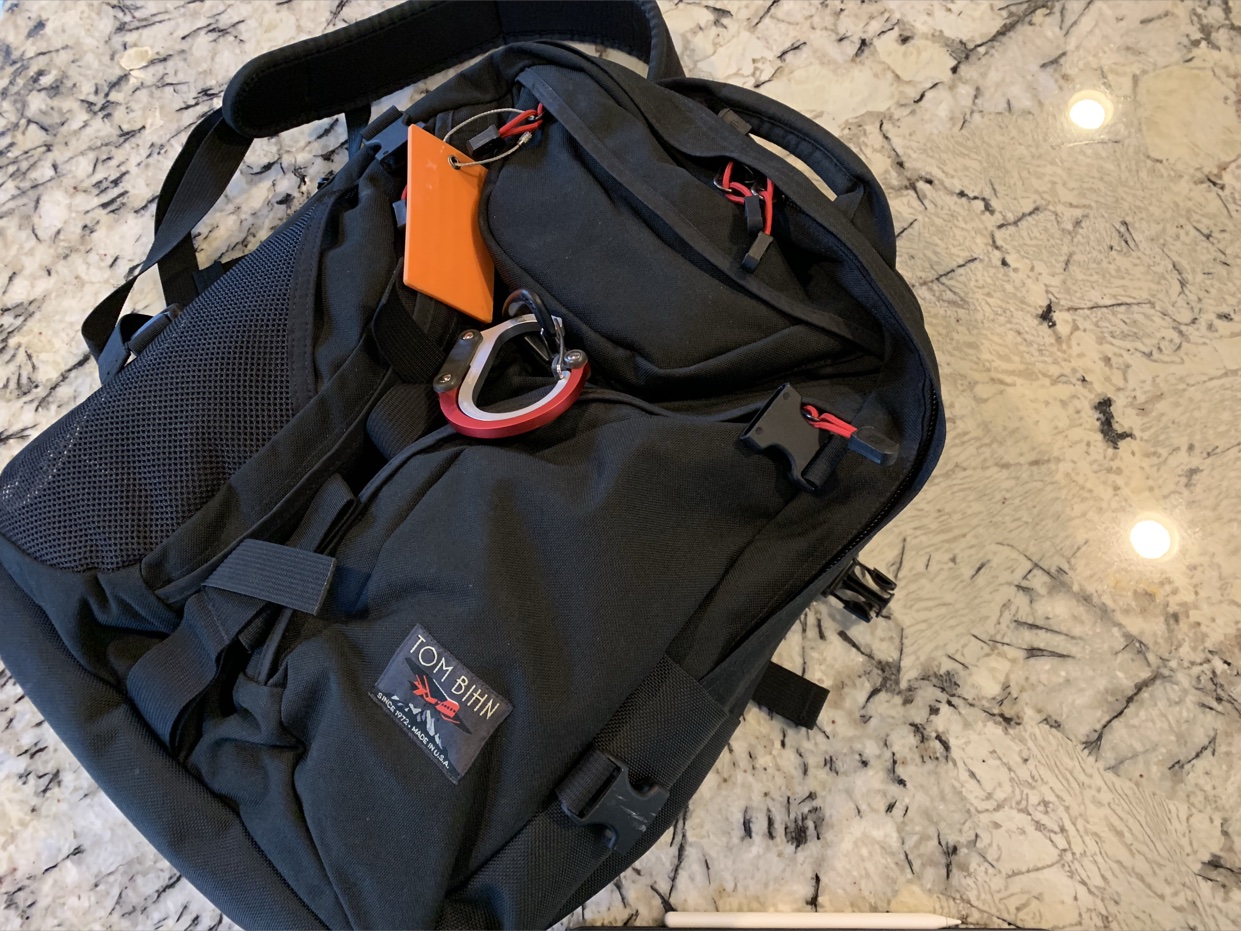 This isn't my first Tom Bihn bag. I also own the Aeronaut 45 which is a wonderful travel bag. I'll write more about that, and travel in general, at a future point. Tom Bihn makes well designed and rugged bags. I'm a big fan so it was not a hard decision to get another bag.
The following review will have many sidetracks as I dive into the variety of sundries I carry in my daily bag. Many of these are Amazon affiliate links because it makes me a small amount of money, and because I buy a lot of my stuff from Amazon.
Specs and Design
Let's start with some specs. The Brain Bag is huge. It's 36 liters inside and weighs almost 3 pounds when empty. That's big by most standards but not nearly as big as my Saddleback bag so this is minimalist as far as I'm concerned.
I purchased a black bag because I like to be inconspicuous. However, I added red pulls to all zippers except for the main computer section. My theory is that the black pulls on the computer bag will be less obvious and take a thief a slightly longer time to steal my laptop. This is almost certainly a delusion but I also like the looks of it.
Speaking of looks, the Brain Bag is not attractive. It's functional. The large outer pockets look awkward. Once a friend pointed out that it looks like the face of The Predator and now I can't un-see it.
Tom Bihn bags are extremely well made. The fabric is thick and easily cleaned. The stitching is impressive which means I don't worry about overstuffing the bag. It also helps that they use some of the best zippers on the planet. Even when pockets are bulging the zippers easily open and close.
Extensibility
There are many loops, clips, and straps sewn into the Brain Bag, making it one of the most extensible bags I own. Some of these are worth more than others. The design of the Brain Bag is a result of the most obvious strap on the back, ostensibly for holding a water bottle. In my use of this bag, the strap rarely holds the bottle in place without additional security measures. It's so unreliable that I almost never use it.
There are many other useful connectors on the bag, which I take full advantage of. For example, I have an inexpensive clip pouch attached inside the bag to hold ibuprofen, chapstick, some DayQuil, and some dental floss. These cheap little clip pouches are a wonder of utility and I deploy them often.
I also recommend picking up a few key clips from Tom Bihn with your order. They have a variety of lengths that really make the loops on the Brain Bag more useful.
One of the best additional clips I added to my bag came from Amazon. It's a huge pivoting aluminum carabiner clip which unfolds and becomes a hanger.2 Ever go into a public bathroom stall while traveling and realize there's nowhere but the floor to hold your bag? This clip solves that. It's also pretty handy for attaching a water bottle with minimum fuss.
I also recommend a durable, highly visible, address tag. I purchased a rubber tag (i.e. waterproof) with a robust twisted cable connector. This serves two purposes. If my bag is lost, it has my email address and my phone number as contact information. It also makes the bag stand out if the airline forces me to check the backpack on a flight. Get the bright orange tag.
Snakes, Freud, and Laptops
I purchased the Freudian Slip insert for the bag for one reason: there aren't enough small compartments on the Brain Bag alone.3 I used a horizontal Freudian Slip inside of my Saddleback bag and I really liked it. I'm using the vertical model that is an add-on option for the Brain Bag.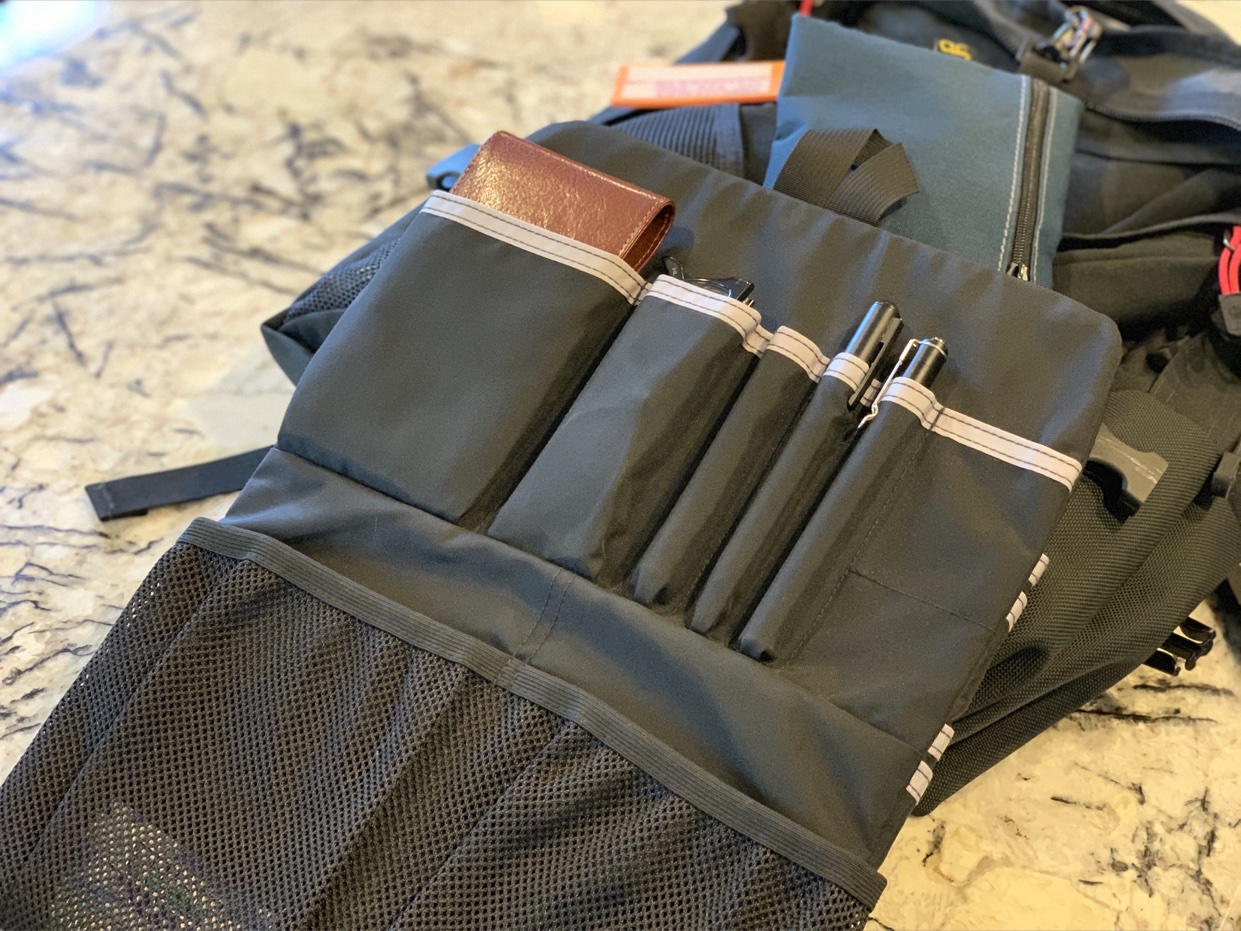 Inside the Freudian Slip I have:
A very old laser pointer
An extra pair of glasses
One folded plastic contractor trash bag
I have a pencil around which I've wrapped a piece of gaffers tape and a piece of electrical tape. Get a decent eraser for your pencils, for goodness sake.
A few 3X5 cards
One microfiber cloth
A Field Notes notebook
A pen case I received as a gift
Let's take a slight diversion. I carry a large plastic contractor trash bag with me everywhere, and yet I'm not a serial killer. A bag like this weighs only a few ounces but it's terribly useful in a rain storm, or as a laundry bag in a hotel. I've even used it as a make-shift carry-on bag for some unexpected purchases in the airport. Douglas Adams was wrong, a trash bag is the most useful thing for a traveler.
Inside the pen case I keep the following:
I've never regretted carrying any of these items.
I've also packed one of the optional Tom Bihn Snake Charmer bags in the front pocket of the Brain Bag. This is filled with dongles, chargers, and battery packs. I don't love the snake charmer but it serves a purpose. I have one small bag to pull out for anything that has to do with connecting an iOS device to something else.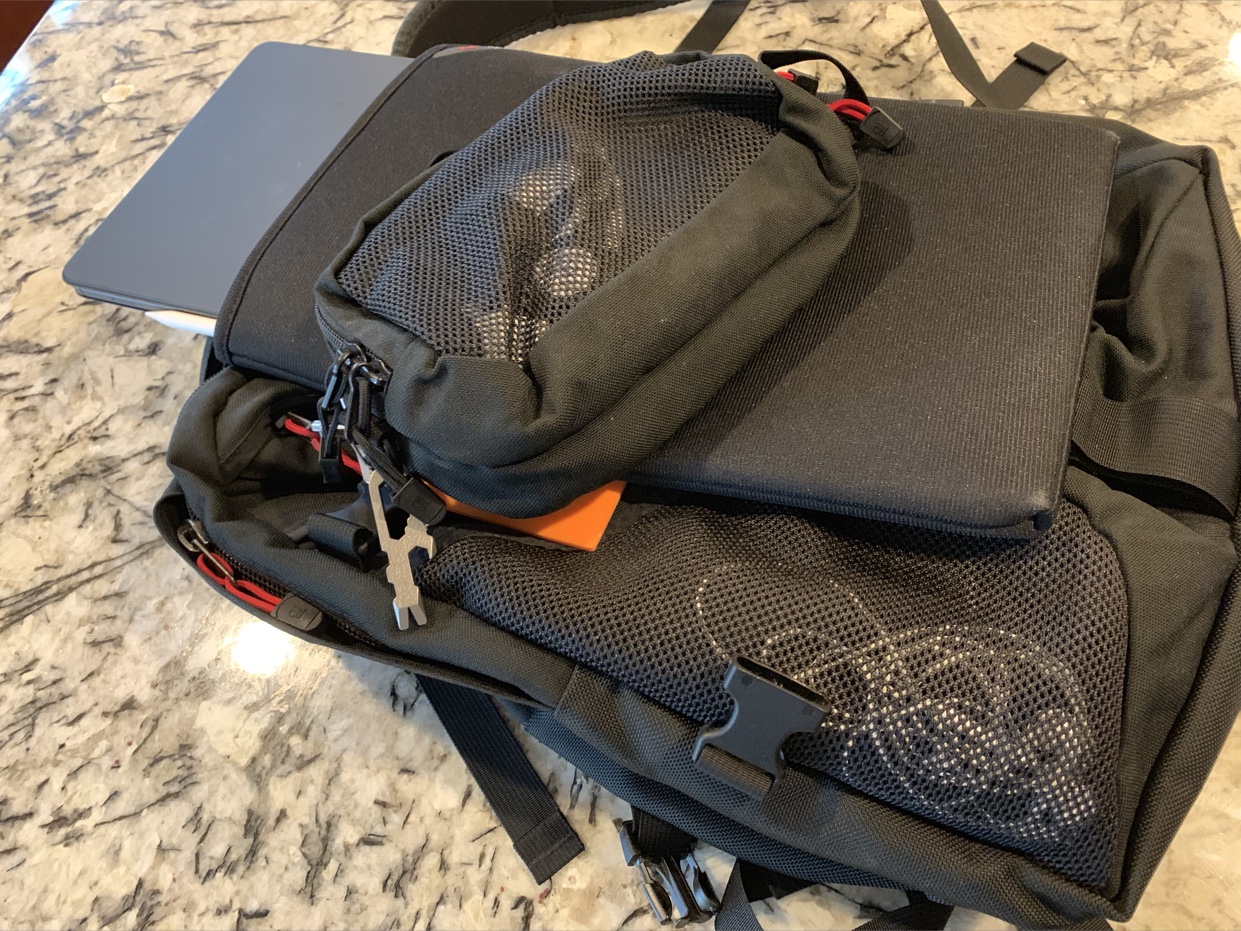 I added the optional Cache pocket to my Brain Bag order. The newer models are better and include zippers. I mostly use the Cache to stow my iPad Pro. It adds plenty of protective padding and it can be removed in a few clicks.
Inside the back pockets of the bag a I keep a few items for quick access. One of my most used items are these terrific Seki nail clippers and some extremely tiny and inexpensive tweezers. Unlike my cheap multi-tool, nail clippers and tweezers can be taken through a TSA check-point without concern. A good pair of clippers can solve a lot of small problems.
Comfort
Tom Bihn makes some very comfortable straps. They have thick padding and tend to be very wide. I've carried the Brain Bag on long trips without much discomfort. The chest strap is a must for me and it's easily adjusted without slipping out of position on a long day.
The grab handle on the top of the bag is very sturdy and wide enough for a large gorilla paw to hold. After 18 months of regularly grabbing the bag by the handle or dragging it along in a TSA line, the handle has not deformed or broken any threads. The handle has retained the rigid arc that it had when I first opened the package from Tom Bihn.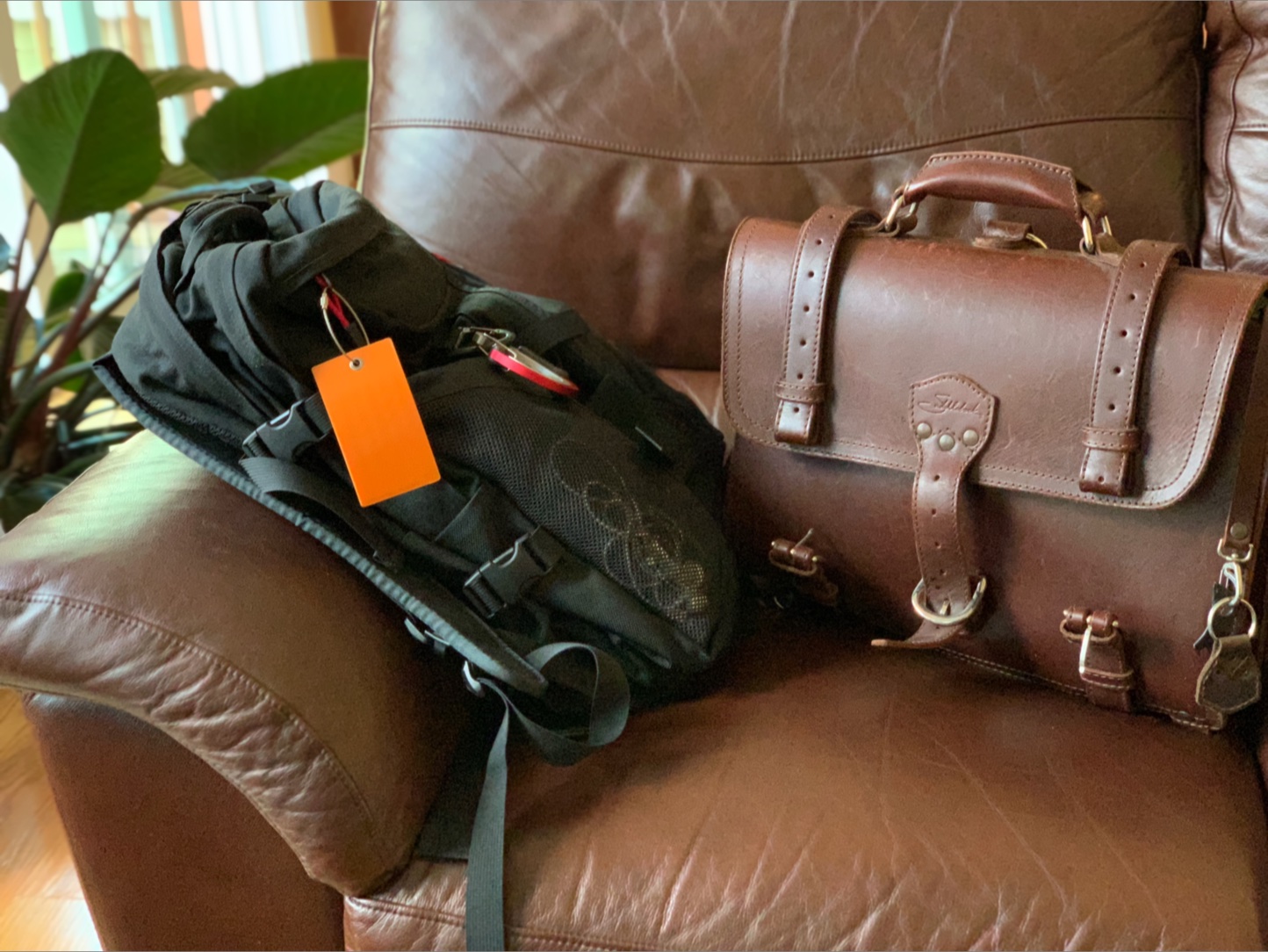 I regularly have the side straps tightened down as far as they will go. For my usual work days, I don't carry much more than my iPad Pro in the bag so the extra empty space just makes the bag floppy.
The Brain Bag is certainly lighter than my Saddleback bag. It's also more versatile as I can stuff a lot into the bag without much effort. I think the Saddleback bag provides more protection for the contents with a more attractive package, but I'll be sticking with the Brain Bag for now.
My biggest complaint about the bag is that it simply hates to stand up vertically unless it's fully loaded. Because of the awkward design of the Predator-like bag, it's lopsided and front heavy. Without a laptop or an equivalently heavy load in the main compartment, the bag flops over when set down. With a water bottle this is even more awkward.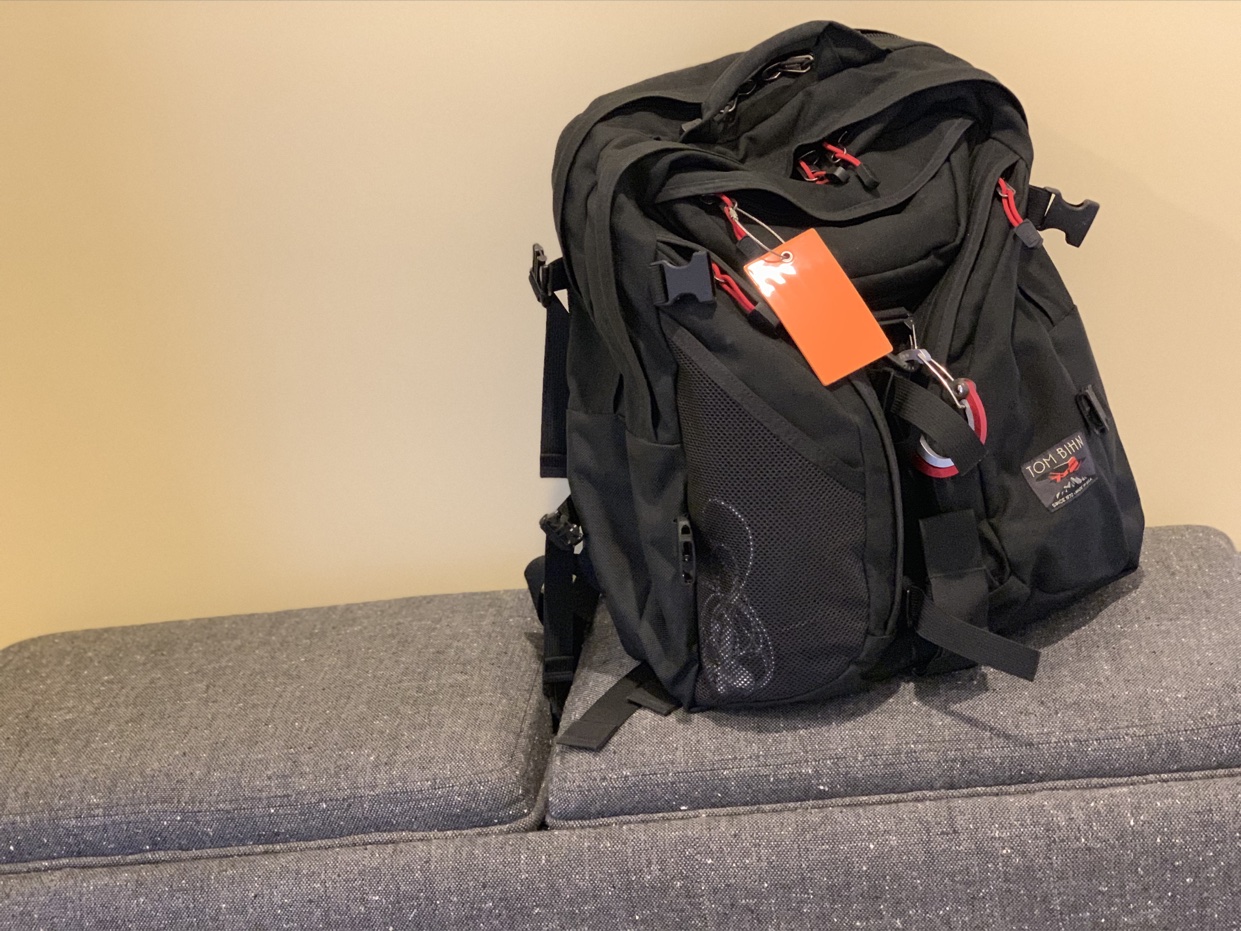 ---
Sadly, the bag is no longer sold by Saddleback. The closest current model is much smaller, lighter (and cheaper). From the condition of my bag after 5 years of use, this bag will probably outlive my family line. ↩︎

I originally purchased a name brand clip but it appears that it has fallen prey to the Amazon infringement machine. It's difficult to purchase anything but a knock-off now. ↩︎

Don't get me wrong. There are a good number of pockets but it's just not enough for me. ↩︎