Nebo Update for iPad Pro and Pencil 2
I was a huge fan of Nebo when I first started using my iPad Pro and Pencil. I wrote about in 2017 with much joy. Nebo felt a bit like the future of tablets. It did what all of those handwriting demos from decade ago pretended was just around the corner. You write and Nebo understands the text.
But, over time Nebo felt awkward. It was persistent in demanding an account for syncing my notes. It didn't work with iCloud sync. Search was poor and the application was rarely updated. With version 2.0, MyScript Nebo has fixed half of these.
The library management is somewhat improved. In particular, I'm glad the app now supports global search across notebooks. Previously I had to know which notebook I was interested in before searching.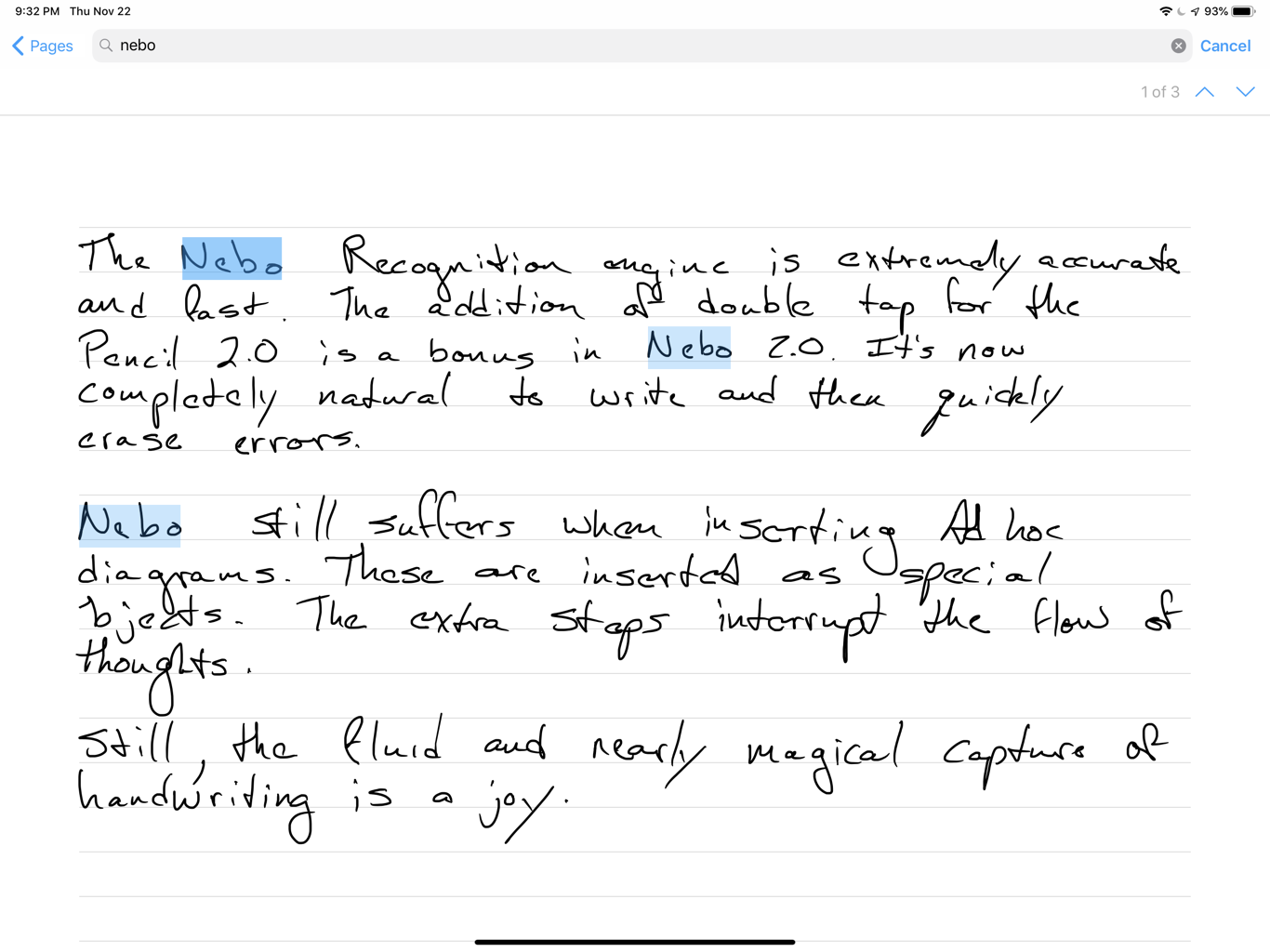 MyScript Nebo always had top notch handwriting recognition and in my use this has been perfected in version 2. I can write with ease and then directly extract almost perfect plain text.
The Nebo Recognition engine is extremely accurate and fast. The addition of double tap for the Pencil 2.0 is a bonus in Nebo 2.0. It's now completely natural to write and then quickly erase errors.
Nebo still suffers when inserting Ad hoc diagrams. These are inserted as special bjects. The extra steps interrupt the flow of thoughts.
I prefer to take notes in Notability because I can easily add diagrams and sketches alongside my notes. Still, the fluid and nearly magical capture of handwriting in Nebo is a joy.
Nebo is $8 and only available for iPad. This is another reason I prefer Notability, which is available on iPhone and Mac as well.