What the Apple Pencil Does Well
When the iPad fits a task well, there's no question for me that it's superior to a laptop. It's not better at everything, but in a few ways it beats the pants off of a Mac. The Apple Pencil is one aspect that keeps me coming back to my iPad Pro.
The Apple Pencil is so perfectly tuned as a stylus that I'd argue the best thing that Apple could do to increase sales of the higher end models is to include the Pencil 1. I've owned an Apple Pencil since their first release and it's only now, with the new iPad Pro, that I think it's reached a point of magic. Lag iIn most of the apps I'll mention below, the performance is so close to actual pen on paper that it's easy to forget that it's not. Which is kind of the point.
Point of fact: I am not an "artist" or even very good at doodling. I grew up sketching every day. I had a good variety of art materials to play with and I mostly taught myself tricks. But, I do have a fairly good internal sense of perspective, shape, and proportion. Most importantly, I enjoy it.
There are two reasons I still draw.
It helps me to think and then explain the thought.
It makes my daughter smile.
With the above motivations, I've purchased and tested a lot of art apps for my iPad Pro. I have a preference for apps that work well with the Apple Pencil, which means they at least need to have pressure response. Most do not have support for side-shading with the Pencil, which isn't that important to me.
I really care about the feel of the ink and pencil sketching. It can't lag and it needs to look fairly realistic. I don't mind tweaking the ink system but I don't want to switch pen modes often.
Procreate
Procreate may be the best way to demo the iPad Pro. If you watch videos of professional artists on YouTube, it's easy to forget they are using an iPad app. It's unreal how powerful Procreate is.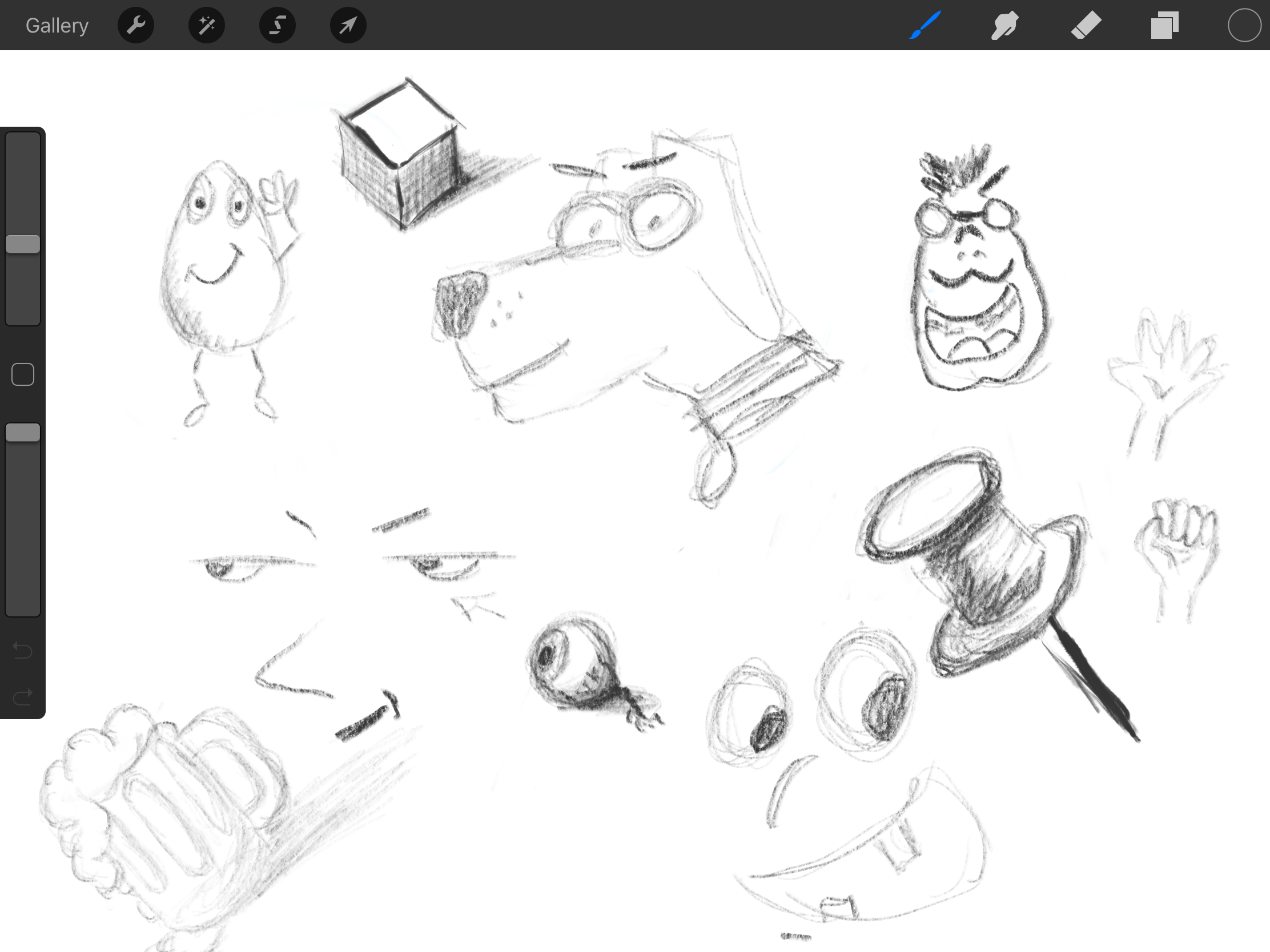 Fortunately, Procreate is so popular that there are a huge number of YouTube videos demonstrating just about every feature. Here are few to get going with:
How to use reference layers and fills
I also recommend all of the videos by Mike Henry. He's an excellent artist and it's enjoyable to watch an expert work with their tools.
The demos by Austin Batchelor are very good tutorials as well.
One of the best things about Procreate is how popular it is. There are no shortage of tutorials on YouTube to get a beginner going. There's even a niche market for buying additional Procreate brushes but I have no need of that.
Procreate supports several useful gestures. Two finger tap to undo. Three finger drag down to bring up selection options. One of my favorite is done with the Pencil. Draw a line and stop without lifting the Pencil from the screen. The line snaps into a straight line. This is very nice for drawing arrows and connections.
I also like the brush options in Procreate more than any other app mentioned below. The various drafting pencils and painting brushes feel right to me and the pressure sensitivity is very good (and adjustable).
Infinite Painter
Infinite Painter is a very good competitor (or companion) to Procreate. The tools are slightly different and there's a somewhat different design philosophy. Overall, I like Procreate better but for a measly $6 it's worth checking out.
One of the bits that I enjoy in Infinite Painter is the large variety of perspective guides as well as the very cool symmetry tool.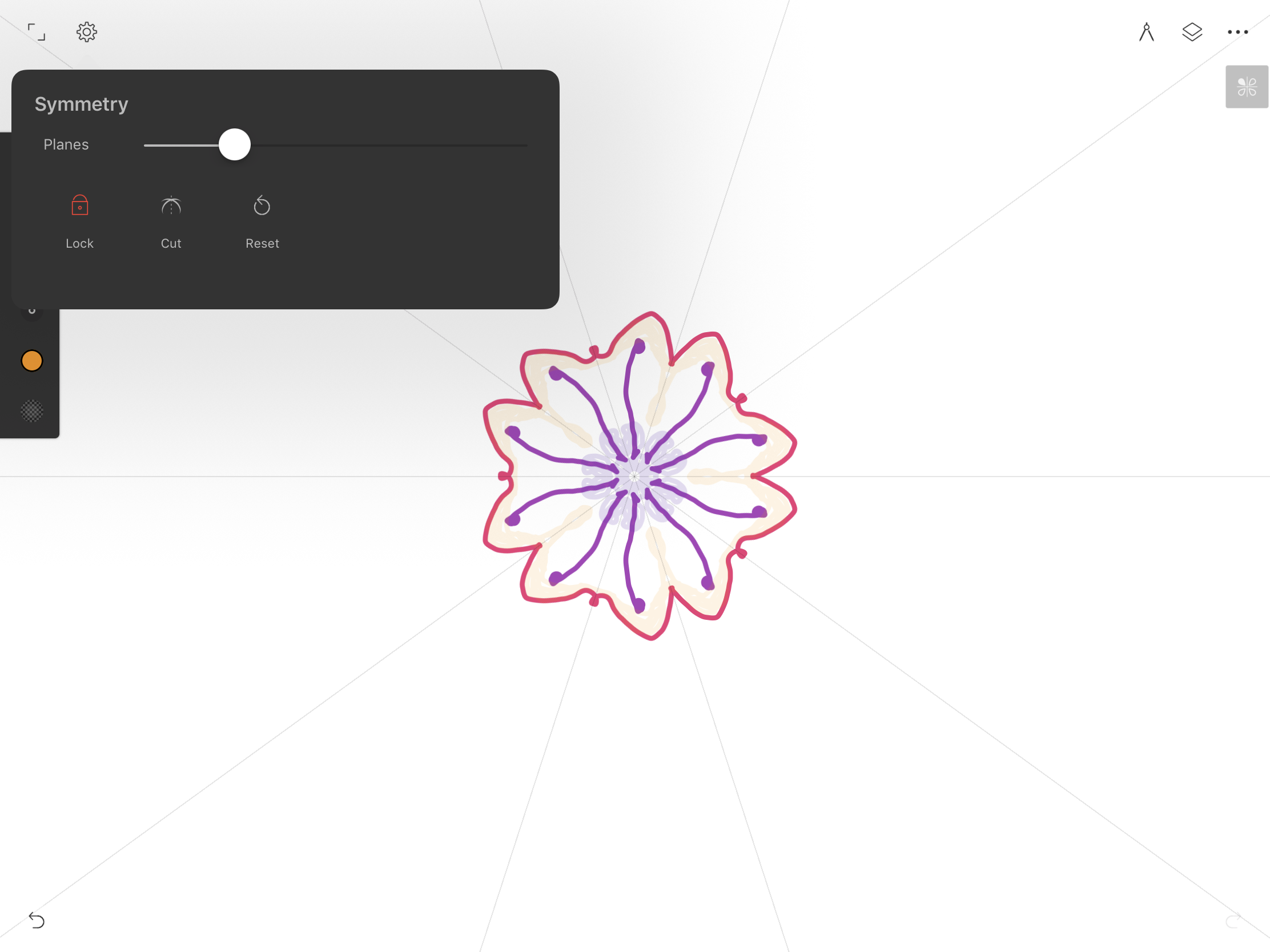 Infinite Painter also has excellent pen modes and is one of few apps that supports side-shading with the Apple Pencil. This is worth checking out if you are someone that thinks they can't replicate a real pencil.
The Undo function in Infinite Painter is nice. It performs a normal undo but it adds a slider that allows me to undo more than one change much more quickly than a bunch of taps. It also allows me to decide if I want to go back further.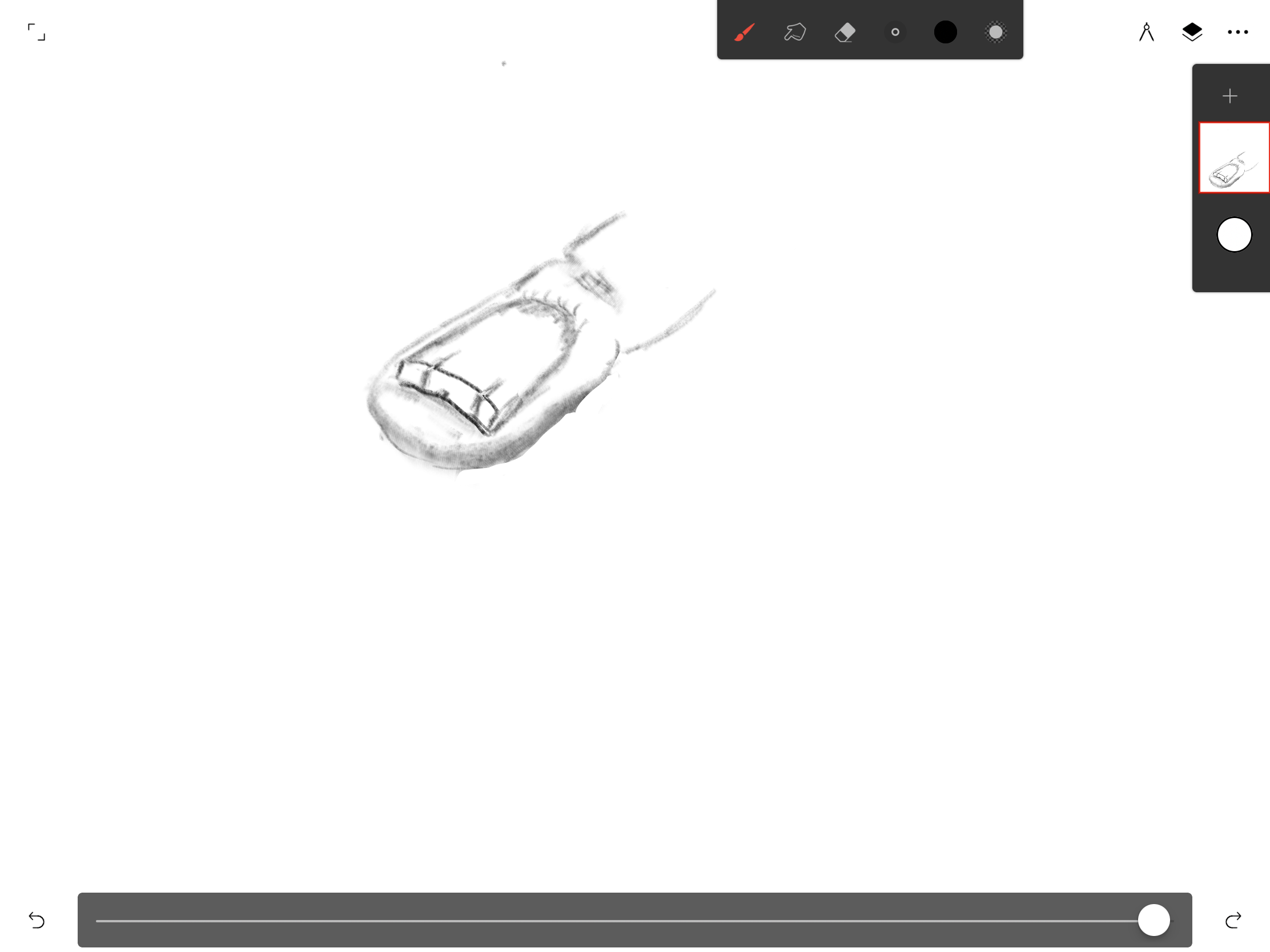 I don't like the eraser in Infinite Painter nearly as much as Procreate. It feels unresponsive at times. But with the huge variety of additional tools like shapes and drawing guides it has some features that Procreate can not touch. Overall it's a nice application and in the absence of Procreate it would be my preferred app for sketching.
There's a nice Infinite Painter overview to watch, if you don't know where to begin.
Concepts
Concepts for iPad is a slight departure from the standard painting apps. It's a vector drawing app with a design like a painting app. It's incredibly powerful but a little overwhelming.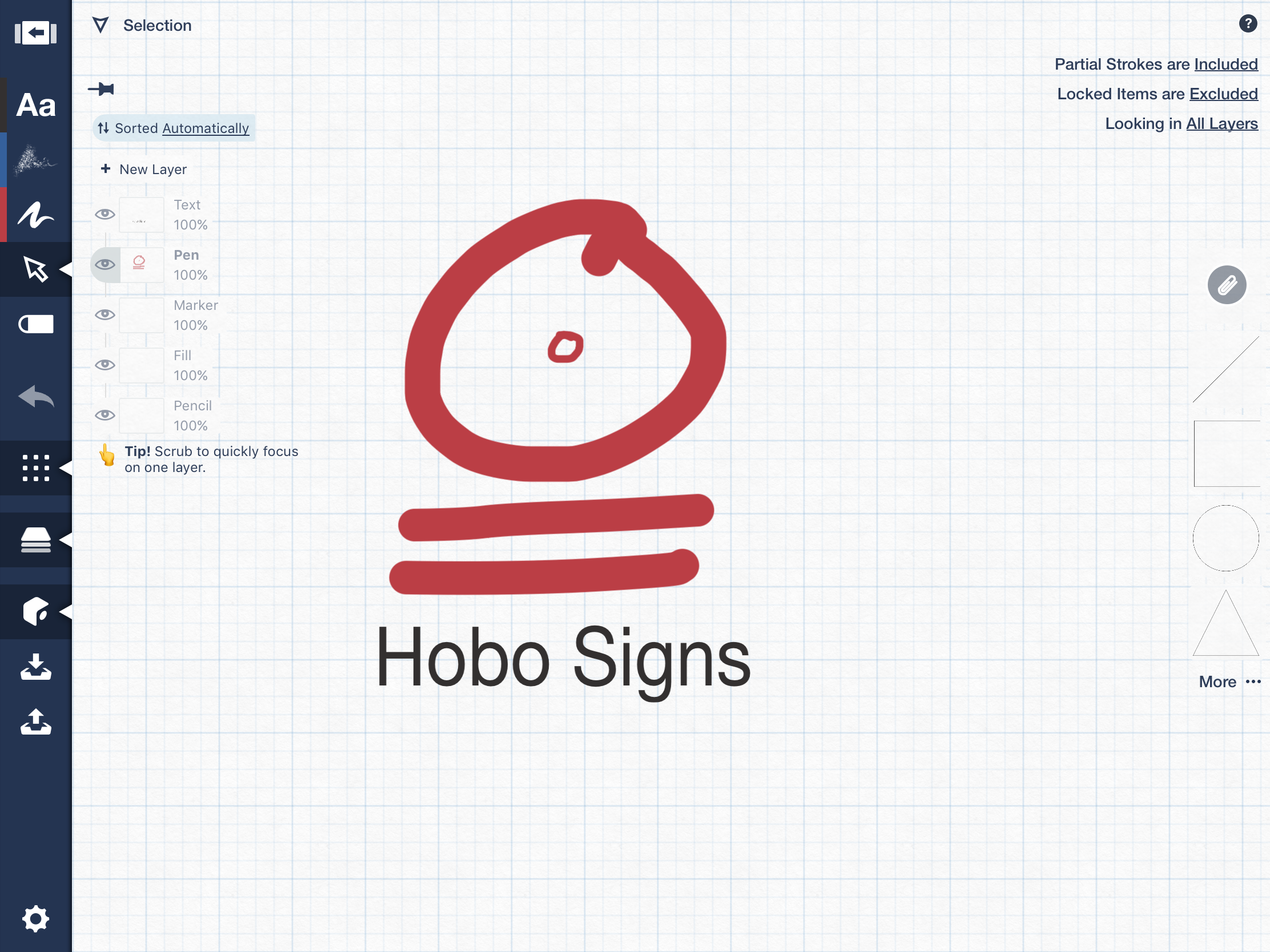 There's a quick review of Concepts that explains many of the unique features. There's also a very good demo from the developer that shows off some of the benefits of vector work. If you want to work with vectors on an iPad, Concepts is nice. I've used it to create SVGs and export them without much issue. I don't use it all that much but whenever I do, I think "wow, this is pretty great."
Sketches Pro
Tayasui Sketches Pro has been around for a while and it's a good app. But, this is a competitive market and I think that Procreate and Infinite Painter are probably better art tools. Concepts is a better layout tool. However, Sketches Pro has a bit of everything in it, including basic shapes, text, painting, and sketching tools.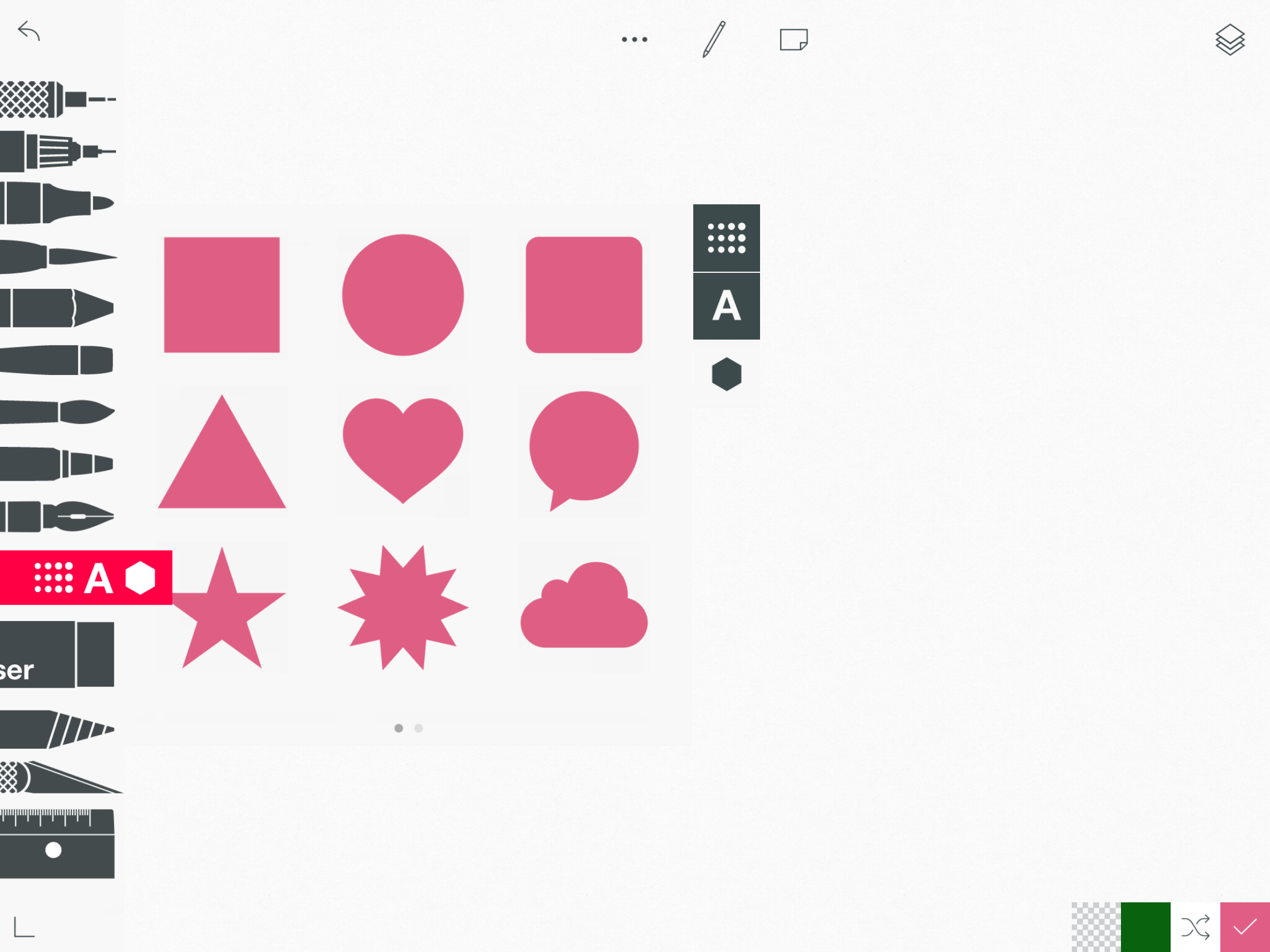 I'd recommend it as an all around app that can do a little of everything, even if it's not the best at anything.
Linea
Linea by Iconfactory is not competitive with full-blown art apps like Procreate, but it doesn't need to be. It's simple but hides sophisticated features like layers and an excellent color selector. It's the perfect go-to, app when I just want to quickly doodle something out.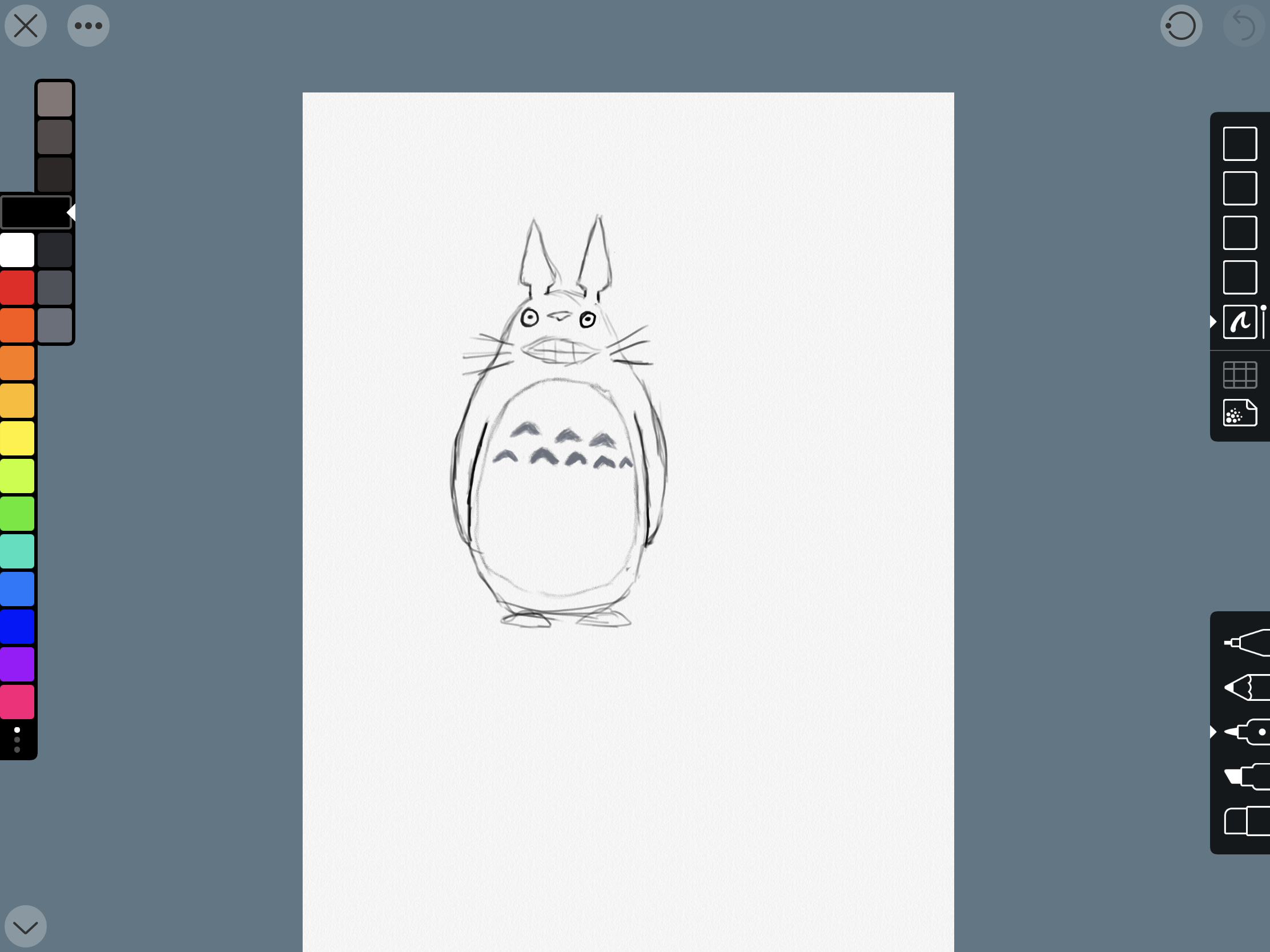 There's a simple demo of using Linea but I also recommend the Serenity Caldwell review since it's just like Linea: simple and creative, but still fun.
Paper by FiftyThree
Paper by FiftyThree is very popular. It's not my favorite sketching app but it's competent. There was a time when it was at the front of the pack and I knew several people that liked the pencil by FiftyThree. I, personally, do not like Paper very much and I think it's behind a lot of other apps in functionality and design.
Paper does support pencil edge shading, which is nice. The ink system works well enough but I think it lags a bit. I also don't like the brushes all that much. I've tried to say as many nice things as I could think of but let's move on now.
Amaziograph
Amaziograph is still kind of an art app, but it's an art app like a coloring book is. It's fun and satisfies idle hands. Through various symmetry options, it converts minor doodles into mesmerizing art.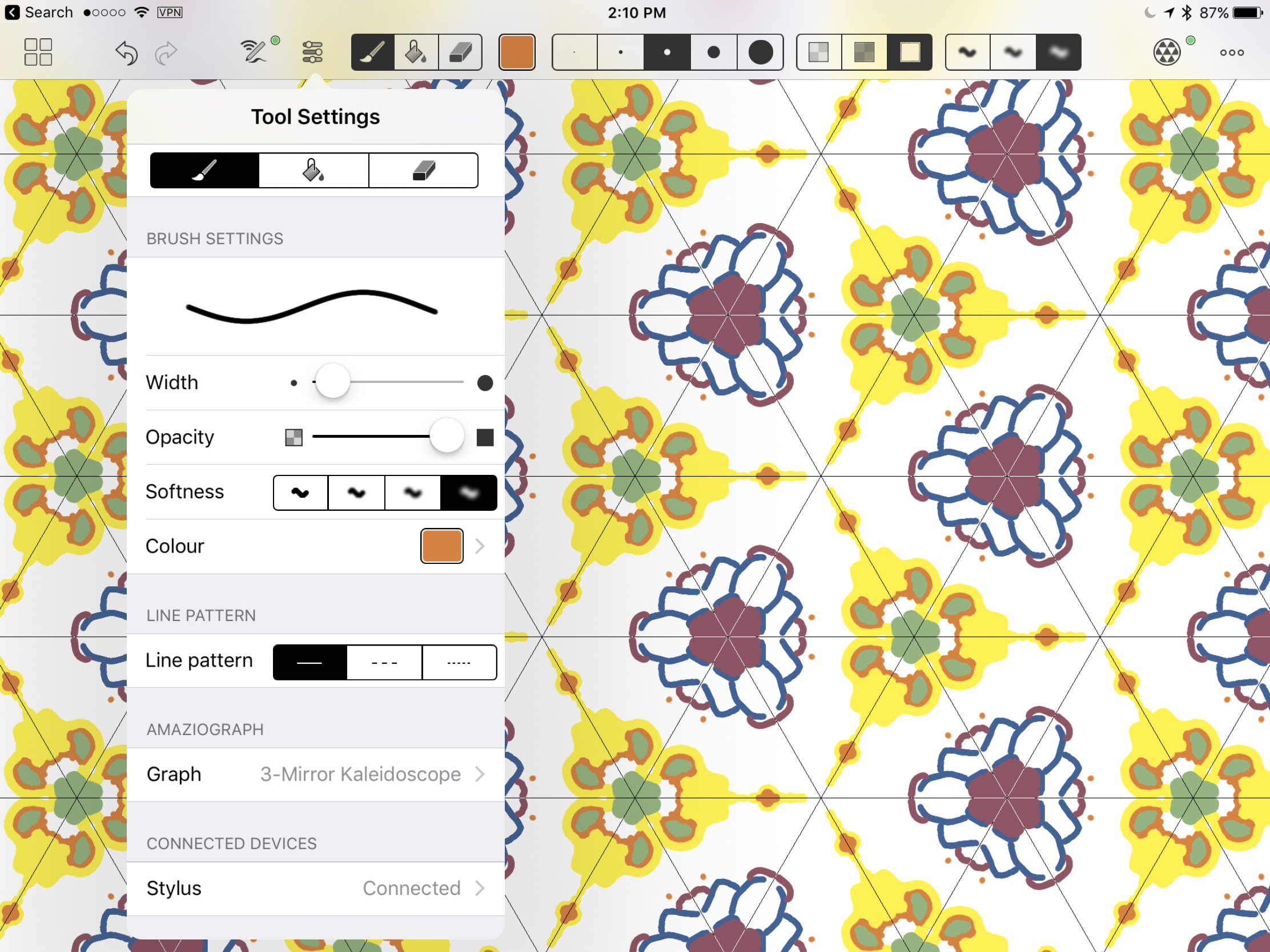 My family and I have spent plenty of time riffing on the different symmetry styles in Amaziograph and there's a lot to keep us entertained.
Nebo
I've written way too much about MyScript Nebo, probably because I still find it magical. Nebo is a great reason to own an Apple Pencil, because it only works with an Apple Pencil. I also happen to think that it's a market segment Apple needs: the creative business professional. These are people like me, that go to a lot of meetings, take a lot of notes, but mostly work on complex projects that are hard to describe with just words. I wasn't sold on the Apple Pencil as a "must have" accessory for iPad owners until I used Nebo.
I think, outside of technology-fetishizers, most people view the Apple Pencil as an artistic accessesory that costs $100. iOS 11 may bring more utilitarian uses with quick access to note creation and handwriting recognition, but I also don't think that's a strong enough selling point. But, show people that they can instantly extract typed-text from their messy handwriting and I think they'd see far more value in the iPad Pro.
---
even if it meant a price increase ↩︎