I'm sure you've heard that Associate for iOS is out this week. I'm a big fan of Blink for iOS, which is a great tool for generating Apple affiliate links. I like Blink because of all of the little pleasantries for searching the app store. It's not just for affiliate links.
Associate is a new app for generating Amazon affiliate links. It's a much nicer alternative to the half dozen scripts I've made over the years to convert an Amazon link to an Amazon affiliate link. Applying to be an affiliate is pretty easy so this isn't just a blogger tool.1
Associate offers an in-app browser hooked right into Amazon. It's sufficient but lacks some of the easy filtering available in the Amazon iOS app. If what I'm looking for is common enough then it works great. For example, it's pretty easy to find the best Field Notes edition on Amazon.
Selecting an item immediately creates and verifies the affiliate link. I can then quickly copy it as a plain link or generate a nice little Markdown link.
Here's where the little details reveal themselves. Associate will also use any link on the iOS pasteboard. If I want to quickly share the best pencil in world, I can jump over to the Amazon iOS app and search my purchasing history. Copy the link and return to Associate for processing.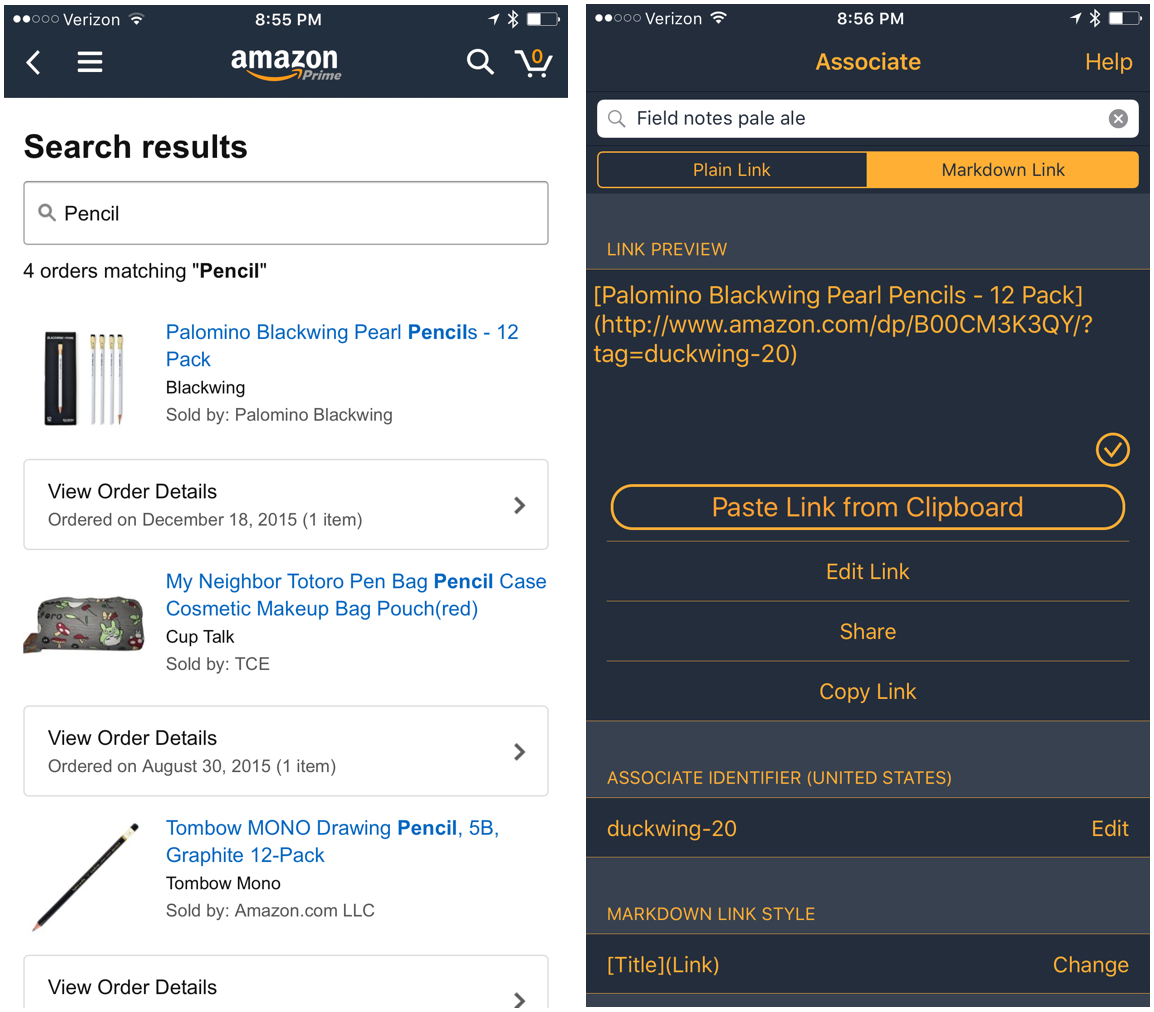 In three seconds I have a link to share that also pays me back a few cents. That's not a bad deal.
As with Blink, I find myself wishing there was a Mac app. I like the convenience of in-app search and quickly generating a Markdown link. When I'm on my Mac, I often pull out my phone just to use Associate or Blink and then send the link to myself with Copied.
I'd love a few more features in Associate, like saved favorites, history, or even the ability to login to my Amazon account to see my purchase history. These aren't major barriers and in all honesty, I'd much rather see the development time spent on Mac apps. I think a sign of a good app is when I miss it on other platforms.
Associate for iOS is $5. That may seem steep, but it easily pays for itself within the first year (or day if you work at Wirecutter). Even if you're only sharing links with your friends and family, Associate is a convenient way to pull a little money back from Amazon. It costs the people that use the links nothing and you make a little dough.
Associate for iOS | Universal | $5
Blink for iOS | Universal | $5
Field Notes Pitch Black Edition, 3-Pack Dot-Grid Memo Notebooks
Palomino Blackwing Pearl Pencils - 12 Pack
---
"blogger tool" sounds pretty gross. ↩︎