Notes and Reminders in iOS 9
I'm really impressed with iOS 9. Not only is it the most stable major iOS update I've used in a while, but it's added functionality that is useful in surprising ways. The Notes and Reminders apps perfectly encompass the small focused set of features that have become a solid toolkit for getting things done with iOS 9
The trick for me was to realize that now Reminders and Notes are siblings. They both capture information. Reminders has notifications and check boxes but is also a very rich capture tool in iOS 9. There's plenty of overlap between the two apps but I use them slightly differently.
Notes
The all new Notes app in iOS 9 is one of my favorite new features. It's the perfect scrapbook and temporary holding place. I've found far more uses for it than I ever expected. I'm not using it as a permanent repository of all human knowledge. I don't think it would be great for that. I use it like a Field Notes. I capture tiny things for use later and then clean it out.
For example, I'm thinking about moving. Part of that process is visiting a lot of real estate, doing research and making observations. Notes is perfect for this. I create a separate note for each town. From my Mac (on El Capitan beta) or iOS I browse Zillow.com and use the built in share sheet to capture a piece of property I'm interested in. I prefer to use the Maps app for satellite views of the house so I enter the address and then send that to the note too. At the end of the day, I have a great collection of information with live links. The map links have a thumbnail of the map and open right into the native app on my phone or Mac. The Zillow links stand out with the logo and the address clearly visible.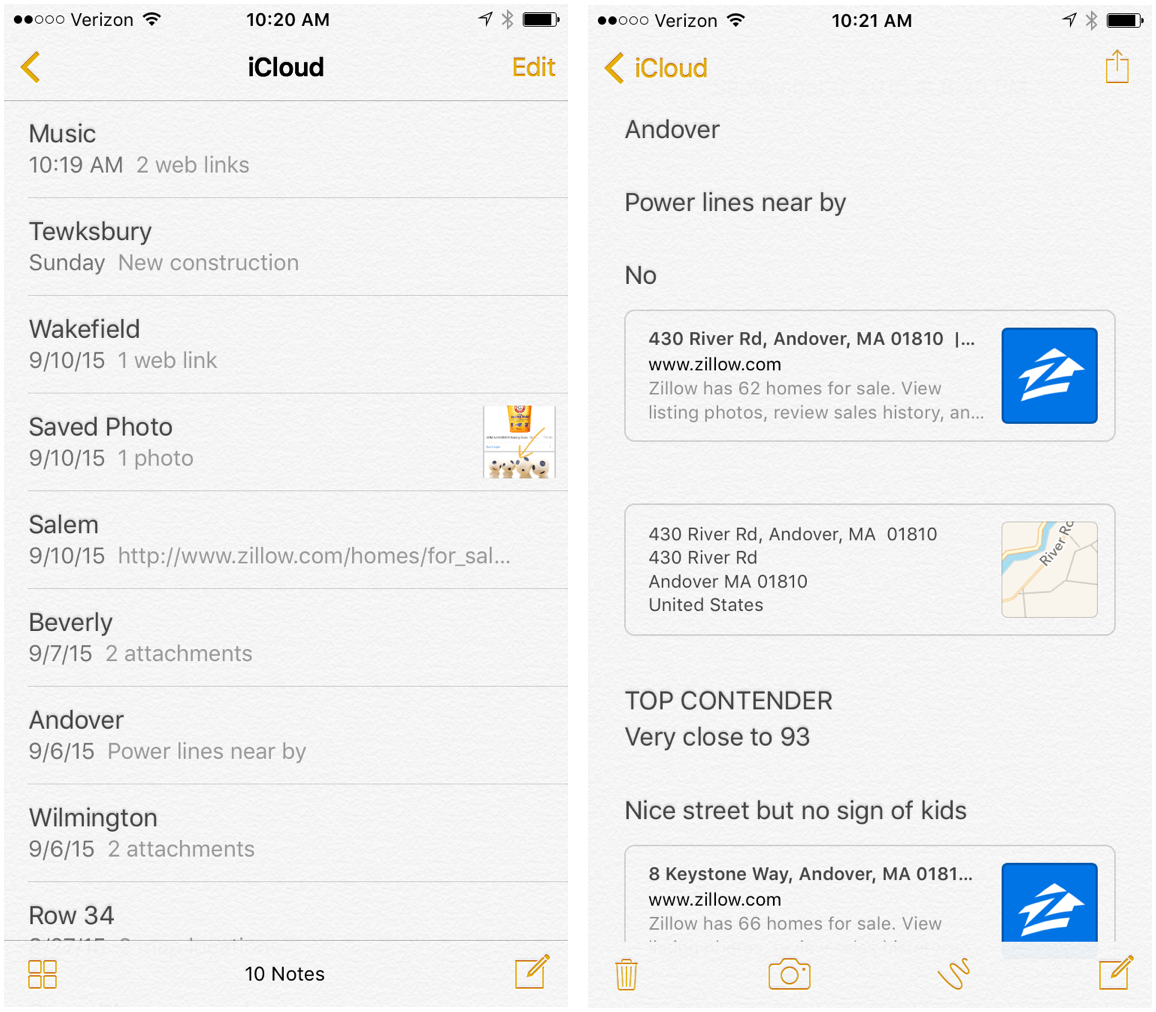 Now I can jump in and out of the link and maps and narrow down what I've captures, adding notes all the while. When we visit, I take more notes and add a few photos. It's perfect for what I need.
One of my favorite features of Apple Music is just generally exploring new artists and albums. I have a play listed called "Explore" and it's huge. Too huge. I'm not sure why, but I began to send these little nuggets to Notes.app for reviewing. I love the integration between the Music and Notes app. Sharing a song or album to Notes grabs the artwork along with the band name. It's a nice little detail. Instead of a never ending play list, I tap the link in Notes and it starts playing in the Music app. When it's done, if I like it, I buy it and jump into notes and delete it. Simple.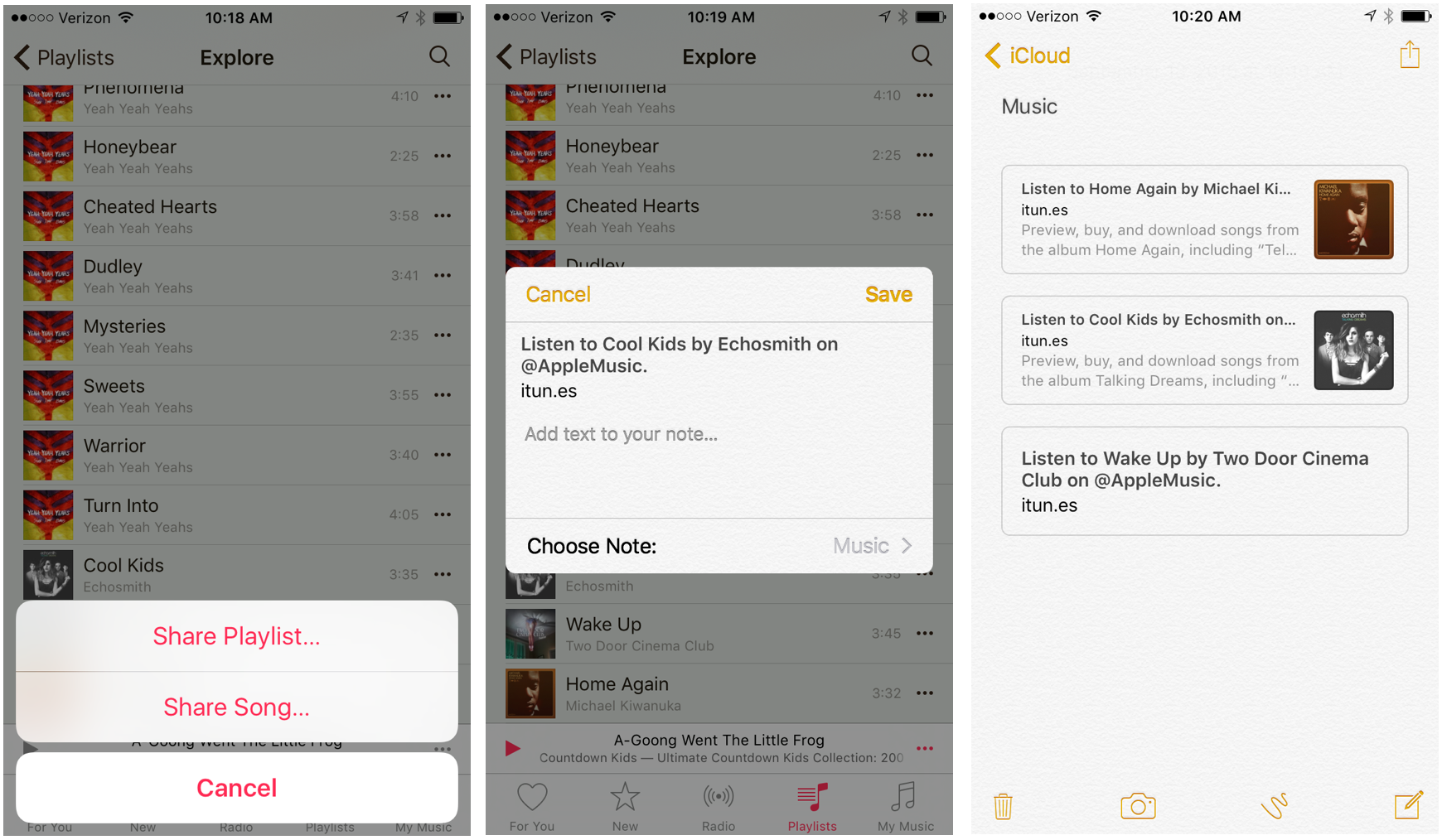 Reminders
I use the Reminders app a lot like the Notes app. I add entries for things I want to remember. The big difference is that I can check items off or easily reorganize them in Reminders.app. For example, I now keep my list of apps to try in Reminders. While viewing an app in the iOS app store1 I use the share sheet to send it to my "App Wish List." This is something that I previously used Pinboard for but found it to be overwhelmed by my daily bookmarks. The Reminders list is great because I can also set, well, an actual reminder to buy an app while it's on sale or before the developer gives up the ghost and pulls it from the store.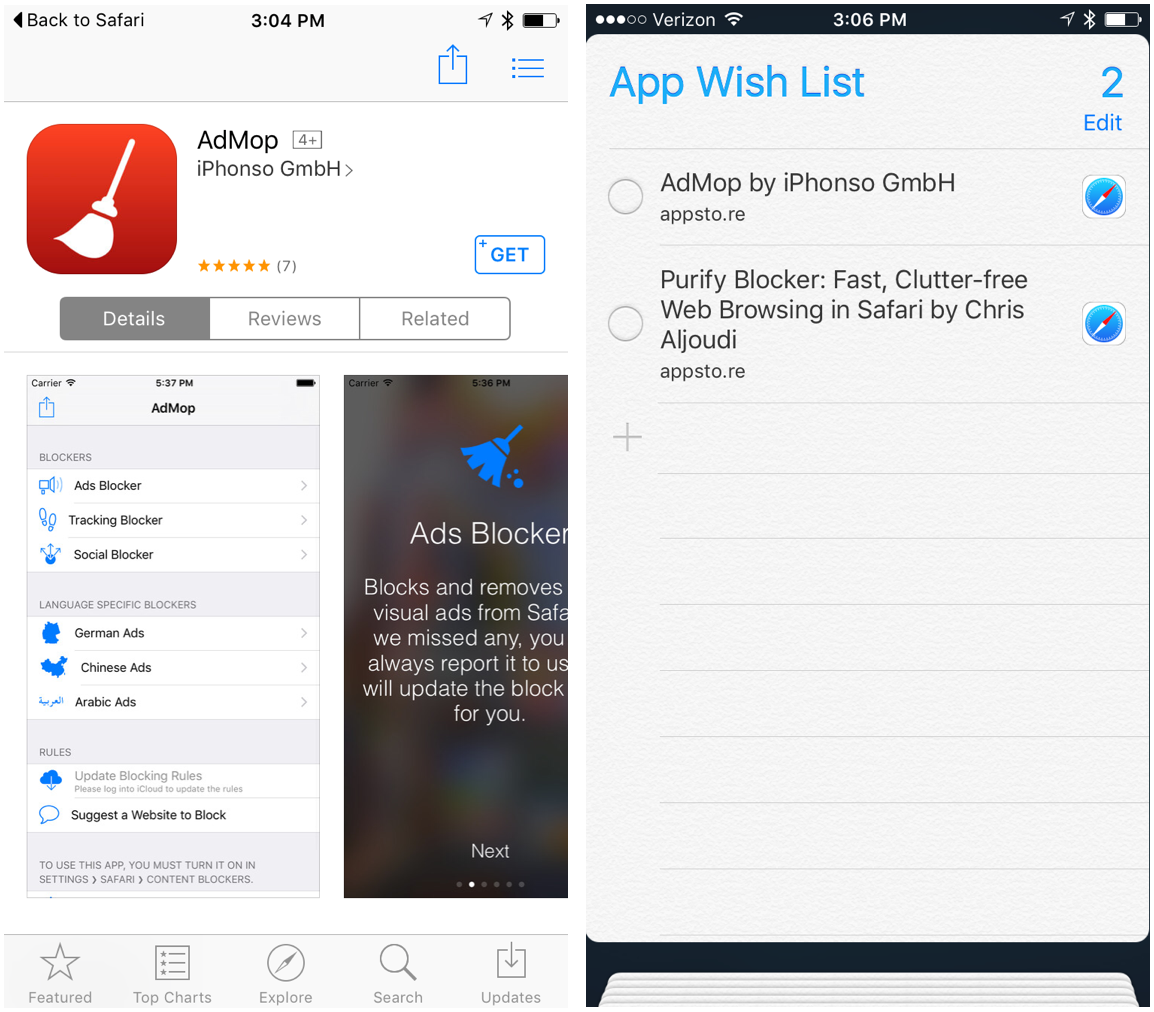 Reminders is also great for vacation planning. I keep a list of map locations for New England breweries in Reminders. When I recently took a trip to Portland Maine, it was a simple task to put the map list in the order I wanted to visit, tapping through to Maps to get directions or links to to brewery Web site. The big downside here is that the map links created on iOS don't work in El Capitan.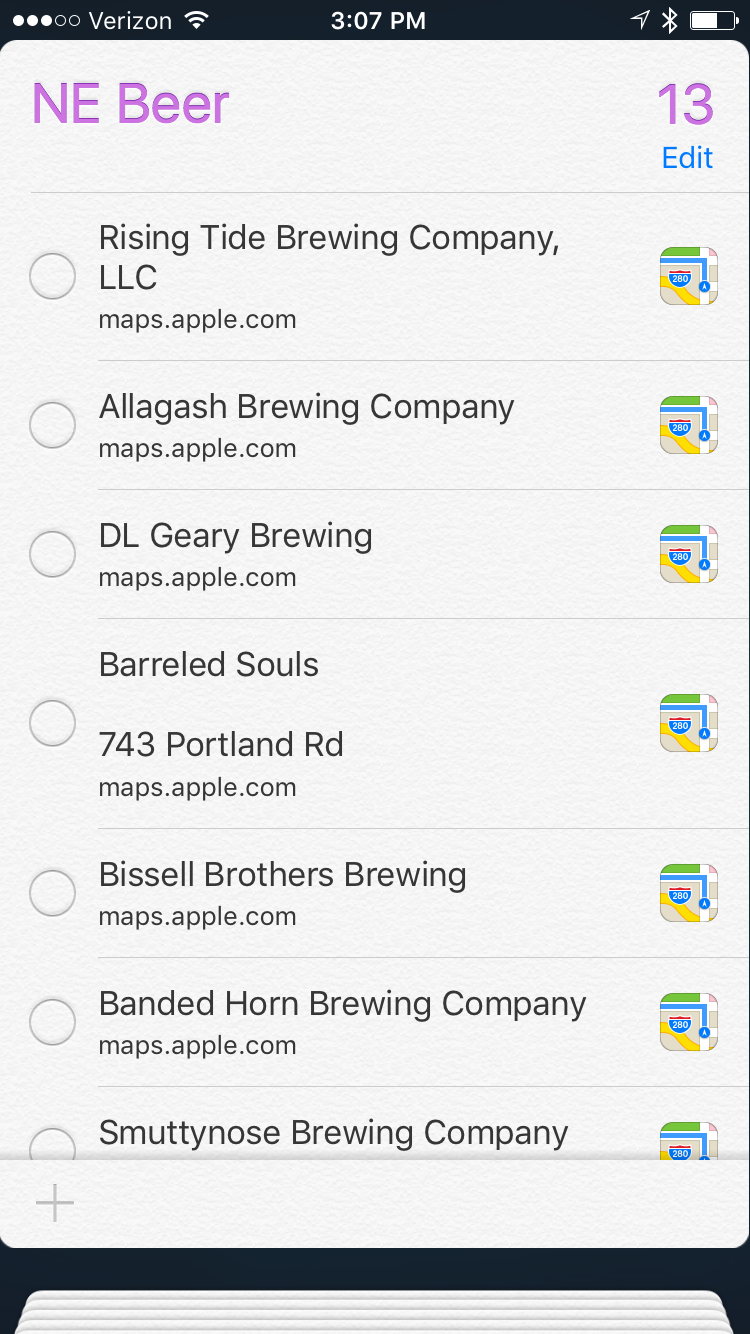 ---
The Mac App Store still does not have a share sheet. It's like they forgot that app still exists, kind of like me. ↩︎