My Weather Apps for a Blizzard and Beyond
Storms are a fun time to review weather apps, because emergencies reveal which apps are good in a pinch and which are just pretty. These are the apps I keep installed on my phone in order of my preference and use.1
eWeather HD
This is the strangest weather app I've used. The radial forecast view is a bit challenging at first but the additional features really set this app apart from most.
Not only does it have reasonably accurate forecast, but it includes weather alerts, a Today widget and highly customizable radar view. The animated weather is very attractive and includes extra details like moon phase.
Strangely, earthquakes play a large role in eWeather HD in a list of global seismic activity below the weather report.
Weekly forecast
Customizable radar
Hourly forecast
Multiple weather services
Earthquake reports
Moon phase
Pressure changes
Temperature trends
Weather alerts
Today widget
I prefer the weekly forecast Today widget eWeather provides over any other weather app. It's exactly the kind of quick forecast I want. I don't use the hourly clock forecast because it's either too small to read or too big to keep from looking ridiculous (there are two settings).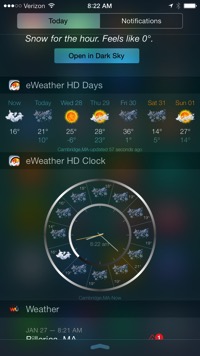 eWeatherh HD | Universal | $2
Dark Sky
I'm not a fan of the Dark Sky design, but it is great at short term predictions (most of the time). Their radar display and analysis is far better than any other weather service. I also use their web app, Forecast.io on my computer so buying the app is a nice way to support their work.
The Dark Sky Today widget is perfect for running to get a cup of coffee. It simply tells me if it's safe to go without an umbrella. But it's not much use beyond that. There's plenty of data hidden away in Dark Sky but the design doesn't work for me. It's too much work to get to everything with little pay-off of the multiple views.
Weekly forecast
Radar
Minute by minute forecast
Today widget
Humidity
Pressure
Visibility
Wind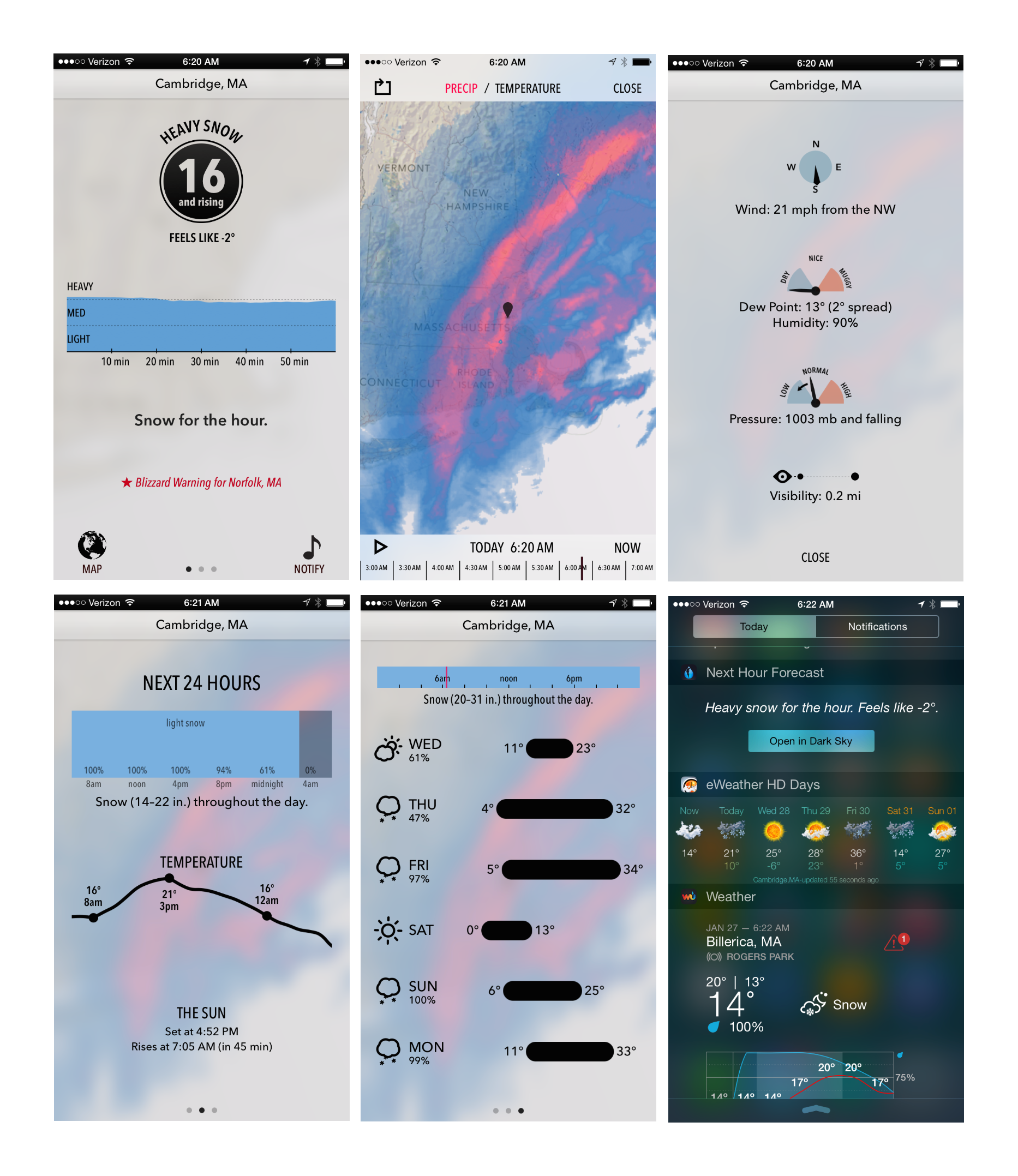 Dark Sky | Universal | $4
Weather Underground
The Weather Underground service is fairly accurate, probably due to user input nudging the actual values. During a heavy storm, the user photos are a nice way to get a quick look at how much more screwed you are compared to other people, which is satisfying.
There's a lot of information in Weather Underground but I dislike the layout. I find it to be confusingly cluttered but powerful. It's one of the apps I keep around just for times like these.
Weekly forecast
Hourly forecast
Humidity
Wind
Pollen and pollution levels
Radar
Weather station and user photos
Sunrise and Sunset
Moon phase
Weather alerts
Today widgets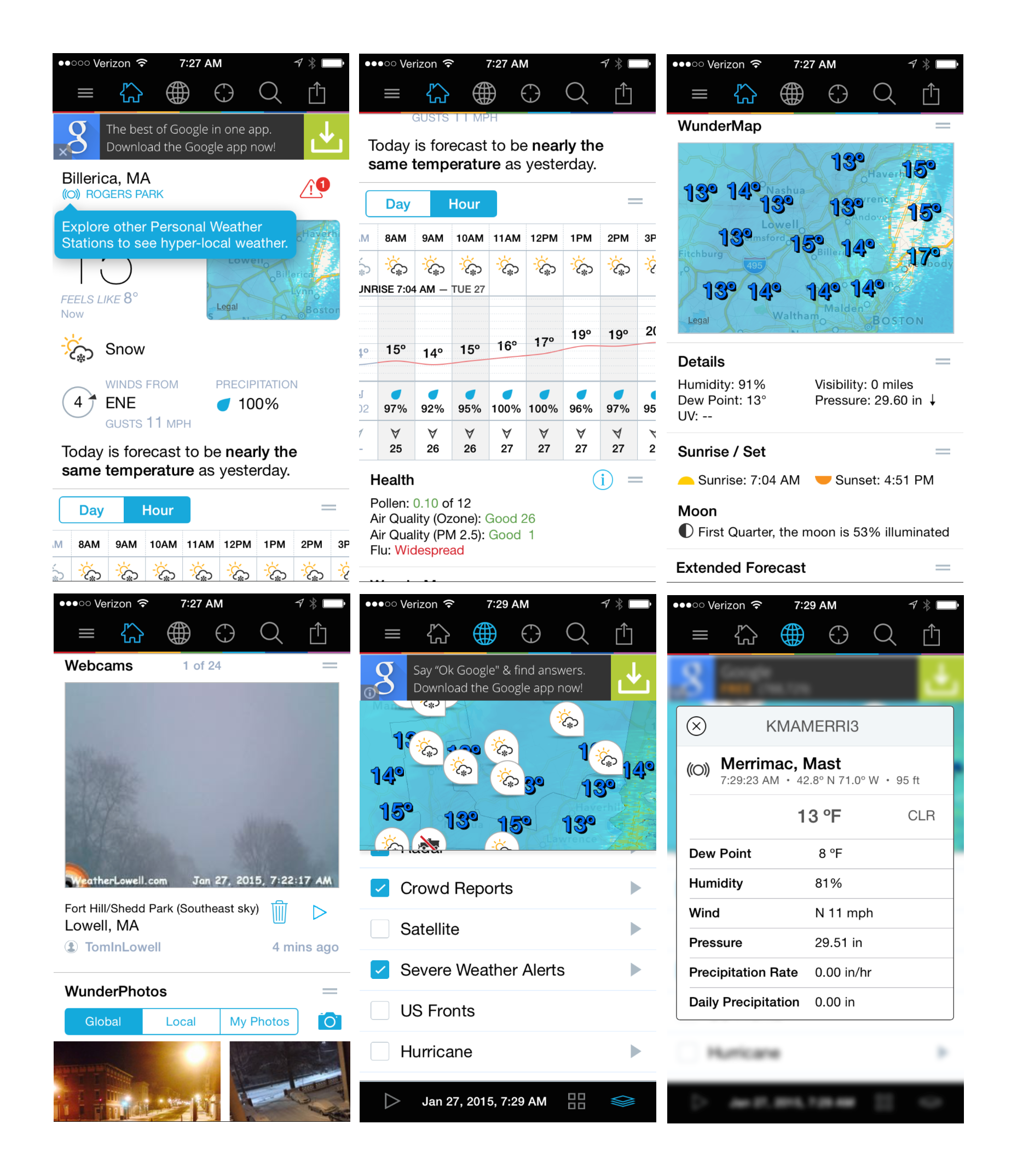 There are two Today widgets for Weather Underground. The one I use is fairly detailed. There's also weather map that takes too long to load and not all that informative.
Weather Underground | Universal | Freemium
Weather Line
This app uses the Dark Sky API so if you're not happy with those results, this will be equally disappointing. I think it provides a nice quick look into the weather. I don't use it much but it's still on my phone.
The monthly forecast is a nice bit of inspiration when you're stuck in a blizzard, even if it's mostly meaningless.
Weekly day forecast
Minute by minute forecast
Monthly forecast
Wind
Sunrise and Sunset
Humidity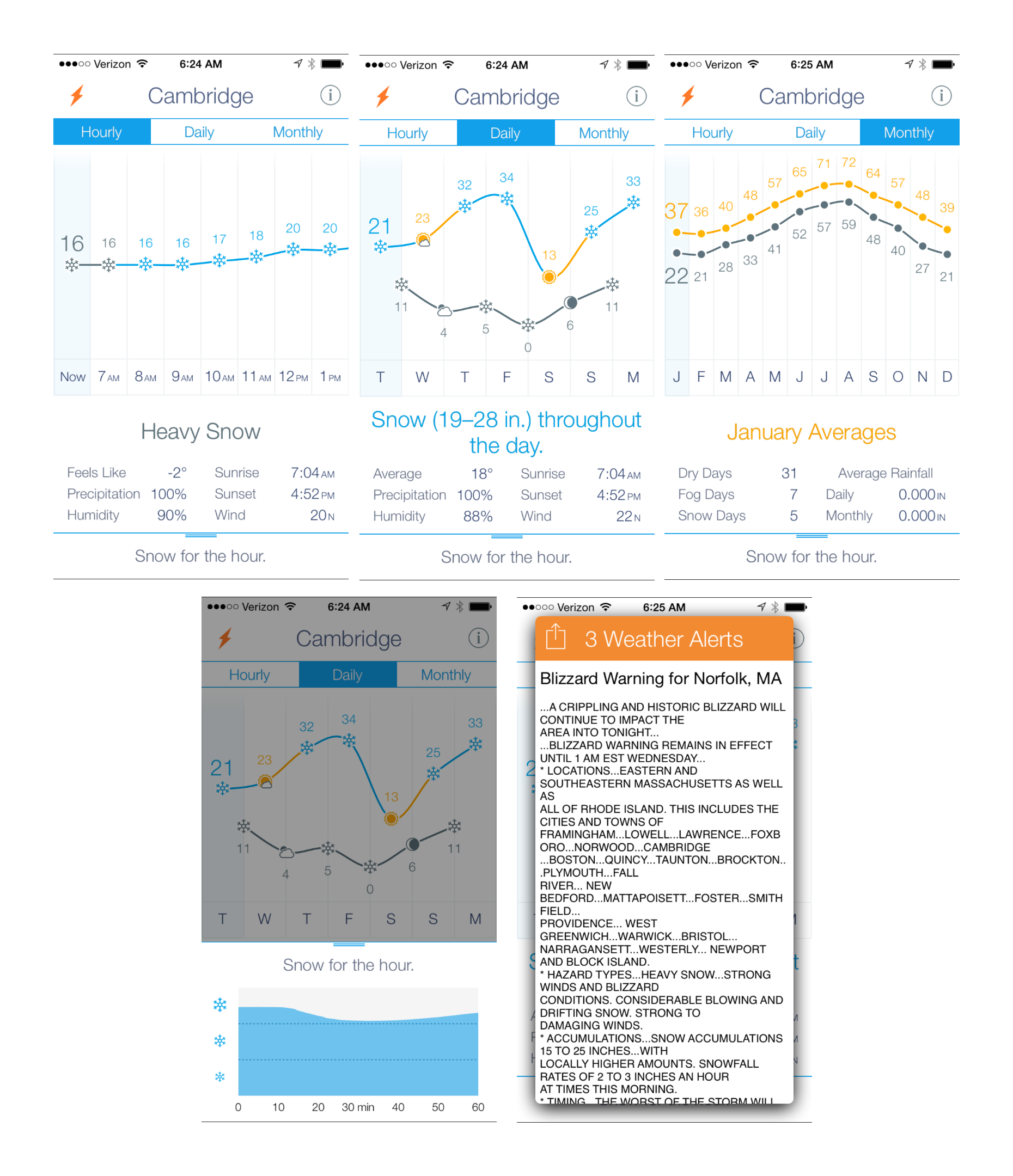 Weather Line | iPhone | $2
WunderMap
Powered by Weather Underground, WunderMap serves a single purpose that I rarely use. It displays a rather informative map of various weather conditions but isn't the best for detailed information. It's nice looking and probably worth having, especially if you are a Weather Underground member.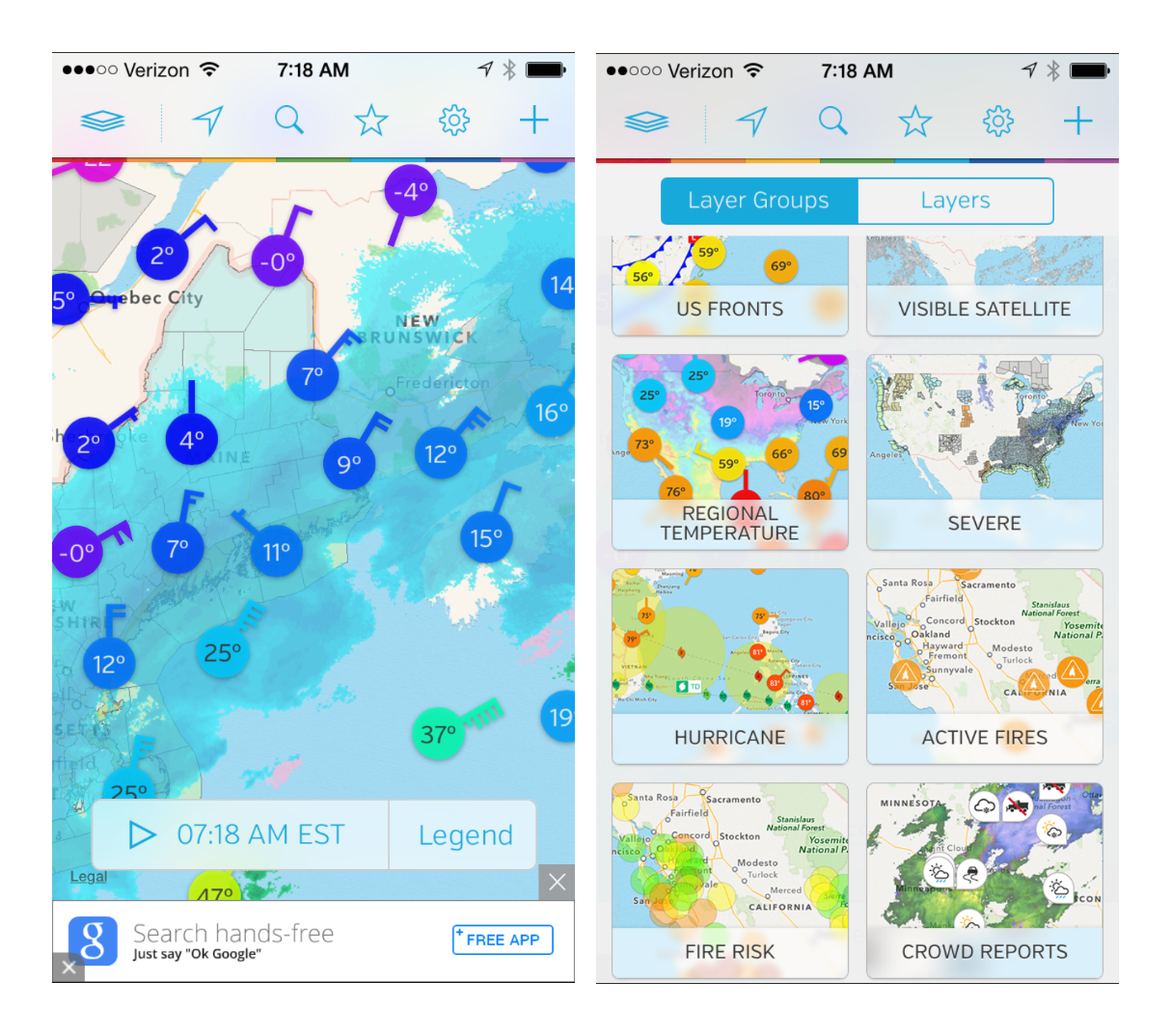 WunderMap | Universal | Freemium
Check the Weather
It's a nice enough weather app. It's also powered by the Dark Sky API. There's a lot of detailed weather information in Check the Weather and I like the Today Widget. I just rarely use it. For the price, it's hard to beat.
Weekly forecast
Hourly forecast
Minute by minute forecast
Radar
Weather alerts
Humidity
Sunset
Today widget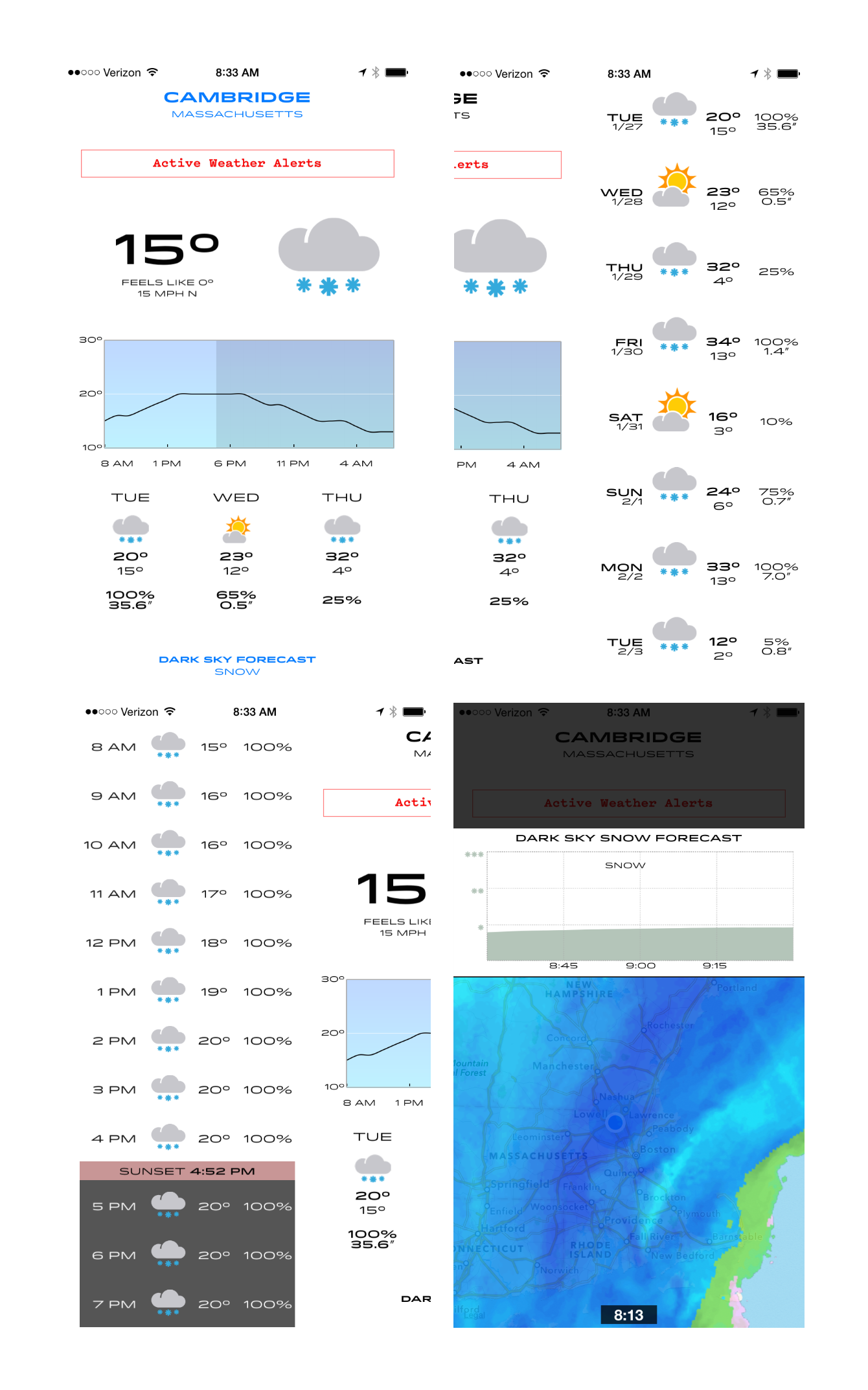 The Today widget for Check the Weather is attractive, if large. I do like the combination of hourly and daily forecast in a single widget.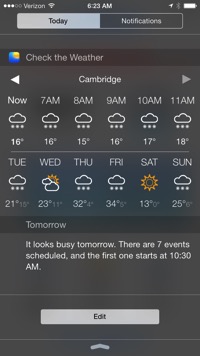 Check the Weather | Universal | $1
---
Affiliate links, of course. I have to pay for this snow plow some how. Are we beyond needing disclosures for affiliate links? I just assume every link on the Internet makes someone money. ↩︎