BetterTouch Tool Remote Tips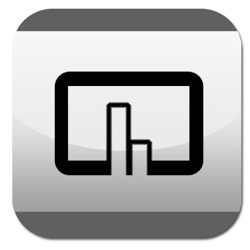 For the uninitiated, BetterTouch Tool (BTT) is a donation-ware system enhancement application. BTT started out simply providing some additional functionality for the trackpad and mouse and has slowly grown into a serious hacker's delight. BTT is a window manager, application launcher and much more.
Now, there is a companion iOS app, BTT Remote, that turns any iOS device into a remote control and track pad for a Mac. I took the app for a spin and it's working very well. Check out Brett's review for more info on what this new app can do.
Here's a brief look at how I've configured the app on my iPad. I'm not using at as a remote control. I use it as a companion keyboard palette for my Mac. I generally have at least one iOS device sitting on my desk anyway. In this way, I can easily reach over and trigger a simple macro without needing to remember a keyboard shortcut or configure a new Keyboard Maestro palette.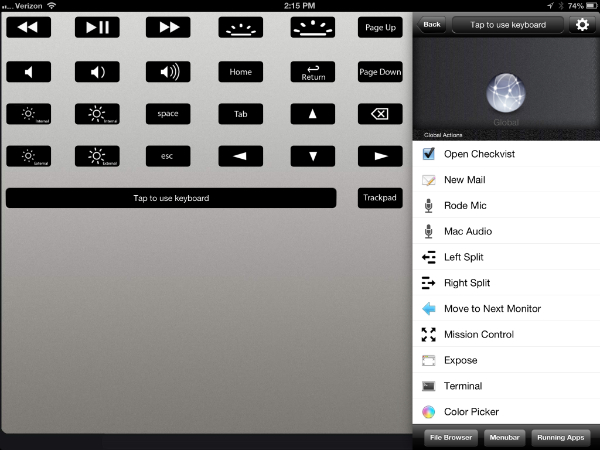 Actions are triggered almost instantly. Occasionally there is a fraction of a second delay but in general, the actions work as if they were keyboard shortcuts.
Actions are configured on the Mac side and instantly sync to a connected iOS device. Icons are customized through drag and drop into the action on the Mac or by selecting one from the included library. I'm using some of the included icons as well as a few WooCons.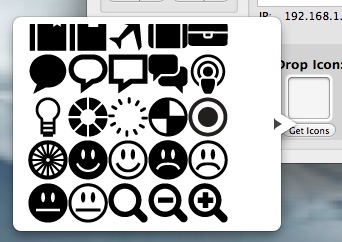 Launch Checkvist
This action opens my Fluid app for Checkvist. BTT provides an action to open any application.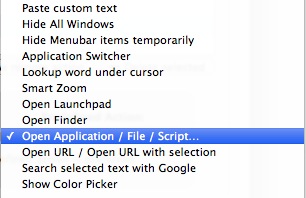 New Mail
I created an Automator application that does one thing. It creates a new email using my Macdrifter account. BTT launches that app and a new email draft appears in front of me.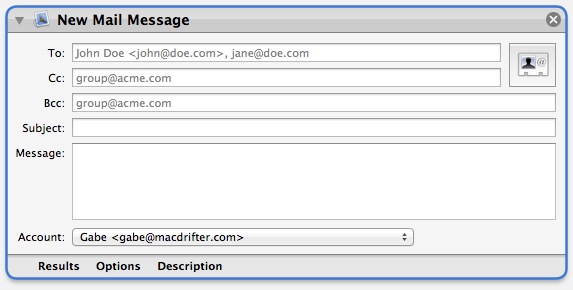 Rode Mic
This action uses the trick I wrote about previously. It sets my audio input and output to my Rode Podcaster microphone.
The real trick here, is that BTT is actually just triggering a Keyboard Maestro macro through an AppleScript application.
From within Keyboard Maestro, I created a new group called "BTT". This group should always be active if the macros are to be accessed by AppleScript. Each macro in the group is setup to be triggered by an AppleScript. When this setting is enabled, the macro will provide the script text to use. Just copy that out.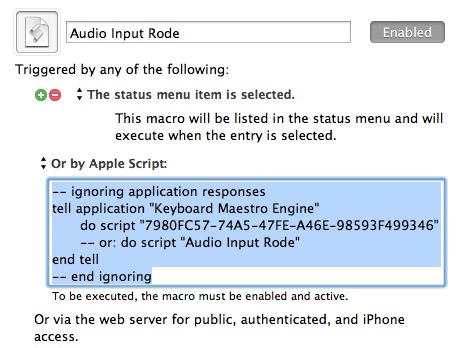 I have four macros:
Audio out to Rode
Audio in to Rode
Audio out to Mac
Audo in to Mac
These use the functions I have described previously.
Next, I created an Automator application that executes the AppleScript from above to run the macros. For example, this script sets the audio input and output to my Mac. Notice that it is actually running two macros.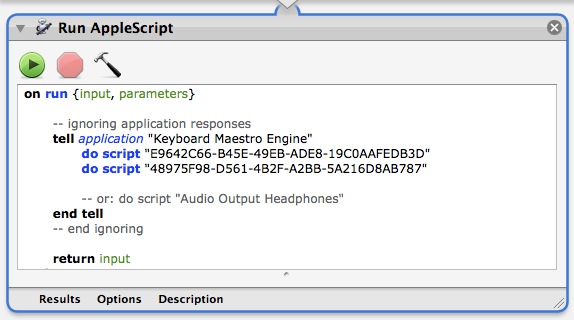 This Automator application is called by BTT when I tap it on my iPad or iPhone. One tap and my audio input switches.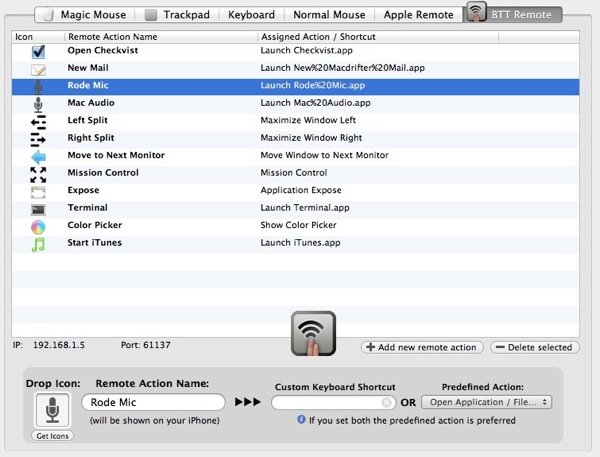 Mac Audio
Same as above but switches my audio input and output to my Mac.
Left and Right Split and Move to Next Monitor
These all use the builtin window management functions of BTT to split my frontmost window across the screen or send it between displays.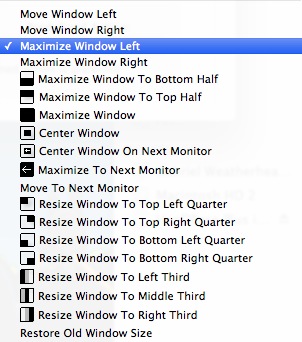 Mission Control and Expose
These also use the built in BTT functions to control my Mac.

Terminal
This action just launches the Terminal app.
Color Picker
In BTT, macros can be configured for a global scope or for within a specific application. I have two versions of the color picker action. One is the global color picker available in the OS and that is triggered using the default BTT action.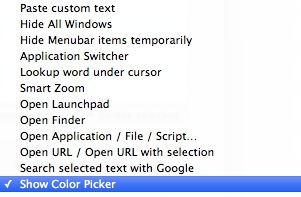 The second action is scoped for only within Acorn. This one triggers the Acorn color picker using menu choices. BTT can access nested menu options with a straightforward configuration.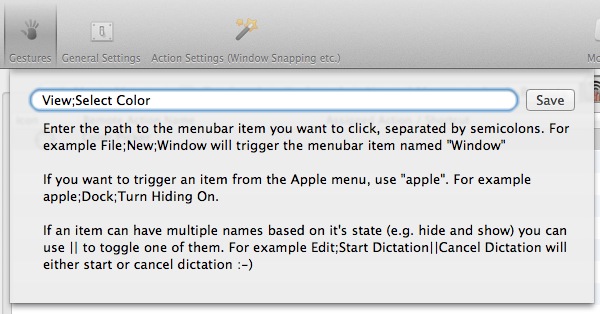 Open iTunes
This is the only action I would use while not sitting in front of my Mac. This is for those times when we sit down on the couch to use the AppleTV and I realize I iTunes is not running on my Mac. This macro just launches iTunes but it saves me a trip downstairs and makes everyone a bit happier.
Conclusion
BTT Remote is a handy little utility app. I like best for the times when I'm sitting right in front of my Mac. And if you're a Magic Trackpad user, now you can have one the entire size of your iPad, since BTT also provides a full screen trackpad view as well. I'm not sure if I'll stick with it, but it has some interesting options.
I'd also add, if you are a BetterTouch Tool user, buying the iOS app is a great way to support the developer.
BTT Remote | Universal | $2