I've mentioned TextDrop in passing but I like it so much that I wanted to write a full review.
What it is
TextDrop is a webapp for notes. It looks a bit like Simplenote or NVAlt but it works exclusively with Dropbox. There is a list of notes on the left sorted by file name, search bar at the top and text window taking up the right 2/3's of the window.

TextDrop can access all text files in a given Dropbox folder. What's really convenient, is that I can bookmark different folders and notes with a plain URL structure.
Open a specific Dropbox Folder named "Notes":
https://www.textdropapp.com/dropbox/Notes/

Open a specific note:

https://www.textdropapp.com/dropbox/Notes/My Awesome Note

I can also bookmark a specific search set too.
Shortcut to query results for "simplenote":
https://www.textdropapp.com/dropbox/Notes/?q=simplenote


Those are some very useful shortcuts. I now have a group of bookmarks to different folders, notes and queries for quick access from the browser.
Keyboard shortcuts
The TextDrop interface is very sparse. This gives the initial impression that it lacks features. But TextDrop has keyboard shortcuts, and they are good.
| Function | Key Combo | Description |
| --- | --- | --- |
| Search | SHIFT CTRL L | Jump between search bar and document |
| Delete | SHIFT CTRL Backspace | Delete the active file |
| Rename | SHIFT CTRL E | Rename the active file |
| Markdown | SHIFT CTRL M | Toggle Markdown preview |
| Jump Word | CTRL Right Arrow | Jump to next word (normal text area function) |
What it is not
TextDrop is not a complete replacement for something like Simplenote.
The search is more limited in TextDrop. Search by title only.
It does not preview MultiMarkdown (standard Markdown only).
There is no option to share a note.
There is no support for tags.
Notes can only be sorted by name.
TextDrop is not Simplenote. In some regard, that's a good thing. The TextDrop sync is fast. There are subtle bits of polish. For example, tiny colored dots indicating the sync status of each note. This is version 3.0 of TextDrop and it feels like it. I have not had any problems with TextDrop.
Et Cetera
There are no settings for the app, which I like. The documentation and release notes are all presented as another list of notes.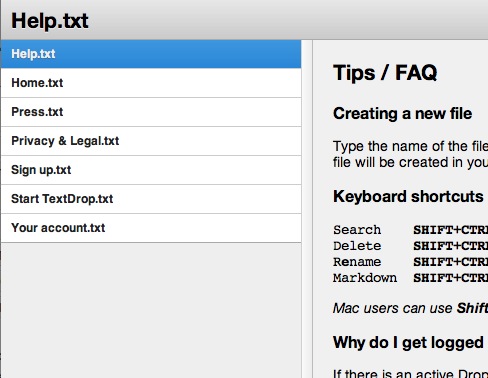 I also like the privacy statement. It's plain english.
Once you grant us access to your Dropbox, we theoretically have access to all your files, but on our honor we will never, ever, ever read them, store them, or use them in any way except to deliver them into your active TextDrop session.
After deleting a note, TextDrop displays the record with a cross-out. Clicking on the note provides an option to restore the note.

Files can be renamed by double clicking and entering a new name. This is a bit buggy for me on Windows Firefox 11.
Search is fast. A unique feature of TextDrop is searching in sub-folders with a separate list of hits for each sub-directory. Want to search all text notes stored in Dropbox, then you can do that. I don't recommend it unless you have a small number of files.
The support has been great. Prompt email replies from the developer Sam Nguyen within 24 hours. He's been honest, thoughtful and nice in each exchange. There's a real person behind the app and it doesn't feel like abandon-ware.
TextDrop is $5 per year right now. That's nothing for browser access to all of my notes in a well designed UI with features that work.