If you've been following along with this blog, then you know I love Apple's Aperture application. I upgraded from iPhoto shortly after I started using my first DSLR camera (the Nikon D80). Aperture is pretty straight forward to use. It's elegant and intuiative, but there are many different workflow options when managing a large photo library. I started by reading through the Apple Pro Training Series: Aperture 1.5 (Apple Pro Training)
which is a wonderful reference. It has some gorgeous color images on every single page. Detailed descriptions of the various tools and nice step by step instructions. It is well worth the price for both beginning and intermediate amateur photographers. It even comes with a DVD that contains all the images for the lessons and examples shown throughout the book.

After working with this book for a couple of months I was really working more efficiently in Aperture and taking advantage of some very cool features. But I still felt like I was missing out on some features that the professionals over at Inside Aperture took for granted. After some Google searching I came across Aperture 1.5 Beyond the Basics
and bought it off Amazon. It was kind of pricey but I knew Derrick Story and Scott Bourne would not do a bad job. I regularly listen to the iLifeZone podcast and it is usually chock full of good tips. I was not wrong. The DVD is essentially a stand alone application with a simple user interface. You can watch an entire chapter at once, or just a single lesson. The video quality is very high and professionally produced as well. The best feature is that the material is completely un-biased. It is not certified or sponsored by Apple in any way, so you get the truth about what works and what does not. Click on a topic in the list shown and a video pops open and starts playing. You are even given the option to run in windowed or full screen mode. This publisher really gets it.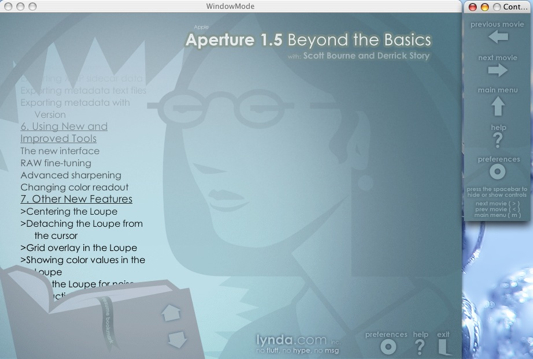 The training DVD helped so much, that I went over to Lynda.com (the publisher) to check out some of their other training products. WOW!! They have a lot of great stuff. On-line training videos as well as "ship to your home" DVD training is available through the site. They already have an Adobe CS3 training package available.
Technorati Tags: Aperture, Apple, iPhoto, Mac, Nikon, Photography, Productivity, Review, Software, Tip
Older articles
The new D80 has kept me pretty busy. This is my first "Pro-sumer" camera. I've never even focused a camera my self let alone adjust the f-stop and shutter speed. It's all quite interesting. I rely heavily on Wikipedia and the Nikon user groups for help. But when ...

Now that we all have a bunch of new holiday photos it's time to get them uploaded to Flickr and other various photo sharing sites. If you're running either iPhoto or Aperture on the Mac you have limited choices to automate the upload process. I have used the ...

I love to look at other people's photo's on Flickr. Maybe it's the voyeur in me or maybe I just wonder if other people's lives are more interesting than mine. With iPhoto, you can keep up with all of your favorite photo groups and pools without ...

The new Aperture web site from O'Reily is definitely worth your time. It now includes the great website Aperture tricks.

Technorati Tags: Aperture, Apple, Blogs, iPhoto, Mac, Photography, Tip

Here's a quick Automator script to pull all of the image links in the frontmost Safari window into iPhoto. I use this when I stumble across a web page with great photos I want to add to my gallery.
Notice that what this script does is download to the ...

Now that I am all about digital photography (at least this week) I've noticed some limitation of having only 2GB of RAM. If anything will tax your system, be it PC or Mac, it is digital media. Aperture really puts some serious load on my Mac Pro. I wanted ...

It's no secret that OS X is way ahead of Microsoft Vista. One example is the Core image built into OS X. One of the advantages of having image support built into the OS is that you can handle large image files with less strain on the cpu and ...

Page 1 / 1