My Setup
Here's what I use. If you buy or subscribe through the links below, you help to motivate me to work more.
I keep my notes and content in three places:
I write almost everything in MultiMarkdown, including emails. You can see how I keep track of notes in my Macworld article "How I organize everything with plain-text notes"
This site:
My Hardware Setup
I use a Retina Macbook Pro with a 27" Thunderbolt Display and a Logitech Thunderbolt Dock.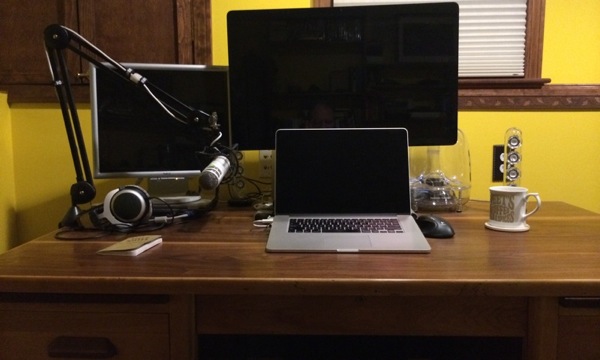 I backup to a Synology NAS (Review)
I use Backblaze because it is fast and doesn't kill my CPU.
I use a Seagate Backup Plus 3TB USB 3.0 drive for Time Machine
My secondary photo backup is on a WD My Book Studio 3TB FireWire 800 Drive
I enjoy my Hardon Kardon Soundsticks III (Review)
Writing this site:
Most posts are written in a combination of nvALT, MultiMarkdown Composer and Sublime Text. I ocassionally use TextDrop for writing when I am away from my Mac.
I have a Hazel rule that monitors my "notes" folder on Dropbox. When a new "@post" tag is added, the file is uploaded to my Pelican server. You can read more about it in this article.
When I work from an iOS device, I connect with FTPS through FTPOnTheGo Pro and iSSH
When I write on my iPad, I always use Editorial. You can read my full review here.