After using BusyContacts on my Mac for the past 6 months, I can declare it's the most I will ever enjoy managing contacts.
Much of the time, managing contacts in the address book makes me think of Sisyphus waking up every morning and thinking about his day. It's not going to be enjoyable and the most you can hope for is to end up where you started. But, a well groomed address book is a powerful enabler. Siri can recognized relationships if you have them defined. Phonetic spellings can also help Siri to recognize a spoken contact. The map app will highlight people and businesses in search on on the map. Those are just a few token benefits beyond, you know, actually finding a phone number when you need it.
BusyContacts makes organizing and editing contact information almost easy. It's not flashy but I don't really want a flashy utilitarian tool. I just want it to make my life easy and I want to spend as little effort and time as possible making it work. BusyContacts nails everything I use a contact manager for and adds some clever bonus features.
History
The first thing that caught my attention with BusyContacts was the integration of messages, mail and Twitter history for contacts. Click on a contact and in the side bar you can see your previous conversations or just what they've been tweeting. The calendar information shows all past and future appointments, which is spectacular for reviewing projects. I didn't test the Facebook or LinkedIn integration.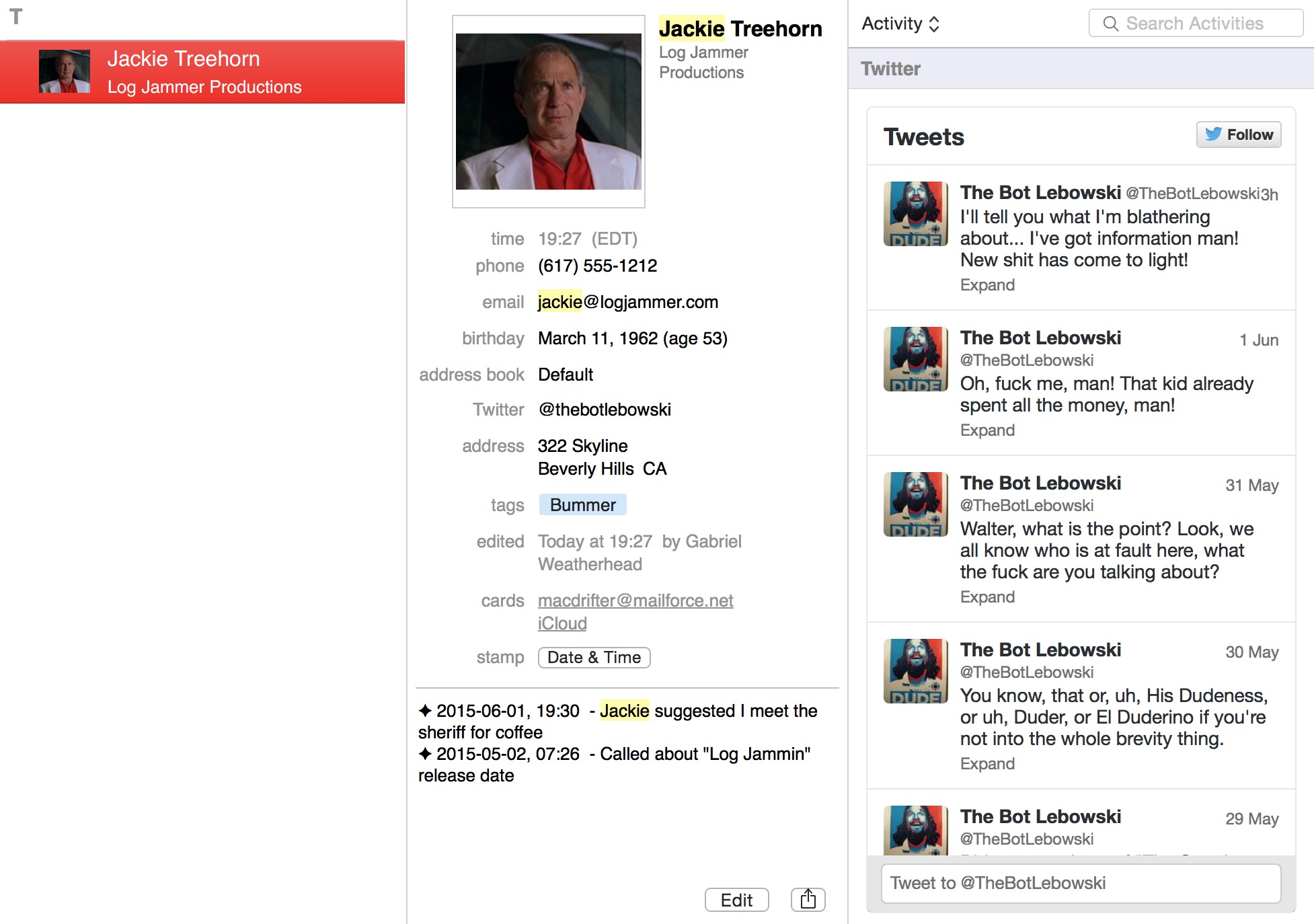 I like that I can reply right from BusyContacts too. Integration between BusyContacts and BusyCal is well done. Selecting a contact, I can create an event or reminder. I like the "Journal" features which creates a calendar event in BusyCal and drops me right into the notes field for that event.
Unfortunately, BusyContacts only supports Mail.app. It's pretty standard but it's a bummer for me as a MailMate user. I'm sure I'm in the minority. It'd be nice to have my mail history in the BusyContacts sidebar too.
Merge and Link
My absolutely favorite feature of BusyContacts is the Merge and Link function. I use iCloud and the new Fastmail cardDAV contact syncing. They are both working well but are usually out of sync with each other. That's where BusyContacts kills it. Select the contacts and the Merge and Link function will combine all information between the two cards. If the cards are from two different calendar servers then they both get all the same information and BusyContacts merges the view so there is only one card shown. It's genius.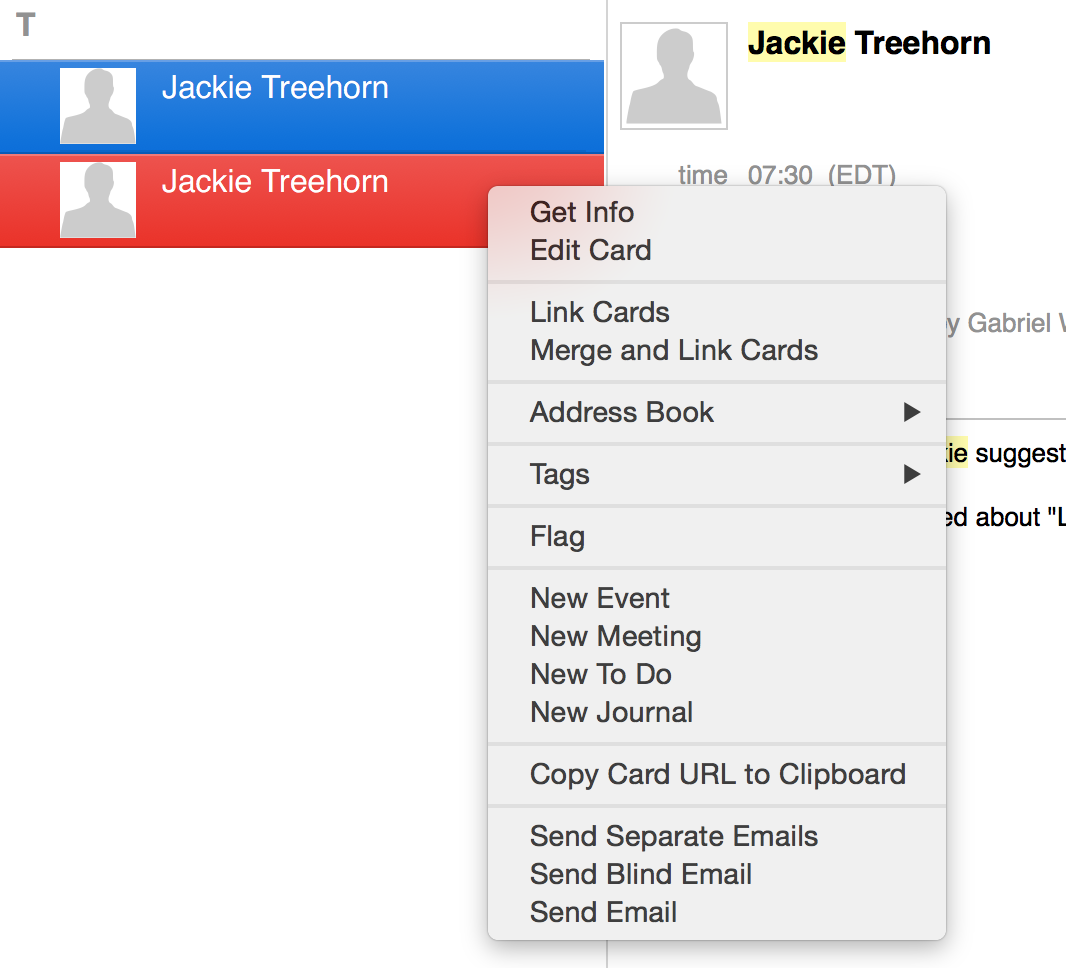 Clicking on a field while editing it offers up options to copy the edit to the linked contact cards too. This merge feature is powerful and pretty well documented.
The Rest
BusyContacts sports all of the usual contact information but adds a lot more as an optional. I really appreciate the thought that went into building up a list of suggested fields even if I only use a small percentage. There are a ton of special attributes, including private tags that do not sync with the calDAV server.

The BusyContacts quick entry field comes in handy but I wish it was everywhere. Which brings me to one of the things I'd like to see change. BusyContacts has so much good stuff that I feel like it needs to be available everywhere as a menu bar helper application. Things like quick entry and contact details are hidden away inside of the application when I really need them while I'm writing an email.

I really like the clever way BusyContacts handles notes for contacts. The unassuming "Date and Time" button on each contact is perfect for documenting calls right within the contact card. Click the button to add a time stamp and then start typing. The "Notes" field even syncs with Fastmail and ends up on my iOS devices too.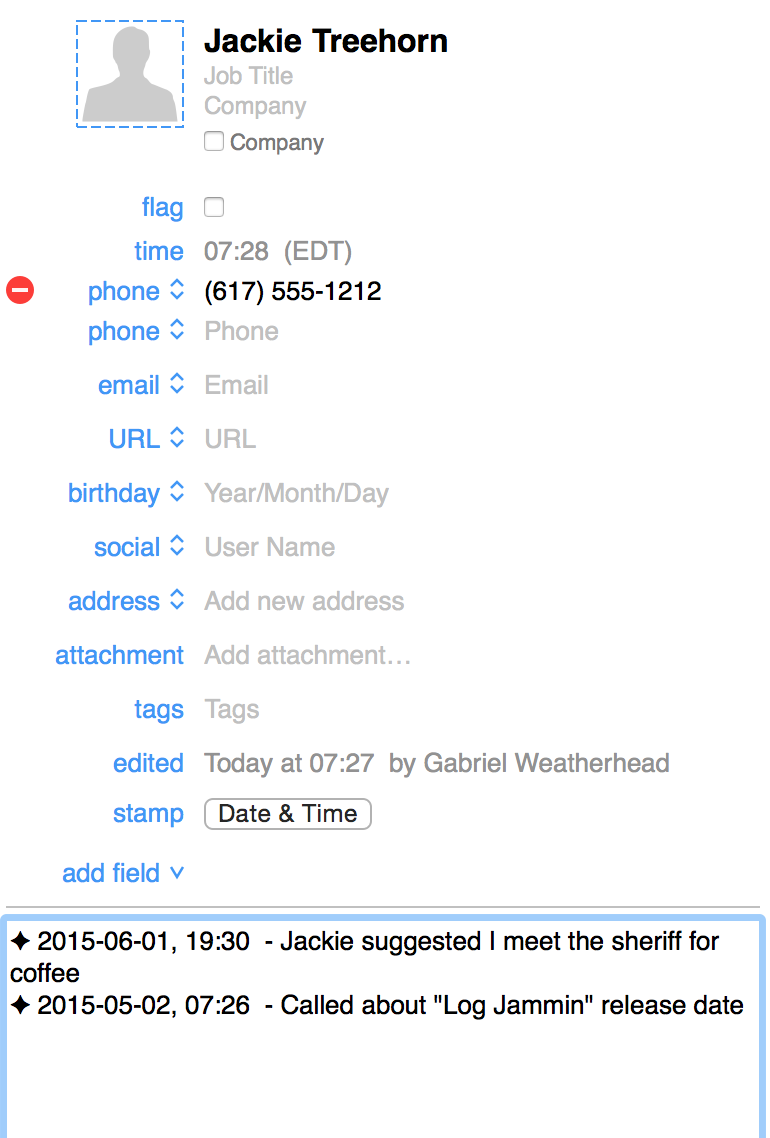 Tags are similar to the OS X contacts application except BusyContacts raises the bar a bit. Tags can be used to send emails to contacts (similar to the Contacts app) but with a few nice options for things like BCC or individual emails.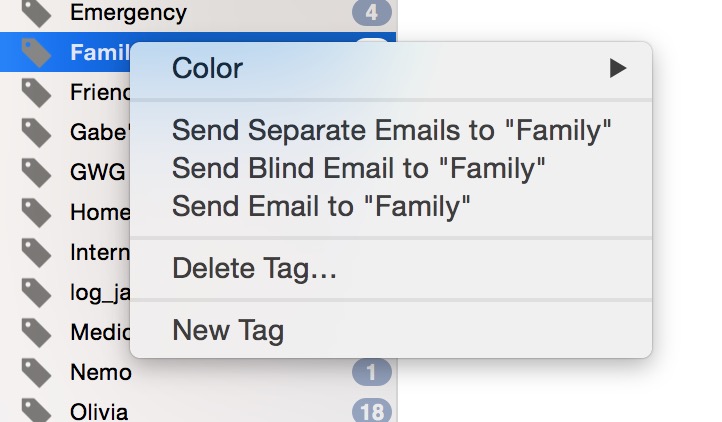 Tags also help with highlight colors in BusyContacts. Assigning a color to a tag causes all cards in that group to be colored in the list view. It can get ugly but it sure does communicate a lot of information.
The Smart Filters in BusyContacts are very similar to Smart Groups in the Contacts app, except BusyContacts has a heck of a lot of attributes to filter on. Filters are also assigned hot keys automatically if you need that sort of thing.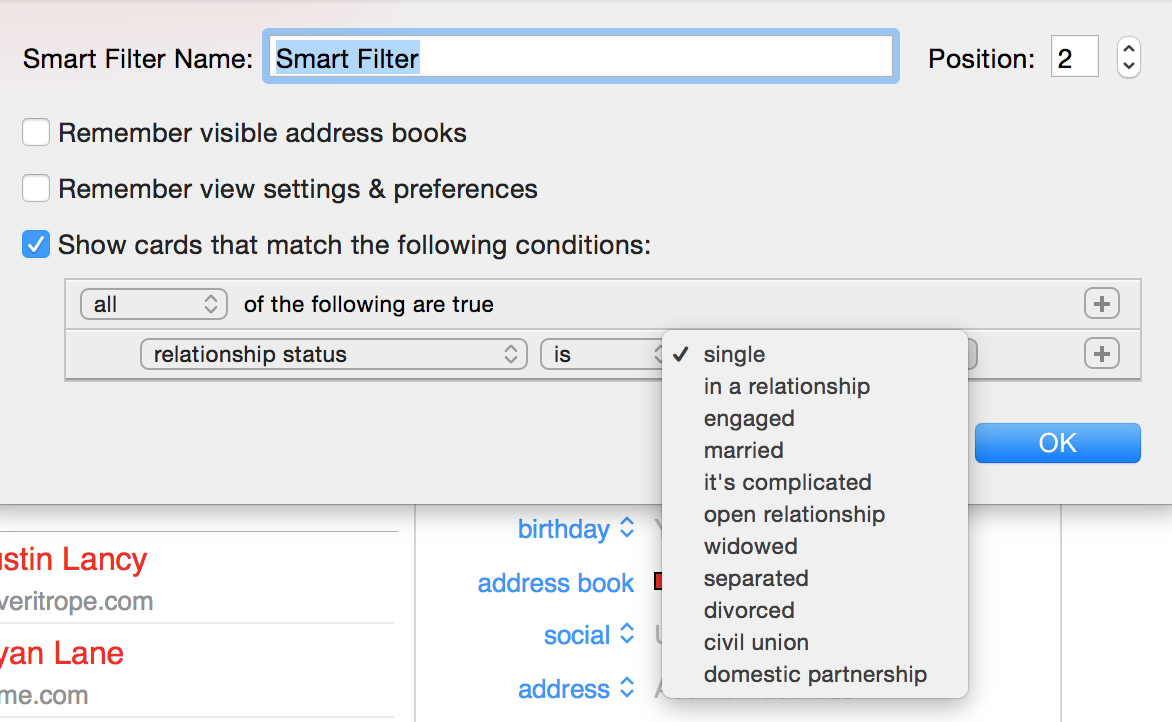 One missing filter option that surprised me was that there's no way to find contacts that exist on one sync service and not another. Colors can distinguish cards but I was looking for a way to keep two services in sync with BusyContacts or at least tell me where the gaps were.
Unfortunately, not all calDAV services support all of the BusyContacts features. For example, Fastmail does not support attachments. Thankfully that's made pretty clear when the sync occurs.

The integration with Twitter is nice, but a little too noisy for my taste. By connecting a Twitter account, all of the people you follow show up as a contact. If they match an existing contact, then you get their Twitter info added to the card for good measure. I don't like having all of the accounts I follow in my contact manager.
Conclusion
I wasn't sure I needed much more than what the built in Contacts app provided but the little details matter in BusyContacts. Copy a plain text version of a contact in BusyContacts and it's actually useful. Those nice surprises make the app worth the moderate price tag.
BusyContacts | Mac Only | $50