Pinswift Update for iOS 8
I've always really liked Pinswift as an iOS Pinboard client. It was the first client to support full text searching for archive accounts and the design is interesting and useful.
The 1.3 update brings several welcome enhancements and support for the new iPhones. My favorite new feature is the smart title and description generation for new bookmarks. When adding a new bookmark from a link, Pinswift intelligently generates the title (like many Pinboard apps) as well as a succinct description. Tag support in Pinswift is just right for the way I use them.1 Suggested tags are just a tap away or I use autocomplete to quickly enter several tags at once.
That's not the end of the bookmarking options. Pinswift provides detailed controls over how new bookmarks are created by default. For example, the new canonical URL options means it will strip out all of the feed and marketing junk before creating the bookmark. All of these details set Pinswift apart.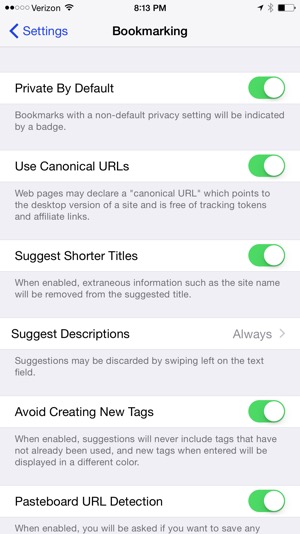 Pinswift has great support for extensions too. Bookmarks can easily be sent to a variety of other applications like OmniFocus or GoodReader with a simple swipe.2 Swipe the other direction on a bookmark to get full editing of the bookmark details.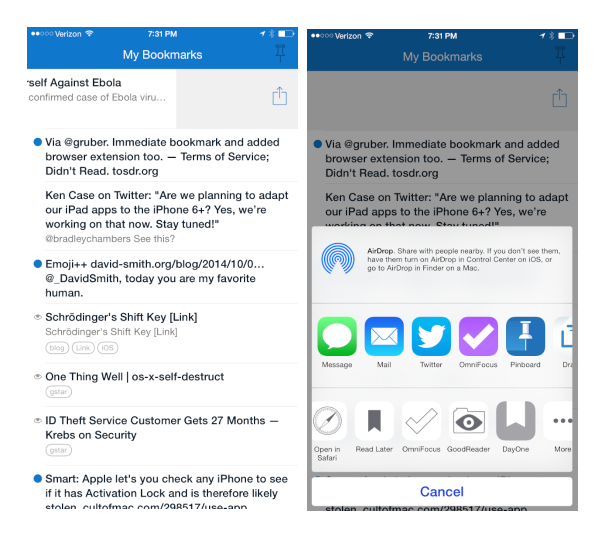 Search and browse has always been one of Pinswift's best features. There are several ways to search my own bookmarks, other accounts I follow ("Network") or the entire Pinboard public collection. The real power is that I can save a search and access it again any time.3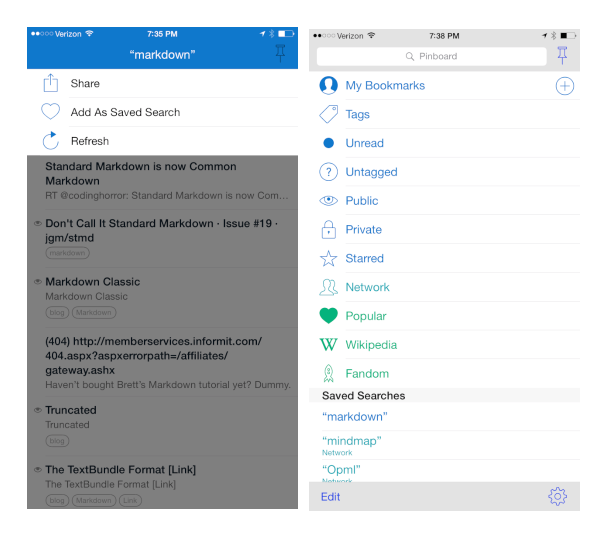 Browsing search results is a nice experience too. Title, source and tags are all displayed in the results. I also like the canned searches that come with Pinswift. The Wikipedia list is a nice way to randomly browse topics I might not otherwise look for on Wikipedia directly.4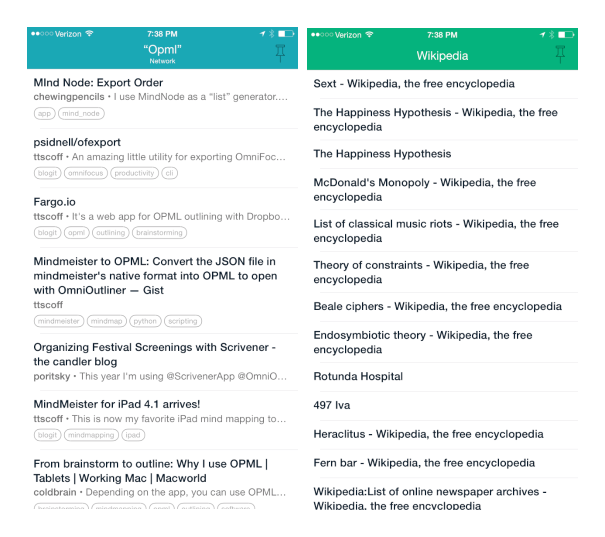 Pinswift for iOS | Universal | $5