Ever since Dropbox added photo download from iOS, I've switched off PhotoStream on my iPhone. I got tired of stupid or boring photos showing up in the stream. I decided I would configure the PhotoStream through Aperture. I had good intentions, but Dropbox has slurped over a hundred photos off and I have yet to add any to Aperture. It's just too easy now to download and never add to Aperture
But one of the new actions for Hazel 3 is to import into iPhoto or Aperture. Light...Bulb.
I setup a rule to watch the Dropbox camera folder. When I set the label of a photo to "purple", Hazel imports the photos into a specified project folder. Inside Aperture, I have a Smart Album that gathers all photos that match a number of criteria. One of those criteria is the "purple" label. As if by design, the labels from the Finder carry over into Aperture.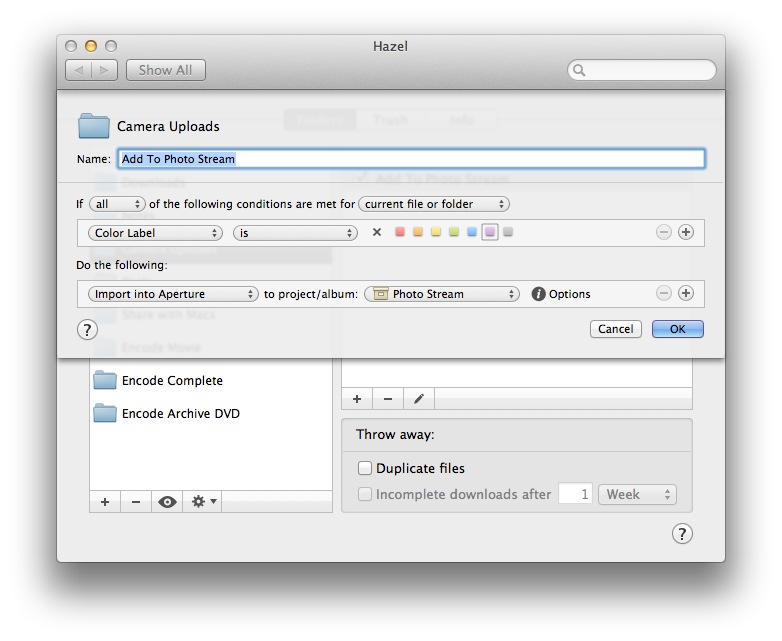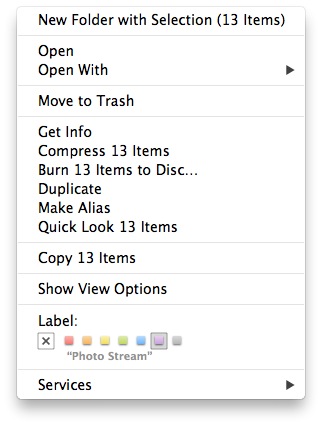 Now, I can leisurely flag photos to automatically send them into Aperture and later add them into PhotoStream. Selectively. Imagine that. Adding photos to PhotoStream selectively. Crazy, right?