The quickest way to reduce office clutter is to get rid of paper. The stuff spreads onto every available flat surface and into every open container in the office. New paper is delivered to my house everyday by the mailman whether I want it or not. Even if you opt-out of junk mail, you are still going to get credit card offers from companies that you have a business relationship with. There's almost no way to stop your own bank from sending these "exclusive offers" to you every day.
What you need is a trusted routine. Mine is to Scan and Shred. Here's what works for me: everyday when I get home I collect all of the mail, fliers, advertisements and papers into a large box near the entry to my office (which for me is at the bottom of the stairs to the second floor). When I head up to the office, I take the pile with me. I've got a great scanner and a small shredder and almost no paper clutter.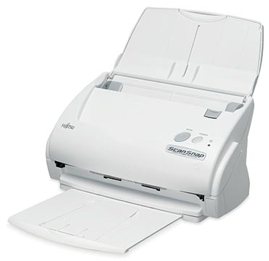 The scanner I use is a Fujitsu Scansnap . They make several models, but if you use a Mac then you need to get the Mac model (S500M). This is the real work horse of my routine. The Scansnap converts 36 pages per minute into PDF files. That's right, I said 36 pages per minute (about one per second). Technically it can scan 18 double sided sheets per minute. Another time saver with the model is that you can set it up to really skip any user interaction. With a press of the scan button a stack of sheets are quickly scanned and PDF files are saved directly to a pre-defined location. Personally I scan the files into Preview so that I can save them with a descriptive file name and practical tags. Here is a typical work flow:
Open all of my utility bills.
load them all into the Scansnap (even thought they are different sizes)
hit the scan button.
open more mail for another 30 seconds while the documents are scanned.
Do a "Save as" for each open file in Preview while adding tags with Default Folder X (I'll talk about this at some later time)
Shred all of the paper immediately.
I shred immediately for two reasons. The first is that I don't have to worry about the can collectors that throw my garbage all over the street. My neighbor recently found all of his old mail in a shopping cart behind the local gas station. I'm sure there was more than enough personal info in that pile to cause him some concern.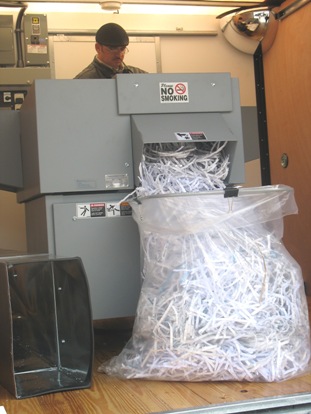 The second reason to shred immediately is for the commitment. Once it is in the shredder it will never come back out to be filed in a shoe-box or stacked on a desk. It's gone and life goes on. I tried to separate the scan action from the discard action, but I just ended up creating new piles next to my computer.
I really can not say enough about the Scansnap. Before dropping the rather sizable chunk of cash on the S500M, I had an HP all-in-one. It was passable, but from start to finish, a single scan took me about 7 minutes. That's ONE side of ONE sheet. It made me feel like Sisyphys. I scan virtually anything that is worth keeping, but here is what I don't shred:
Car registration (you should keep it in your car)
Legal documents (obvious)
Receipts for large purchase items (needed for rebates, service and resale)
Original packing slips for purchases over $100 (needed for many rebates and returns)
Manuals that I can not immediately download (I'll talk about this next)
I haven't reached
Nirvana
yet, but I am certainly on my way out of
Purgatory
(wow, mixed religious metaphors).
Technorati Tags: Organization, Productivity, Tip